Sowing period: September to November
Harvesting period: March to April
Crop season: Rabi
Key growing locations:
1. Madhya Pradesh – Dewas, Khargone, Sehore, Ujjain, Vidisha
2. Maharashtra – Amarawati, Akola, Vashim, Wardha, Latur
3. Gujarat – Surat, Dahod, Rajkot, Amreli, Junagarh
4. Uttar Pradesh – Kanpur, Lucknow, Varanasi, Ghaziabad, Lalitpur
5. Karnataka – Gadag, Raichur, Gulbarga, Bidar, Dharwad
6. Rajasthan – Tonk, Kota, Baran, Jhalawar, Ajmer
7. Telangana – Adilabad, Warangal

Production trend and Stock position
On September 22, 2020 Parliament passed the Essential Commodities (Amendment) Bill which removed cereals, pulses, oilseeds, edible oils, onion and potatoes from the list of essential commodities.
As per the Ministry of Agriculture fourth advance estimate released on August 19, 2020, Bengal gram production was 11.35 Mn MT compared to previous year which was 9.94 Mn MT, up by 14.19 percent.
According to Ministry of Agriculture, the sowing acreage of overall Pulses as on September 18, 2020 was 138.62 lakh hectares (lh) up by 4.75 percent compared to 132.34 lh during the corresponding period.
Stock positions of Bengal gram were down by 10.64 percent held at National Commodity Clearing Limited (NCCL) approved warehouses at Bikaner, Jaipur and Akola locations. The stocks held as on September 30, 2020 was 38,384 MT compared to 42,952 MT as on August 27, 2020
Monsoon Update
For the country as a whole, Seasonal cumulative rainfall during this year's southwest monsoon season upto September 30, 2020 was above Long Period Average (LPA) by +9%. Details of the rainfall distribution over the four broad geographical regions of India are given below:

Source: India Meteorological Department (IMD)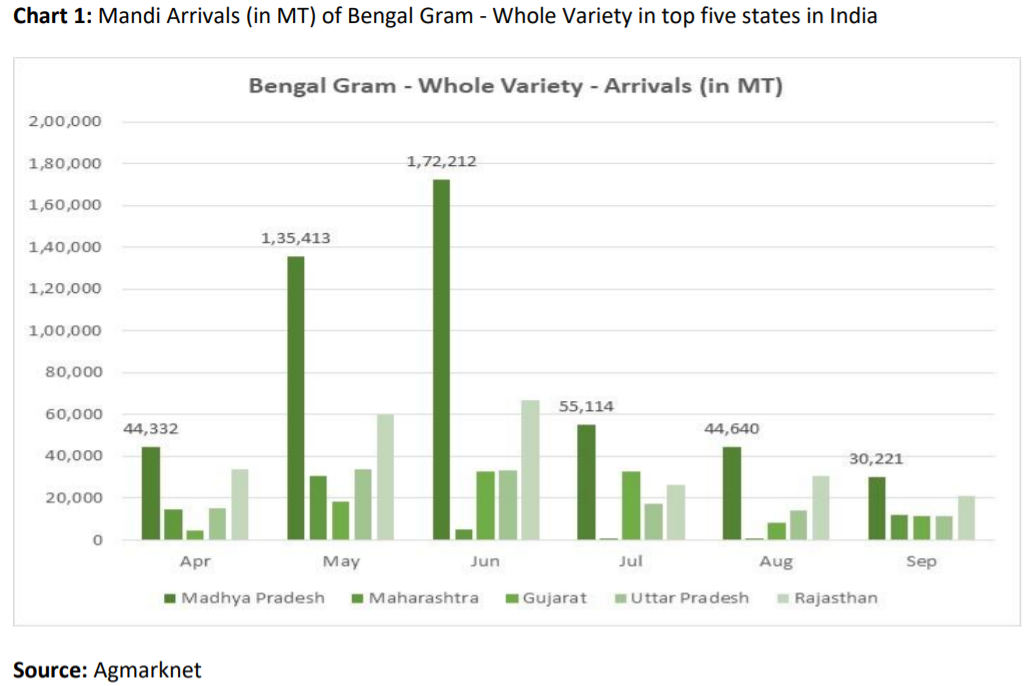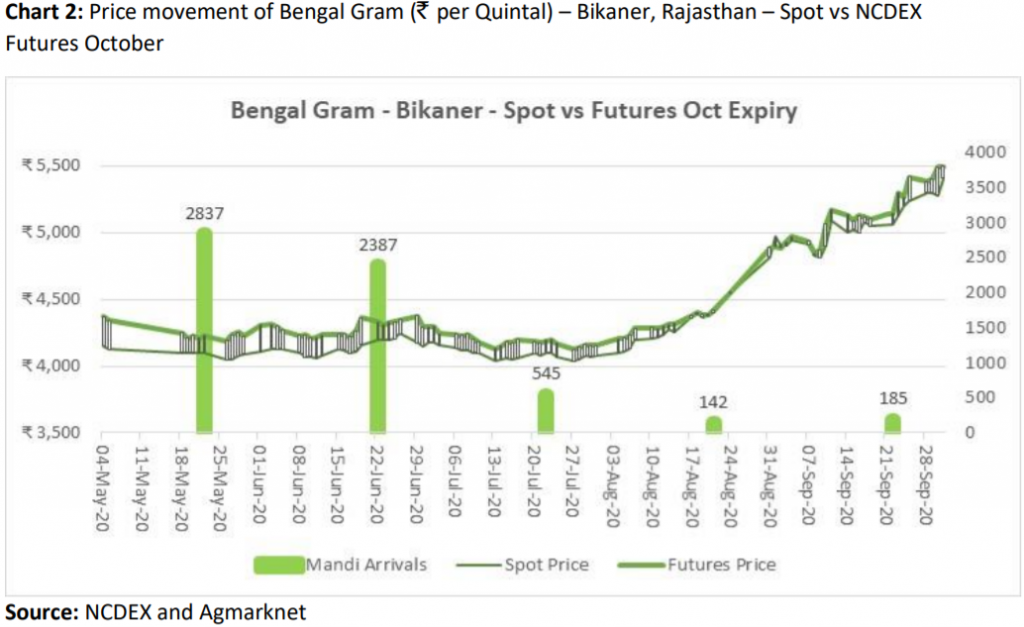 Note: Markets currently are in Contango where the Futures market prices are higher than the Spot market prices along with the Bikaner monthly mandi arrivals in MT.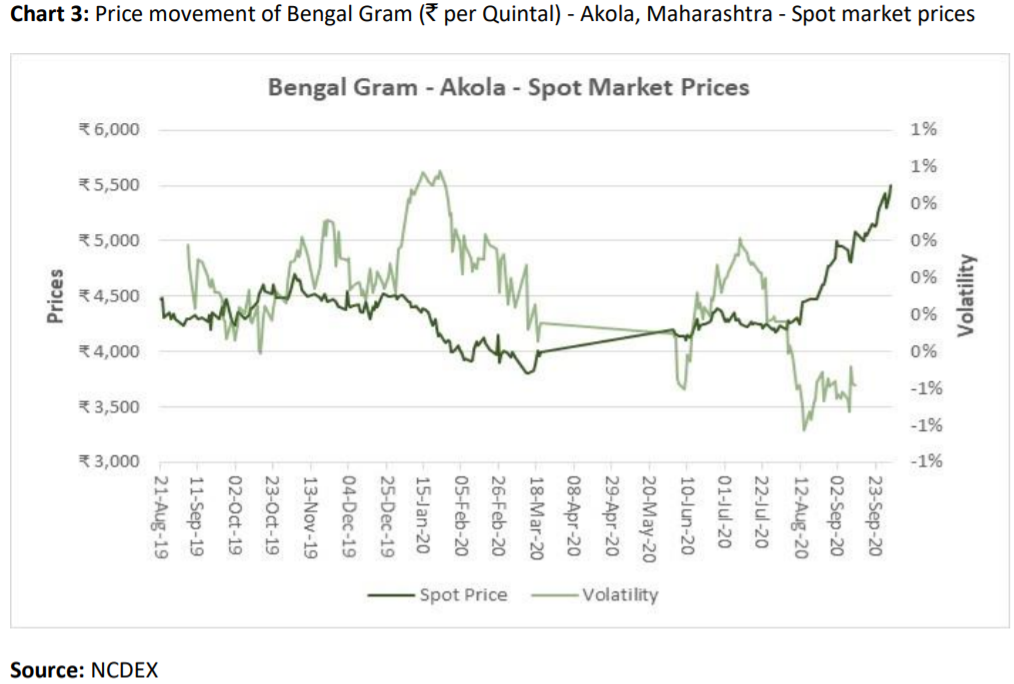 Market commentary: Price outlook
The Government had increased the Minimum Support Price (MSP) of Bengal Gram by 4.62 percent to ₹ 5,100 per quintal for Rabi marketing year (MY) 2021-22 compared to ₹ 4,875 in 2020-21 which would encourage farmers to cover more area under Bengal Gram in the Rabi season, starting from October.
Overall Bengal Gram prices are likely to trade steady to slightly firm in the immediate / short term as currently Bengal gram is trading above the MSP.
Restriction on imports, Government's welfare programme, poor arrivals and irregular reports of crop damage have been a few factors that have favoured a price rally since the past few months.