Sowing period: September to November
Harvesting period: March to April
Crop season: Rabi
Key growing regions:
Madhya Pradesh – Dewas, Khargone, Sehore, Ujjain, Vidisha
Maharashtra – Amarawati, Akola, Vashim, Wardha, Latur
Gujarat – Surat, Dahod, Rajkot, Amreli, Junagarh
Uttar Pradesh – Kanpur, Lucknow, Varanasi, Ghaziabad, Lalitpur
Karnataka – Gadag, Raichur, Gulbarga, Bidar, Dharwad
Production trend and Stock position:
As per the Ministry of Agriculture second advance estimate FY 2018-19 released on February 28, 2019, Gram production was 10.32 million MT (Mn MT) compared to FY 2017-18 which was 11.10 Mn MT, down 7.03 per cent.
NAFED has around 18 lakh MT stock in its custody, India produces around 100 Mn MT annually, and consumption is around 90 to 92 lakh MT; which means that the supply position is quite strong against the demand of Gram.
Despite lower crop size of Chana this year, pressure is likely to continue on Chana cash market as new arrival from major growing regions like MP and Rajasthan is likely to increase from March 15, 2019.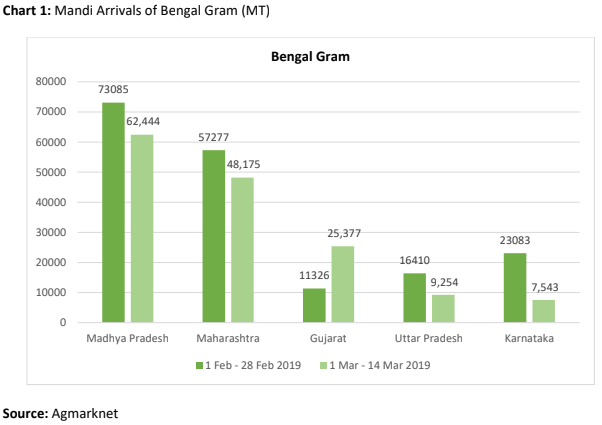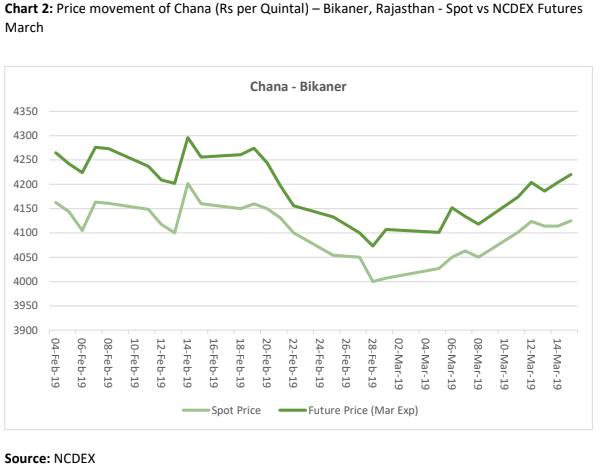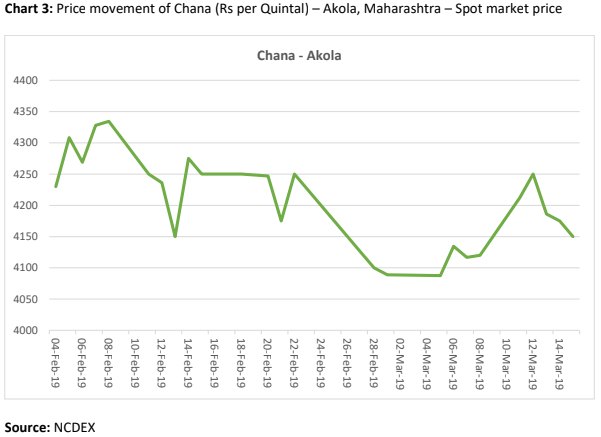 Market commentary: Price outlook
Overall outlook in Gram market seems bearish in short to medium term.
MSP for Gram for 2018-19 is Rs. 4,620 an increase of Rs 220 or 5 per cent compared to last year's price of Rs. 4,440 (including bonus of Rs. 150 per quintal).
Market is unlikely to trade at higher levels in coming weeks. New crop arrival in MP is likely to increase in coming weeks and it may pressurize cash market.
Demand is weak in the markets as NAFED continues to sell Chana while bulk buyers have restricted buying ahead of new arrival.
Prices may decrease further by Rs. 100 to 200 per quintal from current levels. Unless NAFED stops selling Gram and procurement starts in major states, prices shall not recover from current levels.