Sowing period: July to October
Harvesting period: December to March
Crop season: Kharif
Key growing regions:
Gujarat – Deesa, Mehsana, Banaskanth, Patan, Palanpur
Rajasthan – Pali, Jodhpur, Hanumangarh
Andhra Pradesh – Kurnool, Rangareddy
Telangana – Mahbubnagar, Warangal
Production trend and Stock position:
According to Agriwatch website there was robust sowing this year supported by increased water availability following extended rains which has brightened the castor crop prospects in the largest growing States, Gujarat and Rajasthan.
The Solvent Extractors' Association of India (SEA) estimated castor seed output for the year 2018-19 at about 9.35 lakh tons.
Stock positions of Castor Seed were down by 27.18 percent held at National Commodity Clearing Limited (NCCL) approved warehouses at Bhabhar, Deesa, Kadi and Patan locations. The stocks held as on January 31, 2019 was 21,824 MT compared to 15,892 MT as on February 17, 2020.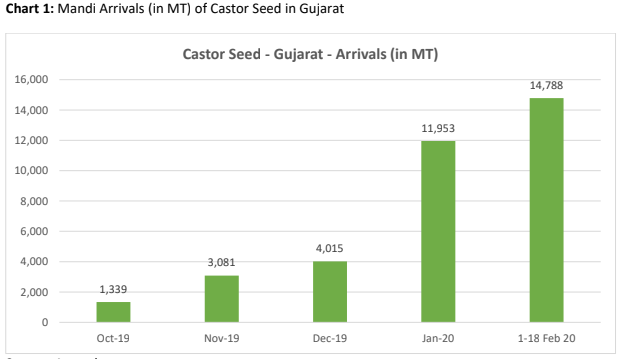 Source: Agmarknet
Note: February Mandi arrivals are for the period: 1 – 18 February, 2020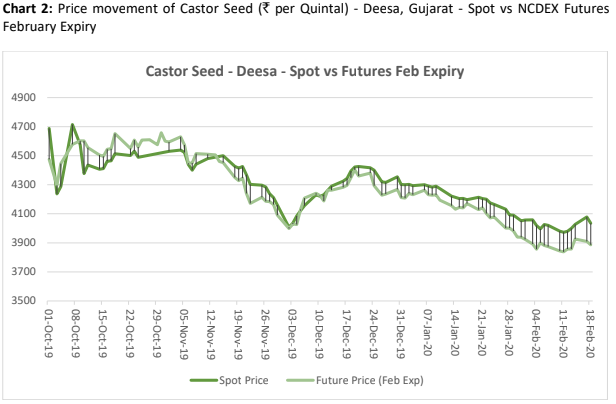 Source: NCDEX
Note: Markets currently are in Backwardation where the Spot market prices are higher than the Futures market prices.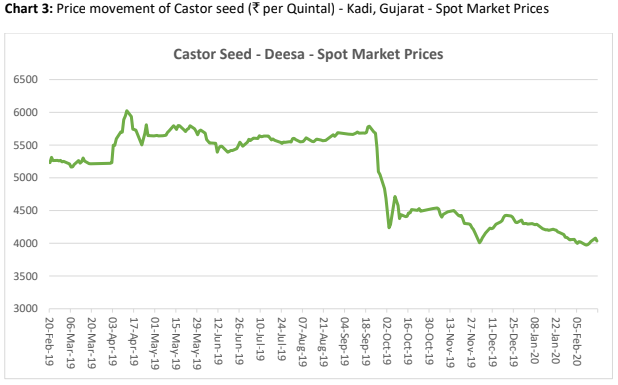 Source: NCDEX
Market commentary: Price outlook
Castor Seed prices are likely to trade weak in immediate / short term.
Castor Seed prices trading at its current levels in most physical markets of the country are expected to move below ` 4,000 per quintal levels due to lower demand.