Sowing period: July to August
Harvesting period: December to March
Crop season: Kharif
Key growing regions:
Gujarat – Deesa, Mehsana, Banaskanth, Patan, Palanpur
Rajasthan – Pali, Jodhpur, Hanumangarh
Andhra Pradesh – Kurnool, Rangareddy
Telangana – Mahbubnagar, Warangal
Production trend and Stock position:
As per the Ministry of Agriculture, first advance estimates for 2018-19, Castor production is estimated to decline at 15.17 lakh tonnes as against the target of 18.31 lakh tonnes. Castor production during 2017-18 was estimated at 15.68 lakh tonnes.
As per Agriwatch website, Castor acreage in Gujarat during 2018 was reported around 5.33 lakh hectares as against 5.95 lakh hectares in Kharif 2017. A decline of 10.42 percent due to deficient monsoon rainfall in 2018 in major castor growing belts of Gujarat. The seasonal normal Castor acreage in Gujarat is 6.48 lakh tonnes.
All India Castor sowing acreage in 2018 increased to 9.18 lakh hectares up by 5.05 per cent from last year acreage of 8.74 lakh hectares and 25 per cent down by normal area of 10.51 lakh hectares.
Arrivals of the new crop are expected in the coming weeks in the markets of Gujarat and other states.
Stock position of Castor at NCCL approved warehouses as on 14 March 2019 was 76,278 MT.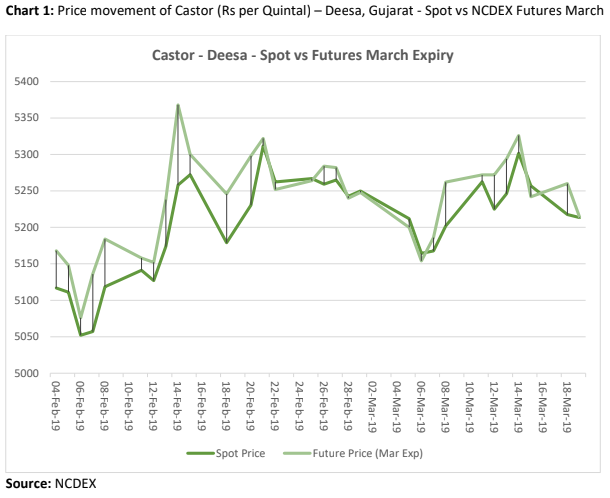 There is a very less differential between Spot and Future prices, which indicates a weak trend in the near term.
Market commentary: Price outlook
Castor prices in most of the spot markets in the country remained range bound with slight weak tone due to higher availability of the commodity against subdued demand. However, Castor prices are likely to trade firmly in coming weeks due to lower production estimates.
Prices are likely to move steady to weak in coming weeks.
As per Agriwatch website, buyers are opting to wait before initiating fresh trades due to significant losses in Castor over the last one month and expectation of lower crop production estimates from Gujarat due to dry weather conditions during crop growth.