Sowing period: July to August
Harvesting period: December to March
Crop season: Kharif
Key growing regions:
Gujarat – Deesa, Mehsana, Banaskanth, Patan, Palanpur
Rajasthan – Pali, Jodhpur, Hanumangarh
Andhra Pradesh – Kurnool, Rangareddy
Telangana – Mahbubnagar, Warangal
Production trend and Stock position:
As per the ministry of Agriculture, Castor seed acreage as on July 05, 2019 declined slightly by 0.10 percent at 0.15 lakh hectares (lh) as compared to 0.25 lh, during the same period down by 0.21 percent from normal area.
According to latest sowing report, all India Castor seed sowing is reported 0.02 lh which is 71.42 percent lower than last year acreage of 0.07 lh.
In Gujarat, Castor sowing is yet to be start but according to different media sources, Castor seed sowing acreage might increase this year as compare to last year due to good price of Castor throughout last year.
As per the Solvent Extractors' Association of India (SEA), all India Castor seed production estimate for 2018-19 is 11.27 Lakh MT which is 21.35 percent lower than the 2017-18 production estimate of 14.33 Lakh MT. However, according to AGCON, Castor seed production estimate is 9.13 Lakh MT for 2018-19.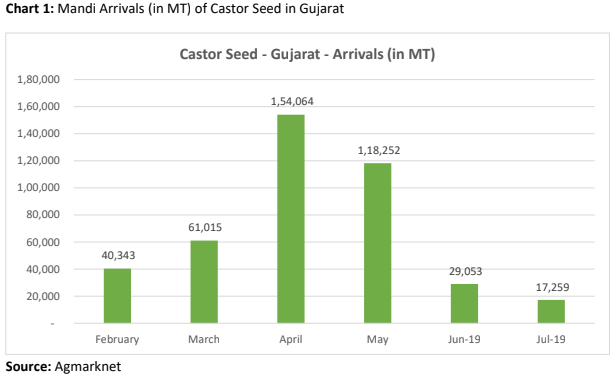 Note: July Mandi arrivals are for the period: 1 – 15 July, 2019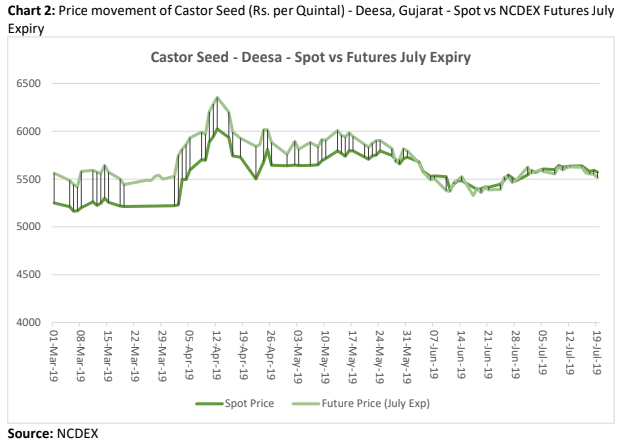 Note: Markets currently are in sync with each other where the Spot market prices and the Futures market prices are moving in tandem.
Market commentary: Price outlook
Castor Seed prices are likely to trade slightly weak in immediate / short term as expectation of higher sowing acreage in the coming season might put downward pressure on the Castor seed prices.