Sowing period: July to August
Harvesting period: December to March
Crop season: Kharif
Key growing regions:
Gujarat – Deesa, Mehsana, Banaskanth, Patan, Palanpur
Rajasthan – Pali, Jodhpur, Hanumangarh
Andhra Pradesh – Kurnool, Rangareddy
Telangana – Mahbubnagar, Warangal
Production trend and Stock position:
According to the Ministry of Agriculture, the sowing acreage of Castor Seed as on September 13, 2019 was 8.76 lakh hectares (LH) up by 4.78 percent compared to 8.36 LH during the corresponding period.
Stock positions of Castor Seed were down by 6.46 percent held at National Commodity Clearing Limited (NCCL) approved warehouses at Bhabhar, Deesa, Kadi and Patan locations. The stocks held as on September 16, 2019 was 1,18,686 MT compared to 1,26,885 MT as on August 29, 2019.
According to the Agmarknet website, all India Castor seed crop arrivals for 1 – 16th September 2019 was reported at 9,333 MT which was 36.11 percent lower than last year arrivals of 14,608 MT in the same time period.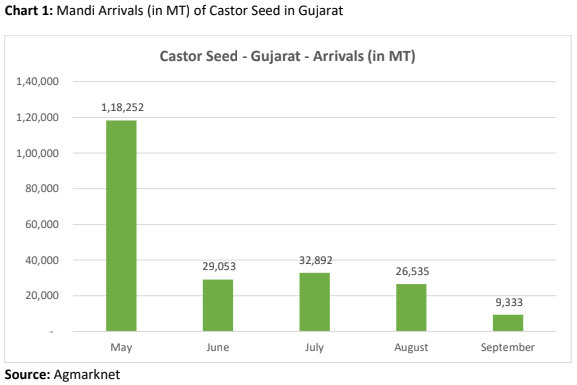 Note: September Mandi arrivals are for the period: 1 – 16 September, 2019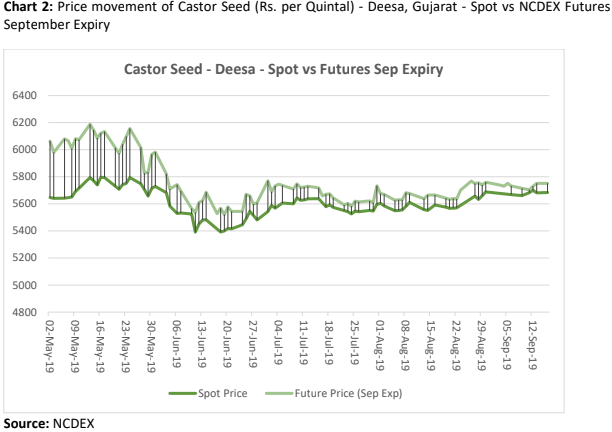 Note: Markets currently are in Contango where the Futures market prices are higher than the Spot market prices.
Market commentary: Price outlook
Castor Seed prices are likely to trade steady from Rs. 5,500 per quintal levels to above Rs. 5,700 levels in immediate/short term.
Lower arrivals in the domestic mandis if continued may push the prices northward.