Sowing period: July to October
Harvesting period: December to March
Crop season: Kharif
Key growing regions:
Gujarat – Deesa, Mehsana, Banaskanth, Patan, Palanpur
Rajasthan – Pali, Jodhpur, Hanumangarh
Andhra Pradesh – Kurnool, Rangareddy
Telangana – Mahbubnagar, Warangal
Production trend and Stock position:
According to the Directorate of Agriculture of Gujarat, Castor Seed has been sown in 3.45 lakh hectares which were up by 77.84 percent in the state as compared to only 1.94 lakh hectares by this time last year.
According to Ministry of Agriculture, the sowing acreage of Castor Seed as on September 27, 2019 was 9.38 lakh hectares (lh) up by 6.96 percent compared to 8.77 lh during the corresponding period.
Stock positions of Castor Seed were up by 16.06 percent held at National Commodity Clearing Limited (NCCL) approved warehouses at Bhabhar, Deesa, Kadi and Patan locations. The stocks held as on October 3, 2019 was 1,44,992 MT compared to 1,24,930 MT as on September 24, 2019.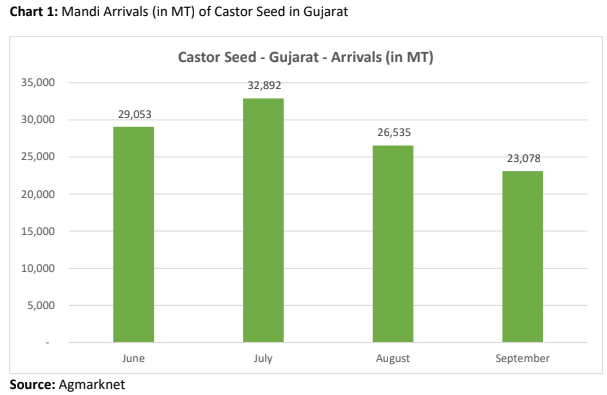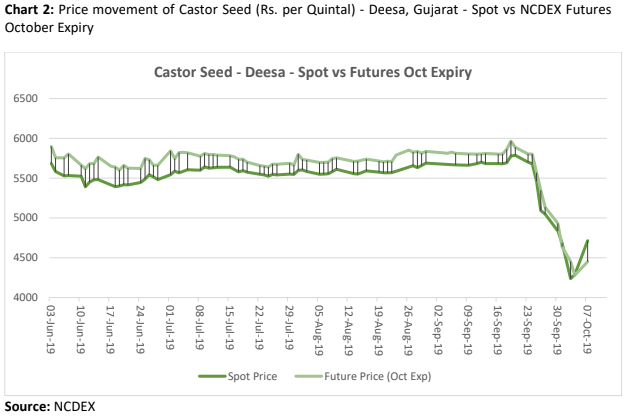 Note: Markets currently are in Contango where the Futures market prices are higher than the Spot market prices.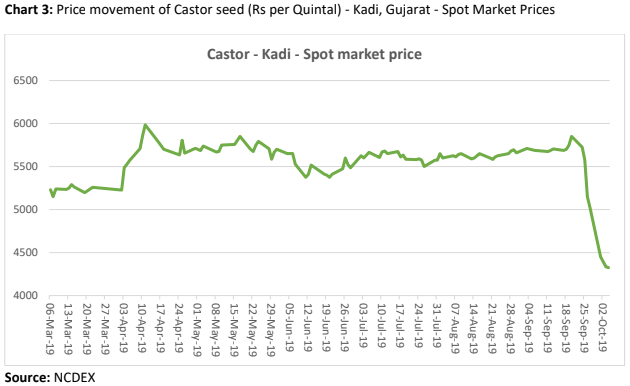 Market commentary: Price outlook
Castor Seed prices are likely to trade weak from 5,000 per quintal levels to near Rs. 4,000 levels in immediate/short term.
On NCDEX pre expiry margins of 3 percent was levied per trading day incrementally during the staggered delivery period (Last 11 trading days till the expiry day of Castor Futures contracts). Special Cash margin of 20 percent on short side was imposed on all the running contracts and yet to be launched contracts in Castor Seed with effect from September 30, 2019.
Table 1: Castor Seed Spot prices when the prices spiralled downwards