Sowing period: October to December
Harvesting period: January to April
Crop season: Rabi
Key growing regions:
Madhya Pradesh – Neemuch, Mandsaur, Guna, Rajgarh, Shajapur
Gujarat – Rajkot, Surendranagar, Gondal, Junagarh, Jamnagar
Maharashtra – Mumbai, Nanded, Bhandara
Rajasthan – Ramganj, Kota, Jhalawar, Baran, Bundi
Production trend and Stock position:
Area sown until February 27, 2019 was 1,866 hectares down by 72.78 percent in Andhra Pradesh for this Rabi season compared to 1,080 hectares in the corresponding period last year.
There is an expectation of a decline in production of coriander seeds this year as harvest is nearing its final stages in most chief producing states of Madhya Pradesh, Rajasthan and Gujarat.
As per Agriwatch website, the crop in Gujarat is expected to be less this year due to insufficient rain which forced many farmers to shift to other lucrative crops.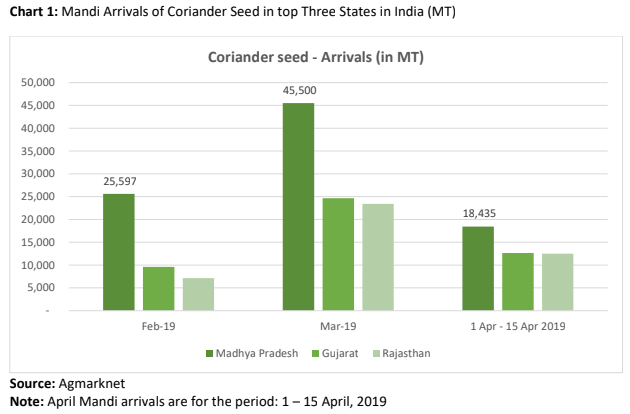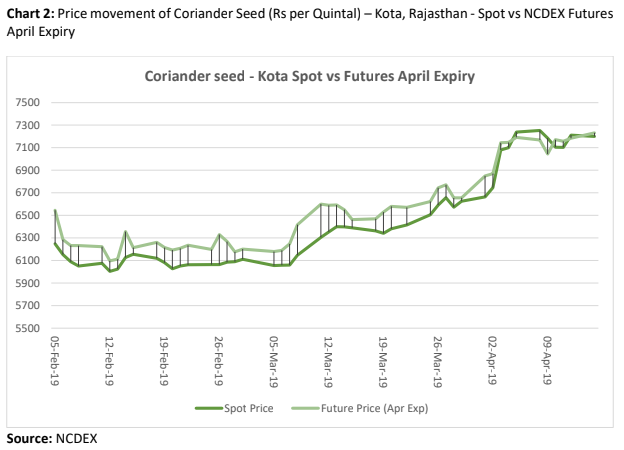 Note: Prices of Coriander seed are currently in a Contango where the Futures prices are above the expected physical market Spot prices.
Market commentary: Price outlook
Overall expectations of Coriander Seed prices to go up in the immediate/short term period.
Market sentiments have been bullish in major markets like Kota, Gondal and Ramganj during this month.
Physical Spot market prices which were at levels of Rs. 6,800 to 7,000 per quintal at Kota are expected to cross the Rs. 7,300 per quintal mark.