Sowing period: October to December
Harvesting period: January to April
Crop season: Rabi
Key growing regions:
Madhya Pradesh – Neemuch, Mandsaur, Guna, Rajgarh, Shajapur
Gujarat – Rajkot, Surendranagar, Junagarh, Jamnagar
Maharashtra – Mumbai, Nanded, Bhandara
Rajasthan – Ramganj, Kota, Jhalawar, Baran, Bundi
Production trend and Stock position:
New crop supply was reported at Guna, Gondal, Ramganj and Neemuch mandi with small quantity and moisture content of 18 to 22 per cent.
As per latest Gujarat State Government data, Coriander progressive area of Rabi 2018-19 is 29,630 hectares as on February 11, 2019 which was lower than 69,888 hectares during corresponding period last year. Till date 31.79 per cent sowing is completed from normal area of 93,196 hectares.
As per Agriwatch second advance production estimate, Coriander production for 2019-20 is estimated at 268,957 MT compared to previous year's 333,348 MT.
Coriander Supply and Demand (lakh tons).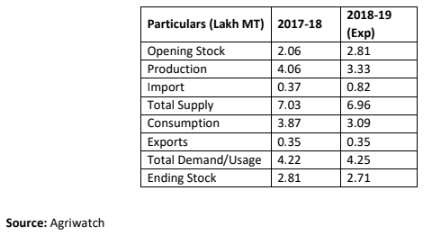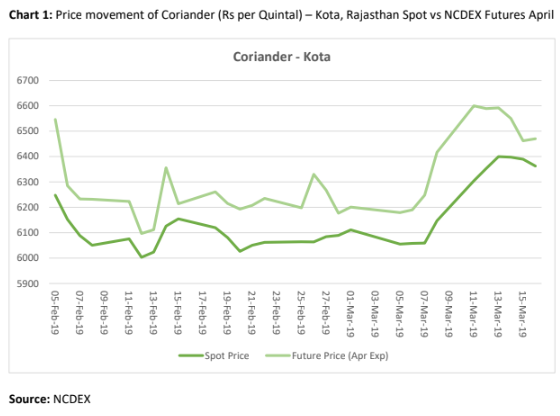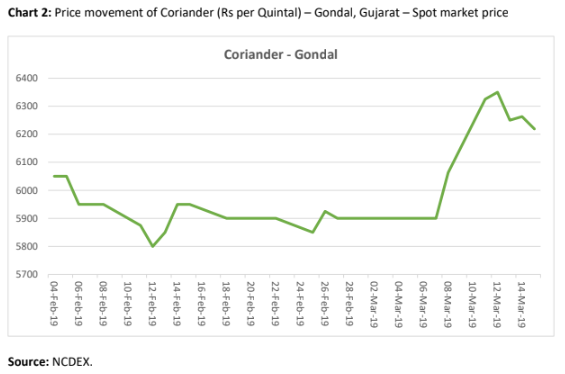 Market commentary: Price outlook
Weak sentiment was witnessed in Coriander in major markets during this month.
Coriander prices are expected to go up in the coming months. Coriander Badami prices are expected to gradually improve to a range of Rs. 5,800 – Rs. 6,000 per quintal and Eagle variety is expected to increase to Rs. 6,000 – Rs. 6,500 per quintal.
Coriander prices are expected to be firm in coming days.
Agriwatch estimates lower ending stocks for 2019-20 likely to support Coriander prices in coming days.