Cotton is a soft, fluffy staple fibre that grows in a boll or protective case, around the seeds of the plant. Raw cotton or seed cotton is called Kapas and when the fibre is separated from seed, it is called Lint. Usually, Lint cotton separated from cottonseed is pressed in the form of full pressed bales with a standard weight of 170 kg. The process of separating cotton fibres from cottonseed is called Ginning. Cottonseed is crushed to make cottonseed cake, which is used in livestock feed and cottonseed oil.
Sowing period: June to July
Harvesting period: October to May
Crop season: Kharif
Key growing regions:
Gujarat – Botad, Mehsana, Patan, Rajkot, Surendranagar, Amreli, Junagarh
Maharashtra – Chandrapur, Nagpur, Wardha, Buldhana, Yavatmal
Telangana – Adilabad, Karimnagar, Khammam, Nalgonda, Warangal
Madhya Pradesh – Badwani, Chhindwara, Khandwa, Khargone, Dhar
Punjab – Bhatinda, Fazilka, Mansa, Muktsar, Faridkot
Production trend and Stock position:
According to Cotton Advisory Board (CAB) India's Exports for 2019-20 (projected) was 50 lakh bales of 170 kgs each whereas India's imports for 2019 20 (projected) were 25 lakh bales of 170 kgs each.
During the current Union Budget, it was announced to impose 10 percent duty on Cotton imports and basic customs duty on man-made fibres (MMF) such as caprolactam, nylon chips, nylon fibre and yarn were cut to 5 from 7.5 percent.
According to Food and Agriculture Organization Corporate Statistical database, India has been in the top three ranking countries along with other countries such as China, USA, Brazil, etc in the global production.
Monsoon Update for Cotton
For the country as a whole, cumulative rainfall during this year's winter season till March 03, 2021 is below Long Period Average (LPA) by 32 percent. Details of the rainfall distribution over the four broad geographical regions of India are given below: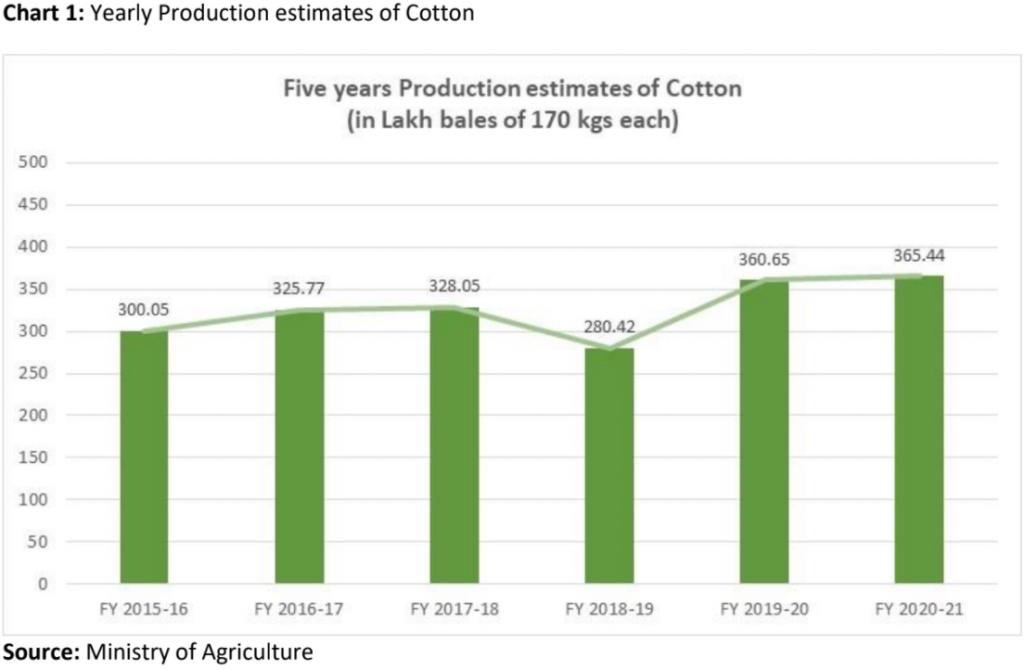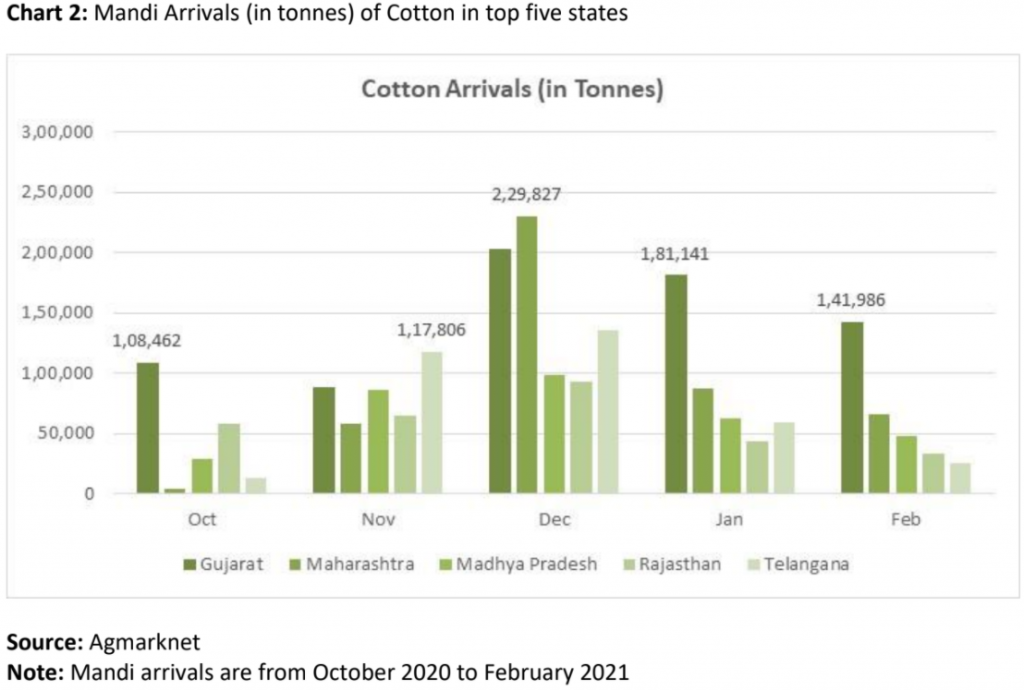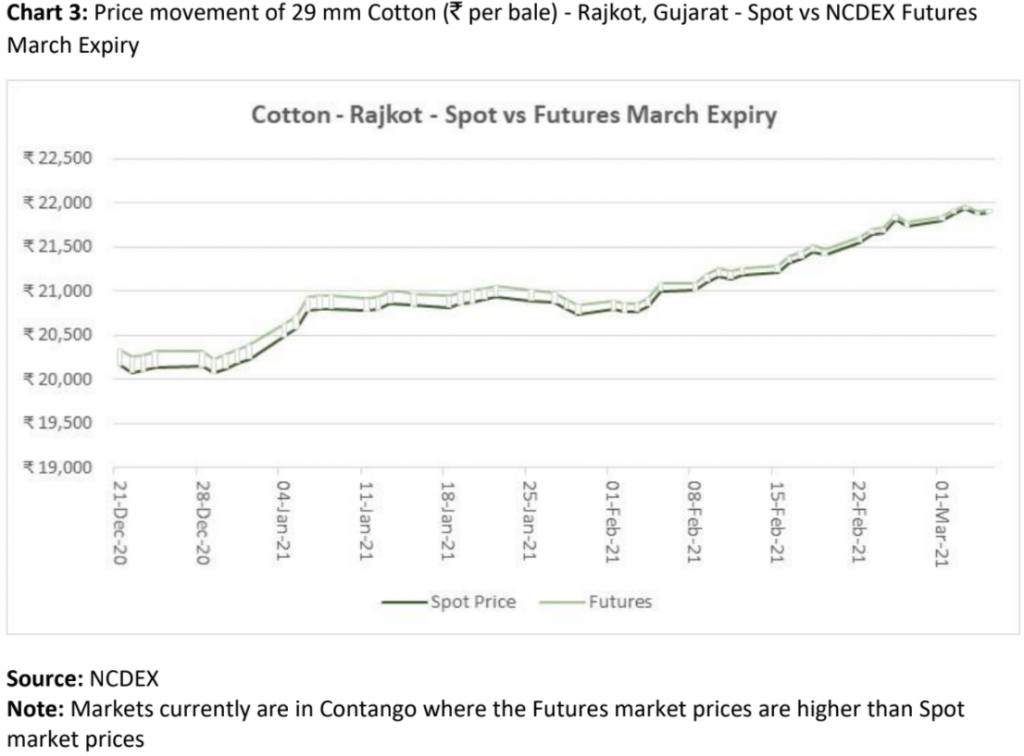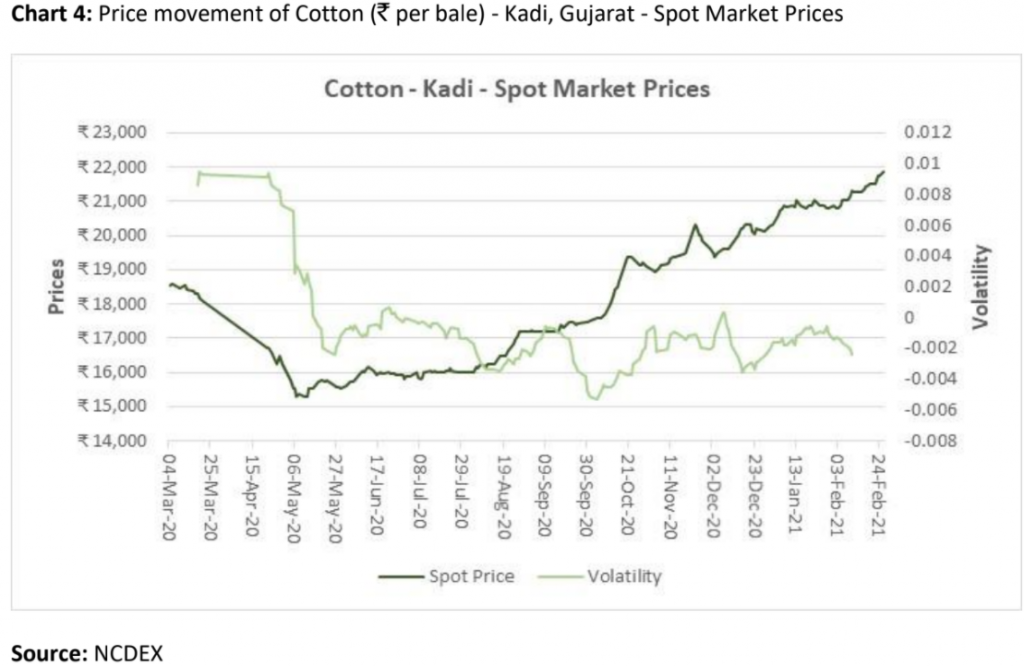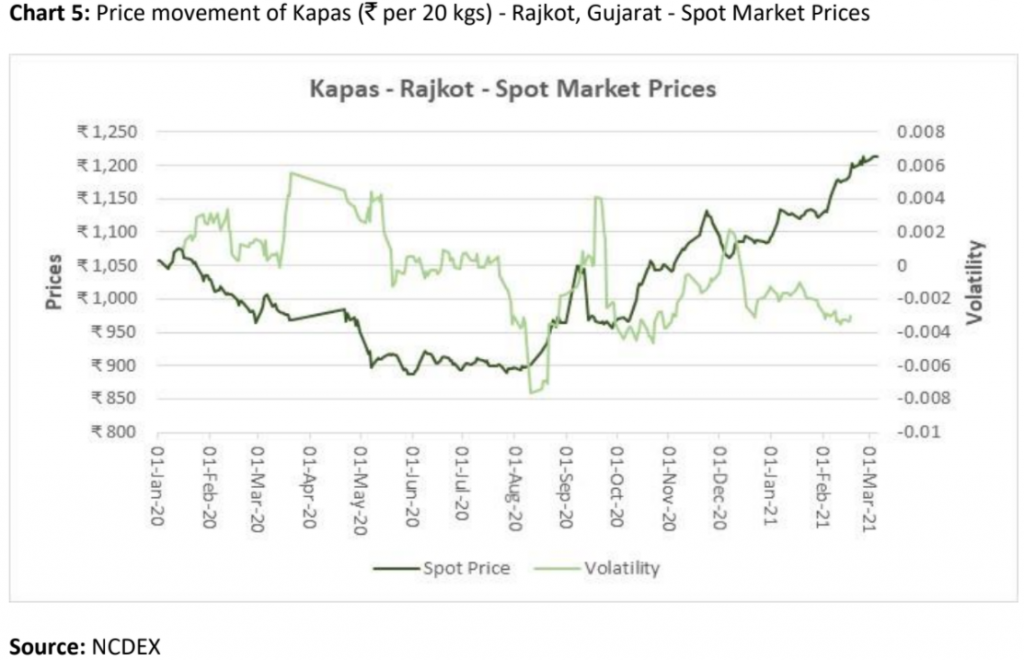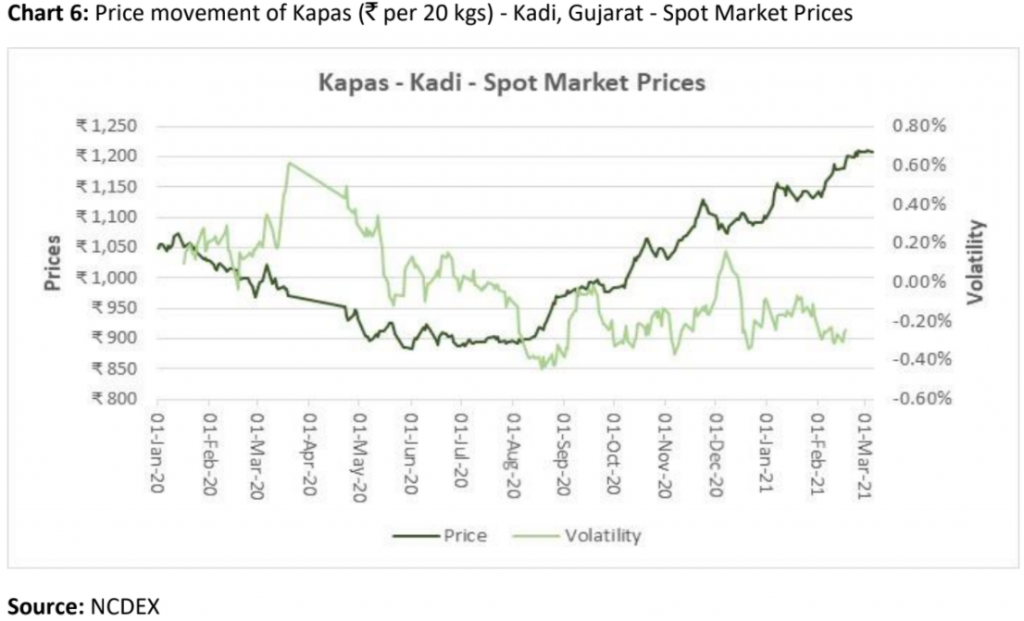 Market commentary: Price outlook
Cotton prices are likely to be bullish and are trading with a positive firm bias in immediate / short term.
The Government had increased the Minimum Support Price (MSP) of Cotton Medium Staple by 4.95 percent to ₹ 5,515 per quintal for marketing year (MY) 2020-21 compared to ₹ 5,255 in 2019-20 whereas for Cotton Long Stable had also increased by 4.95 percent to ₹ 5,825 per quintal for marketing year (MY) 2020-21 compared to 5,550 per quintal in 2019-20.
One of the major reasons as to why farmers in Gujarat switched over to sowing Groundnut from Cotton was because of the lower prices they received last year and during the beginning of the Coronavirus pandemic which spoilt their hopes of good prices as the textile industry had to shut down due to the nation-wide lockdown enforced by the government.