Sowing period: June to July
Harvesting period: December
Crop season: Kharif
Sowing period: October
Harvesting period: March
Crop season: Rabi
Key growing locations for Maize Kharif and Maize Rabi:
Karnataka – Haveri, Shimoga, Davangere, Hassan, Chitradurga
Andhra Pradesh – Kurnool, West Godavari
Maharashtra – Nashik, Sangli, Jalgaon, Aurangabad, Buldhana, Jalana
Madhya Pradesh – Chhindwara, Betul, Dhar, Khargone, Burhanpur, Badwani, Dindori
Uttar Pradesh – Hardoi, Bahraich, Etah, Gonda, Kanpur, Farukhabad
Bihar – Gulabbagh
Production trend and Stock position:
Indian state-run trading company MMTC had once again postponed their offer for submissions in an international tender to import yellow Corn for the seventh time, this time to June 27, 2019.
The Government has increased the Minimum Support Price (MSP) of Maize by 3.53 percent to Rs. 1,760 per quintal for kharif season of 2019-20 compared to Rs. 1,700 in 2018-19.
According to various media reports, in Karnataka, farmers are likely to shift from Cotton, Groundnut, Tur and Sugarcane to Maize as it is a Photo-insensitive crop. Maize has been trading higher than the MSP and farmers are likely to sown more Maize during this Kharif season. In Maharashtra, M.P, Rajasthan and A.P; some crop area of Soybean could shift towards Maize.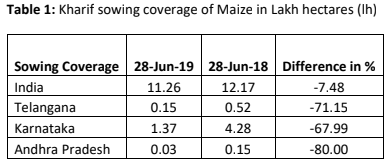 Source: Department of Agriculture Cooperation & Farmers Welfare.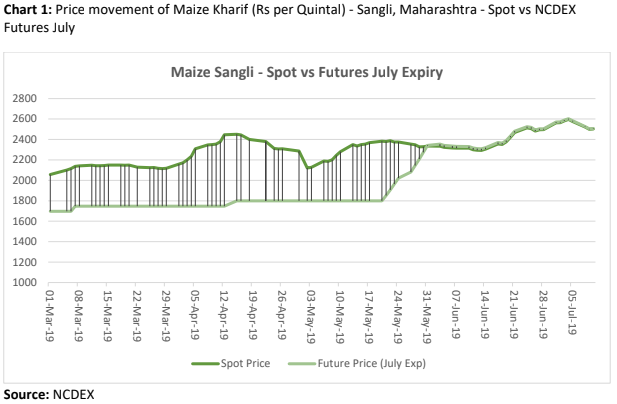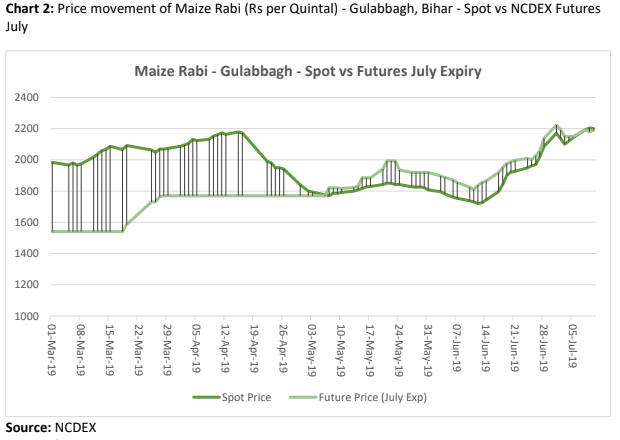 Prices of Maize Rabi are currently in a Contango where the Futures prices are above the expected physical market Spot prices.
Market commentary: Price outlook
Prices of Maize in the physical markets are likely to trade steady in the immediate/short term.
Overall physical market prices of Maize in major markets of Karnataka and Nizamabad region would trade steady to slightly weak during following weeks due to new crop arrival pressure from Bihar and feed makers demand which has shifted towards this region.