Sowing period: June to July
Harvesting period: December
Crop season: Kharif
Sowing period: October to December
Harvesting period: April to June
Crop season: Rabi
Key growing locations for Maize Kharif and Maize Rabi:
Karnataka – Haveri, Shimoga, Davangere, Hassan, Chitradurga
Andhra Pradesh – Kurnool, West Godavari
Maharashtra – Nashik, Sangli, Jalgaon, Aurangabad, Buldhana, Jalana
Madhya Pradesh – Chhindwara, Betul, Dhar, Khargone, Burhanpur, Badwani, Dindori
Uttar Pradesh – Hardoi, Bahraich, Etah, Gonda, Kanpur, Farukhabad
Bihar – Gulabbagh
Production trend and Stock position:
According to Ministry of Agriculture, the sowing acreage of Maize as on August 7, 2020 was 75.88 lakh hectares (lh) up by 0.78 percent compared to 75.29 lh during the corresponding period.
International grains council (IGC) had decreased its global Maize production forecast for 2020-21 by 5 million metric tonne (Mn MT) to 1,164 Mn MT as on July 23, 2020 compared to previous month as on June 25, 2020 forecast of 1,169 Mn MT.
Stock positions of Maize was down by 51.13 percent held at National Commodity Clearing Limited (NCCL) approved warehouses at Gulabbagh location. The stocks held as on August 13, 2020 was 802 MT compared to 1,641 MT as on July 06, 2020
Table 1: State wise sowing progress of Maize Kharif in lakh hectares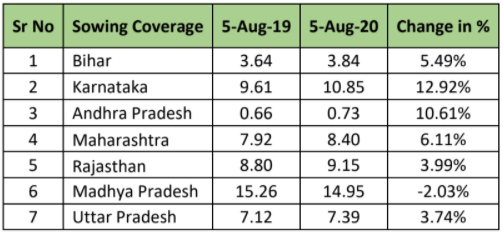 Source: Department of agriculture, cooperation & farmers welfare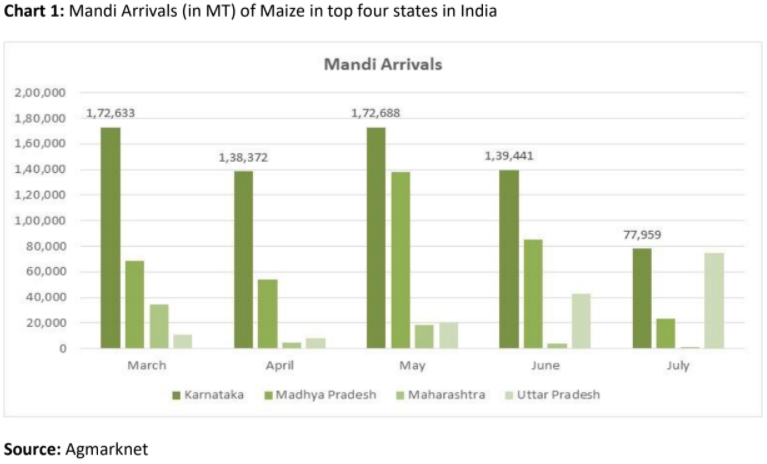 Table 2: India's Export Statistics of Maize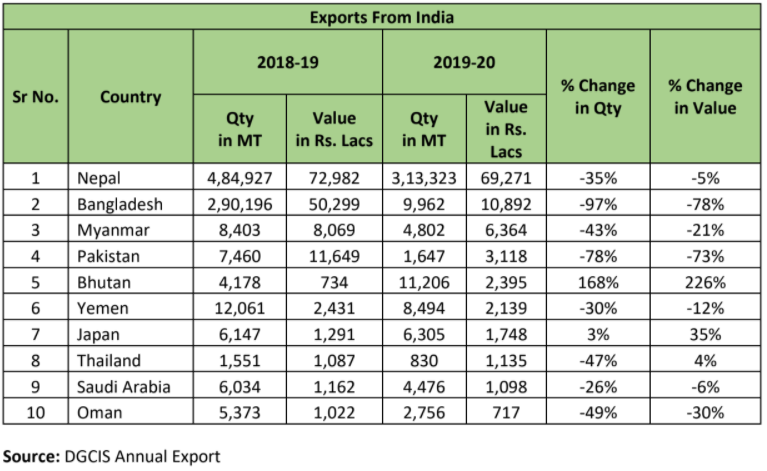 India exports Maize to around sixty countries and in 2019-20 its exports were 3.70 Lakh metric tonne (LMT) at a value of Rs. 1,019 crores which was down by 65 percent in quantity and 46 percent in value compared to the previous period of 2018-19 which was 10.51 LMT and Rs. 1,872 crores in value.
Table 3: India's Import Statistics of Maize

India's import of overall Maize in 2019-20 had increased by 433 percent in quantity and 360 percent in value compared to 2018-19.
As per the customs notification issued on June 23, 2020 by the department of revenue under the Ministry of Finance had authorized the import of 5 lakh metric tonne (LMT) Maize other than seed quality at a concessional custom duty of 15 percent under tariff rate quota (TRQ)scheme for end users for the current financial year 2020-21.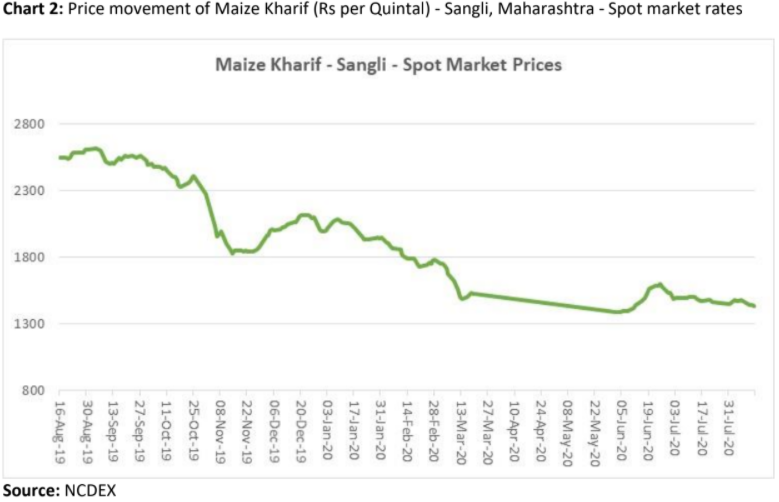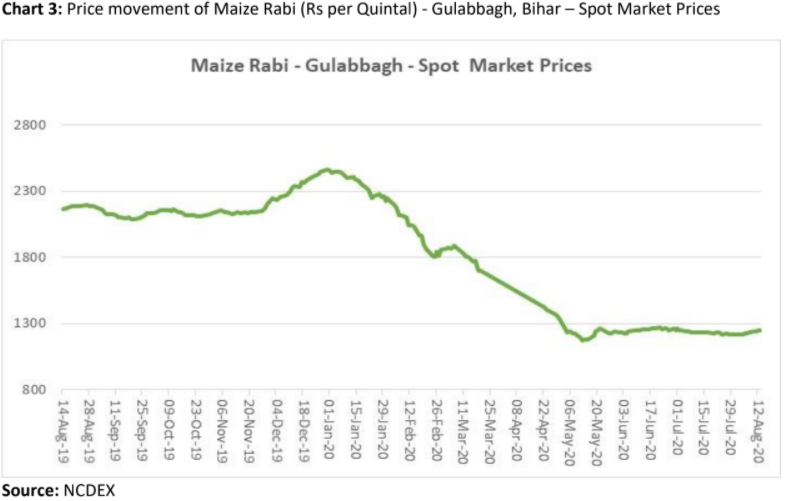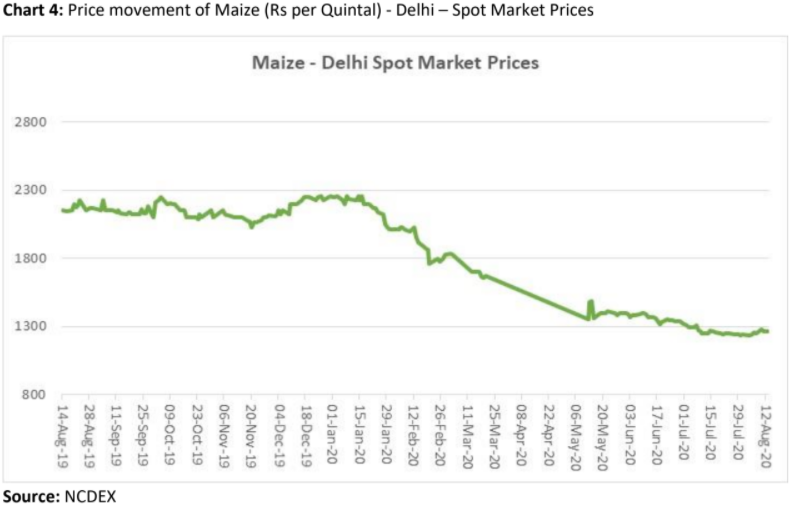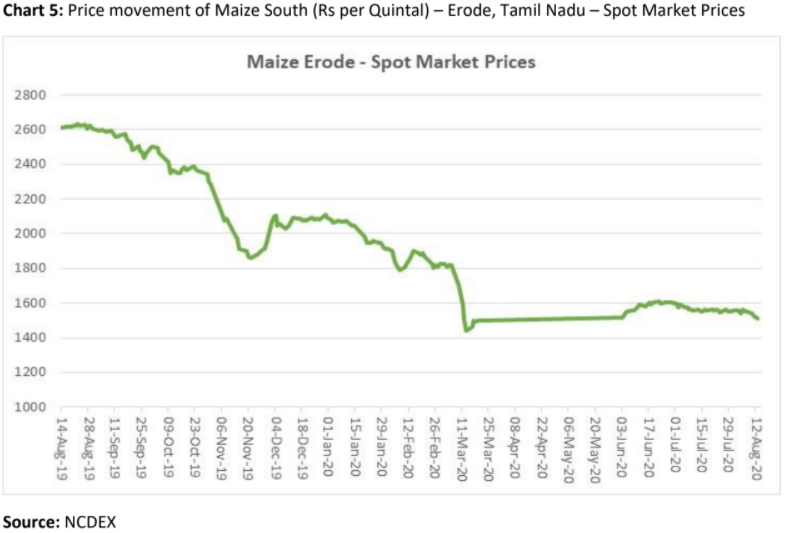 Market commentary: Price outlook
The Government had increased the Minimum Support Price (MSP) of Maize by 5.11 percent to Rs. 1,850 per quintal for marketing year (MY) 2020-21 compared to Rs. 1,760 in 2019-20.
Prices of Maize in the physical markets are likely to trade steady to slightly firm in the immediate / short term.
Overall physical market prices of Maize in major markets are trading below MSP due to an expectation of decrease in arrivals amid steady feed makers' demand.