Sowing period: October to December
Harvesting period: February to April
Crop season: Rabi
Key growing regions:
Rajasthan – Ganganagar, Alwar, Tonk, Baran
Uttar Pradesh – Agra, Sitapur, Aligarh, Etah
Madhya Pradesh – Morena, Gwalior, Bhind, Shivpuri
Gujarat – Banaskanth, Patan, Mehsana, Surendranagar
Production trend and Stock position:
According to an order issued by the Food Safety & standard authority of India (FSSAI) on September 24, 2020, it has prohibited blending of rapeseed mustard oil with any other edible oil in India from October 1, 2020 in public interest as it would facilitate the manufacturing and sale of pure rapeseed-mustard oil for domestic consumption.
As per the Ministry of Agriculture fourth advance estimate released on August 19, 2020, Mustard Seed production was 91.16 lakh tonnes (LMT) compared to FY 2018-19 which was 92.56 LMT, down by 1.51 percent.
Stock positions of Mustard Seed were up by 8.62 percent held at National Commodity Clearing Limited (NCCL) approved warehouses at Alwar, Bikaner, Jaipur, Kota, Sriganganagar and Tonk locations. The stocks held as on August 27, 2020 was 15,562 MT compared to 16,904 MT as on September 27, 2020.
Value Chain Participants of Rapeseed Mustard seed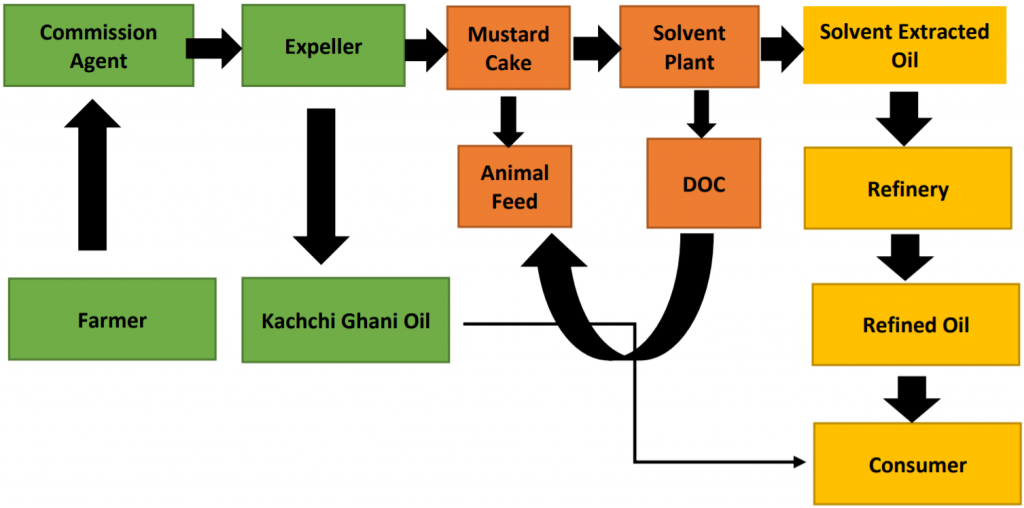 Source: NCDEX
Monsoon update:
For the country as a whole, Seasonal cumulative rainfall during this year's southwest monsoon season upto September 23, 2020 was above Long Period Average (LPA) by +8%. Details of the rainfall distribution over the four broad geographical regions of India are given below:
Table 1: Seasonal Rainfall Scenario for Monsoon Season of 2020 from June 1 to September 23, 2020

Source: India Meteorological Department (IMD)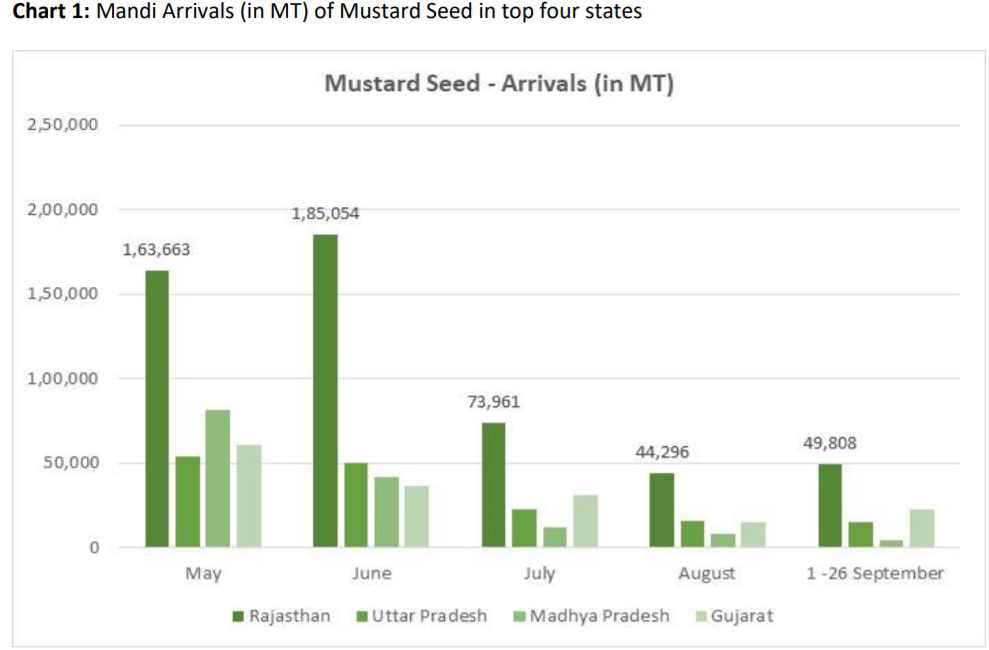 Source: Agmarknet
Note: September Mandi arrivals are for the period: 1 – 26 September 2020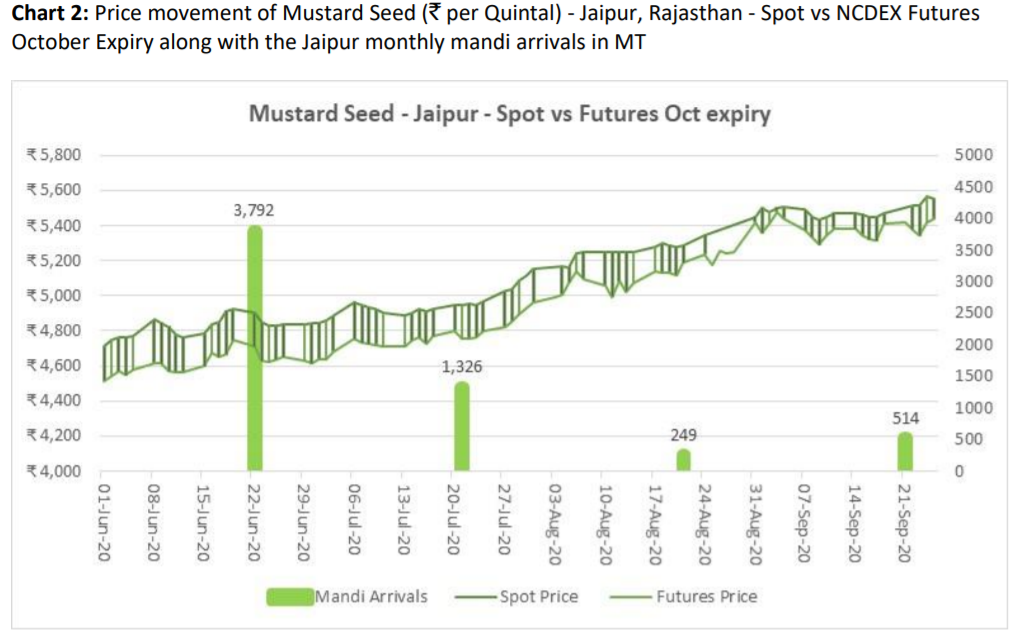 Source: NCDEX
Note: Prices of Mustard seed are currently in a Backwardation where the physical market Spot prices are higher than the expected Futures prices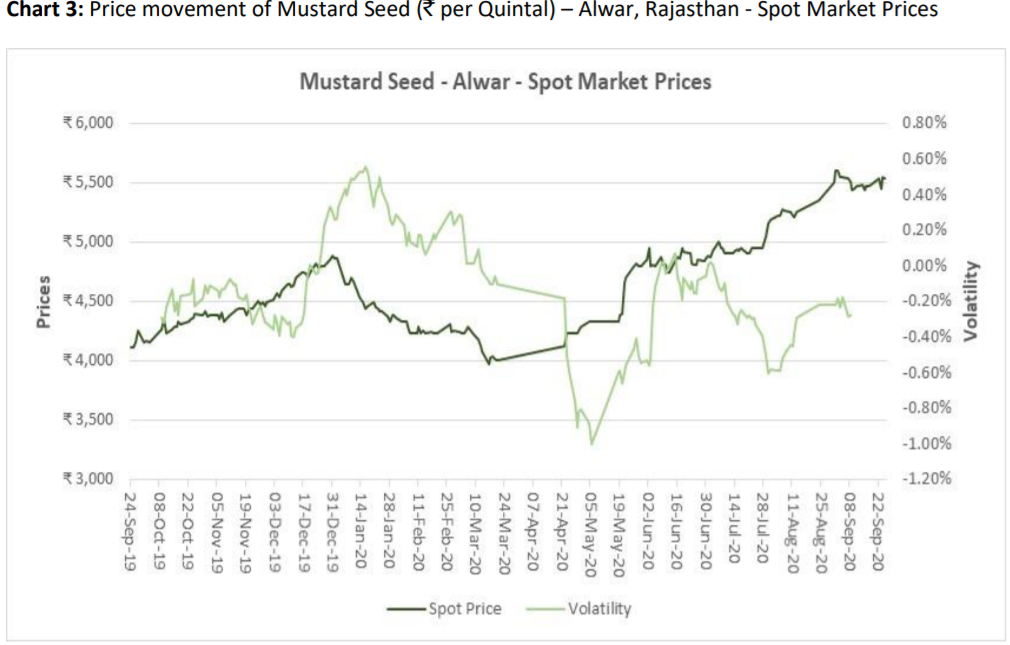 Source: NCDEX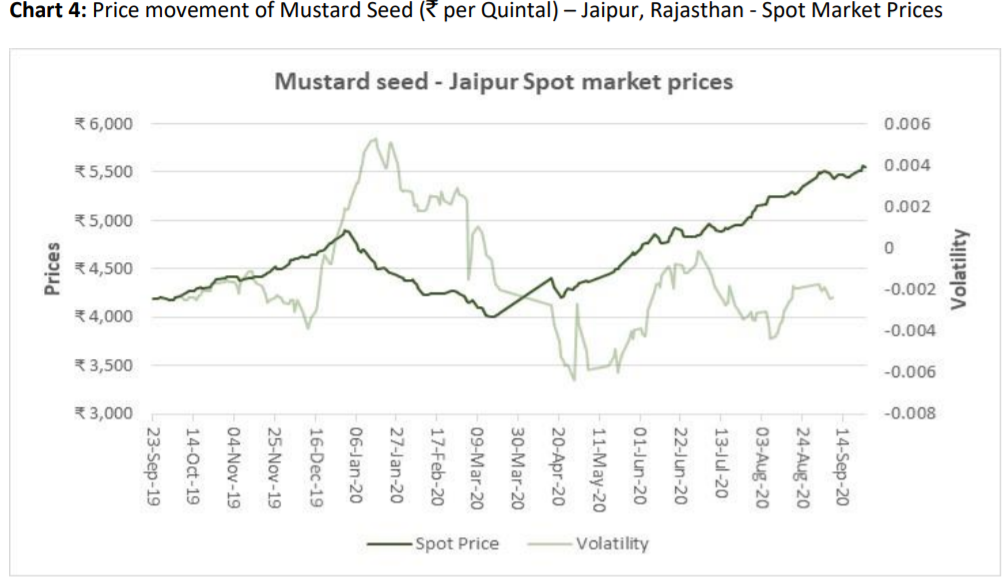 Source: NCDEX
Market commentary: Price outlook
The Government had increased the Minimum Support Price (MSP) of Mustard Seed by 5.08 percent to ₹ 4,650 per quintal for marketing season 2021-22 compared to ₹ 4,425 in 2020-21.
Mustard seed prices are likely to trade in range-bound movement with a firm bias in the immediate/short term because of few factors such as the upcoming festive season demand and the growing significance of Mustard seed as an immunity booster especially during this pandemic where many have become vigilant about their health and would also lead to consumption levels being steady.
Mustard prices had fallen to a low of ₹ 4,000 per quintal (NCDEX quality) in the month of March, steadily improved in April and ever since then the spot market prices have been rising even above the Minimum Support Price (MSP) of ₹ 4,650 per quintal.
Overall prices of Mustard seed across India has breached ₹ 5000 levels after several years especially on the upper side compared to last year's moderate price range movement, which would have been very rewarding not only to the farmers but also the other value chain participants such as traders and stockist.
Heavy rains during the months of March-April 2020 across the regions of Haryana and Rajasthan had unfavourably damaged the old season crops which led to a fall in the supply side and became one of the factors that favoured the prices to rise in the past few months