Sowing period: October to December
Harvesting period: February to April
Crop season: Rabi
Key growing regions:
Rajasthan – Ganganagar, Alwar, Tonk, Baran
Uttar Pradesh – Agra, Sitapur, Aligarh, Etah
Madhya Pradesh – Morena, Gwalior, Bhind, Shivpuri
Gujarat – Banaskanth, Patan, Mehsana, Surendranagar
Production trend and Stock position:
As on July 17, 2020 the progressive purchase of Mustard seed by NAFED under PSS from various centres in different states such as Rajasthan, Gujarat, Uttar Pradesh, Madhya Pradesh, Haryana, etc stood at 8.03 lakh metric tonnes with a total value of Rs. 3.55 lakh and 3,18,524 total progressive number of farmers benefited from this scheme.
As per the Ministry of Agriculture third advance estimate released on May 15, 2020, Mustard Seed production was 87.03 Mn MT compared to FY 2018-19 which was 92.56 Mn MT, down by 5.97 percent
Stock positions of Mustard Seed were up by 27.10 percent held at National Commodity Clearing Limited (NCCL) approved warehouses at Alwar, Bikaner, Jaipur, Kota, Sriganganagar and Tonk locations. The stocks held as on July 20, 2020, was 5,623 MT compared to 4,424 MT as on July 06, 2020.
Table 1: The all India Mustard seed mandi arrivals have been falling week-on-week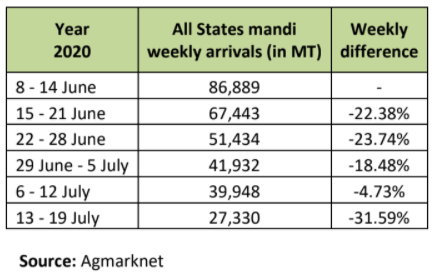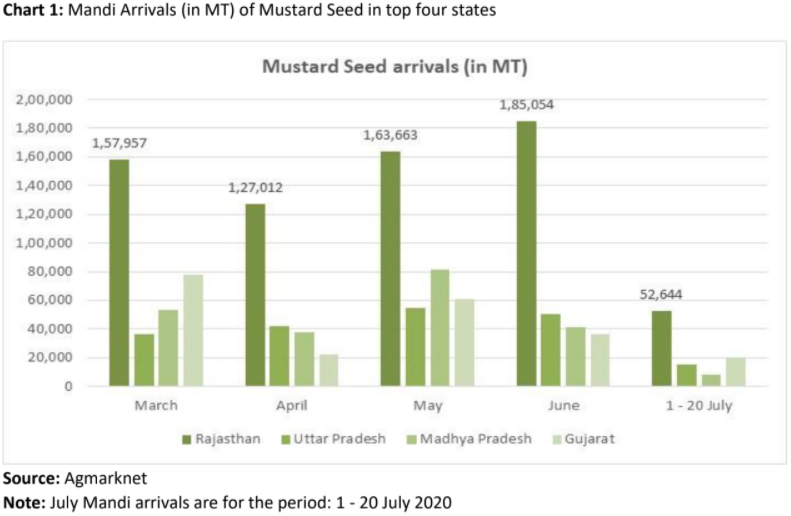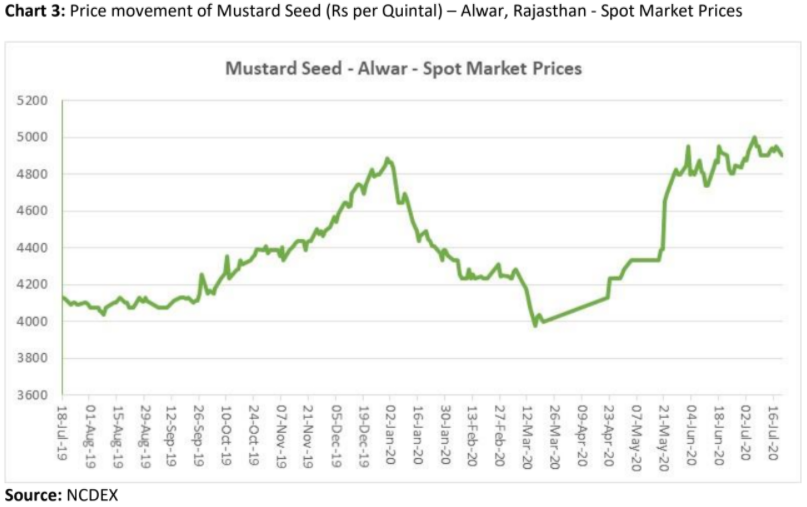 Market commentary: Price outlook
The Government had increased the Minimum Support Price (MSP) of Mustard Seed by 5.36 percent to Rs. 4,425 per quintal for Rabi marketing year (MY) 2020-21 compared to Rs. 4,200 in 2019-20.
Currently Mustard seed has been trading above the MSP levels and would trade range-bound to slightly weak in immediate / short term as according to agriwatch website the crushers and stockists have almost covered their stock for future which could lead to weak demand.