Sowing period: June to July
Harvesting period: October to November
Crop season: Kharif
Key growing regions:
Madhya Pradesh – Sehore, Raisen, Bhopal, Vidisha, Sagar, Guna, Harda, Hoshangabad, Betul
Maharashtra – Buldhana, Latur, Amravati, Yavatmal, Washim, Nanded, Akola, Hingoli
Rajasthan – Kota, Bundi, Baran, Pratapgarh, Jhalawar, Banswara, Chittorgarh, Tonk
Karnataka – Belgaum, Bidar, Dharwad, Haveri
Production trend and Stock position:
According to Ministry of Agriculture, the sowing acreage of Soybean as on August 28, 2020 was 120.53 lakh hectares (lh) up by 6.95 percent compared to 112.70 lh during the corresponding period.
Directorate General of Foreign Trade (DGFT) has blocked the online registration of Merchandise Export from India Scheme Claims (MEIS), this will deny the soymeal exporters the benefit of 5 percent incentive which helped to compete in the world market to some extent.
As per the Ministry of Agriculture fourth advance estimate released on August 19, 2020, Soybean production was 122.15 lakh metric tonne (LMT) compared to FY 2018-19 which was 132.68 LMT, down by 7.94 percent.
Stock positions of Soybean were up down by 6.31 percent held at National Commodity Clearing Limited (NCCL) approved warehouses at Akola and Latur locations. The stocks held as on September 3, 2020 was 6,672 MT compared to 7,121 MT as on August 4, 2020.
Monsoon update:
For the country as a whole, Seasonal cumulative rainfall during this year's southwest monsoon season upto August 26, 2020 was above Long Period Average (LPA) by +41%. Details of the rainfall distribution over the four broad geographical regions of India are given below:
Table 1: Seasonal Rainfall Scenario for Monsoon Season of 2020 from June 1 to August 26, 2020

Source: India Meteorological Department (IMD)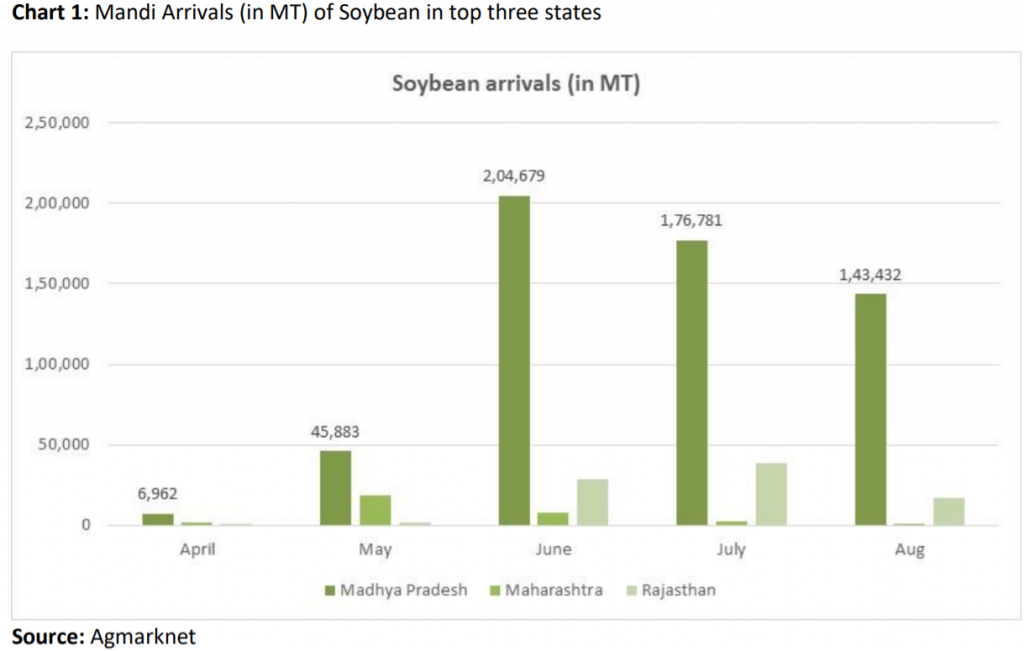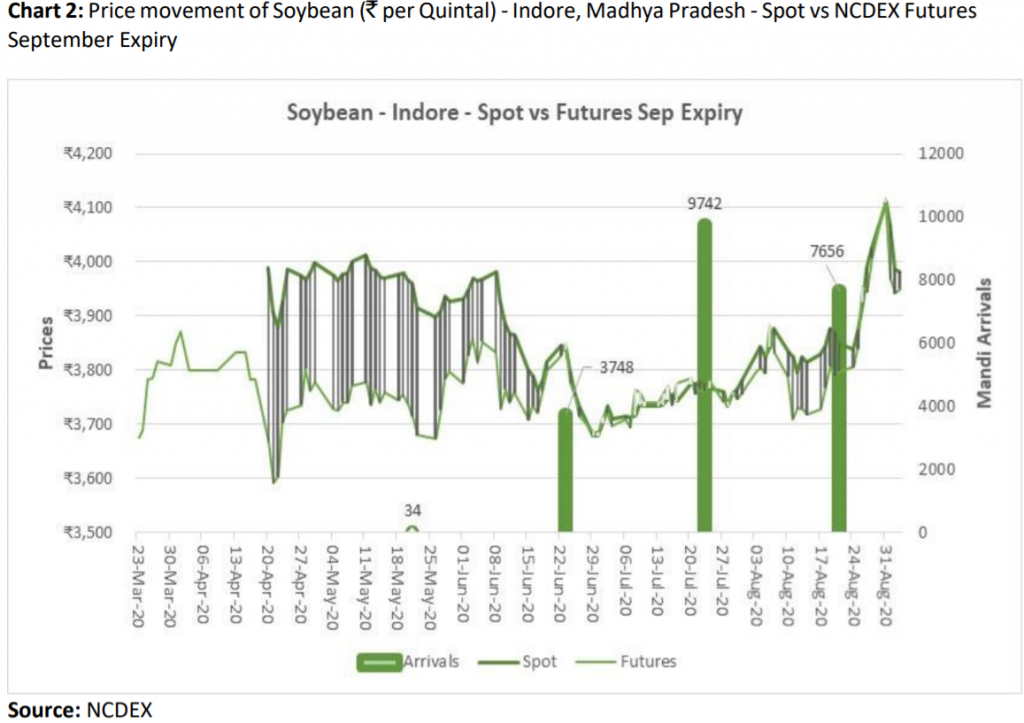 Note: Markets currently are in Backwardation where the Spot market prices are higher than the Futures market prices along with Indore mandi arrivals (in MT).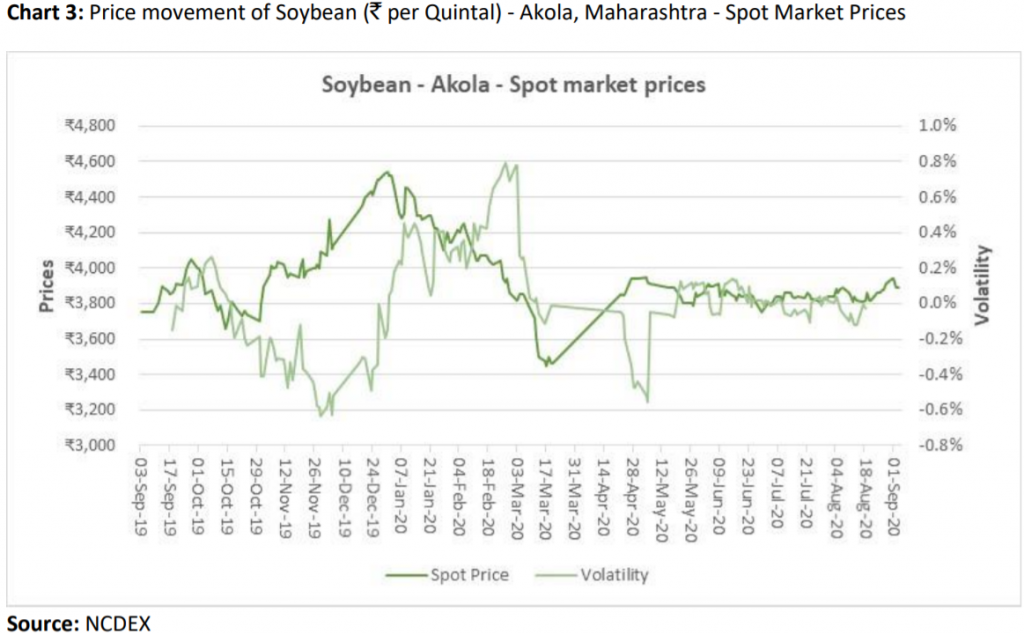 Market commentary: Price outlook
Soybean prices are likely to trade range bound with a weak bias in immediate / short term because of slack in soymeal demand, higher soybean oil imports and expectation of good crop this season.
The Government had increased the Minimum Support Price (MSP) of Soybean by 4.58 percent to ₹ 3,880 per quintal for marketing year (MY) 2020-21 compared to ₹ 3,710 in 2019-20 which will lend some support to the bean.