Sowing period for Red Gram: June to July
Harvesting period: November to February
Crop season: Kharif
Key growing locations for Tur:
Maharashtra – Amarawati, Wardha, Vashim, Latur, Buldhana, Akola
Telangana – Adilabad, Warangal, Karimnagar, Nalgonda
Karnataka – Gulbarga, Raichur, Bidar, Bijapur
Madhya Pradesh – Raisen, Sehore, Hoshangabad, Narsinghpur
Gujarat – Junagarh, Rajkot, Dahod
Uttar Pradesh – Kanpur, Hathras, Hardoi, Agra
Production trend and Stock position:
According to Ministry of Agriculture, the sowing acreage of Red gram as on August 23, 2019 was 43.43 lakh hectares (lh) up by 0.39 percent compared to 43.26 lh during the corresponding period.
As per the Ministry of Agriculture third advance estimate FY 2018-19 released on June 03, 2019, the production was 3.50 Mn MT compared to FY 2017-18 which was 4.29 Mn MT, down 18.41 percent.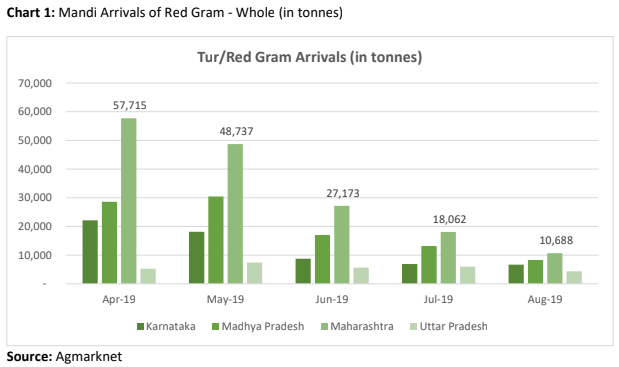 Note: August Mandi arrivals are from 1 – 23 August, 2019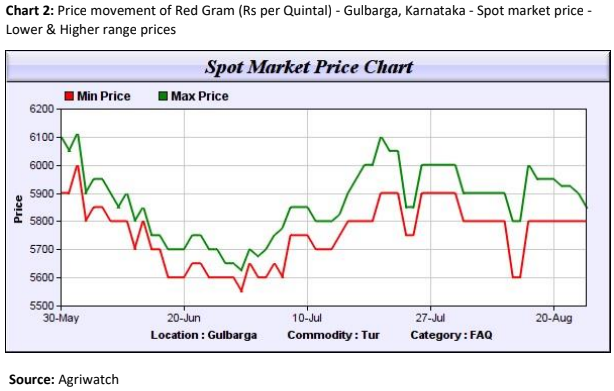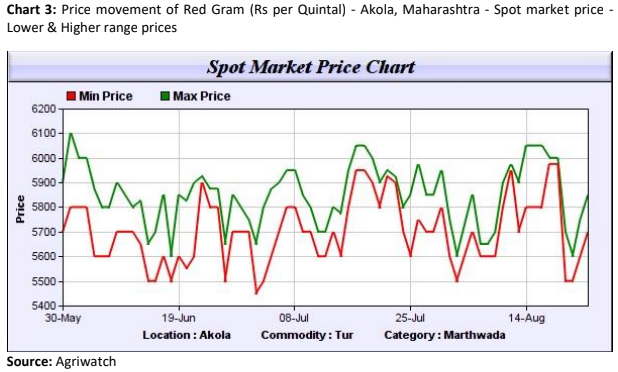 Market commentary: Price outlook
Overall Red gram prices are likely to trade steady to slightly weak in the immediate/short term.
Minimum Support Price (MSP) for Red Gram for 2019-20 is Rs. 5,800 per quintal an increase of Rs. 125 or 2.20 percent compared to last year's price of Rs. 5,675 per quintal.