Sowing period: October
Harvesting period: April to May
Crop season: Rabi
Key growing locations:
Madhya Pradesh – Ujjain, Ratlam, Dhar, Sehore, Indore
Rajasthan – Kota, Baran, Chittorgarh, Bundi, Jhalawar
Uttar Pradesh – Kanpur, Varanasi, Agra, Bahraich, Hardoi
Maharashtra – Mumbai, Vashim, Dhule, Akola, Nandurbar
Gujarat – Rajkot, Sabarkantha, Dahod, Junagarh, Ahmedabad
Production trend and Stock position:
Wheat WPI has decreased from 155.5 in March 2019 to 151.5 in April 2019. Monthly wheat inflation has decreased by 2.57 percent in April 2019 compared to previous month. As compared to April 2018 wheat WPI has increased by around 7.52 percent.
Until May 20, 2019 Government agencies had procurement 323.68 lakh tonnes (lt) Wheat from different states as mentioned in the table below: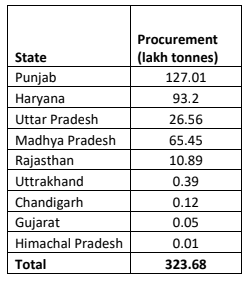 In Rabi marketing season 2019-20 government has set a procurement target of 35.70 MMT.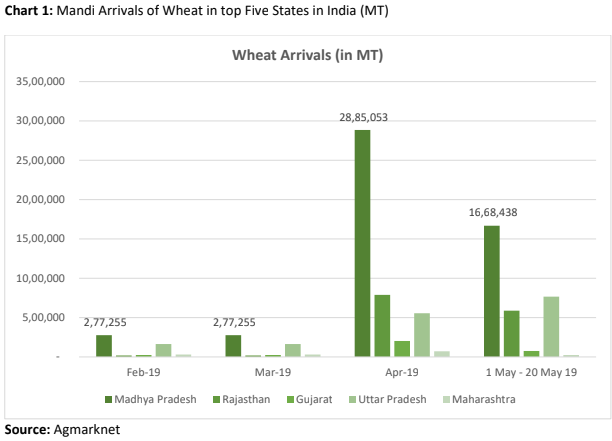 Note: Spike in mandi arrivals since April and May mandi arrivals are from 1 – 20, May 2019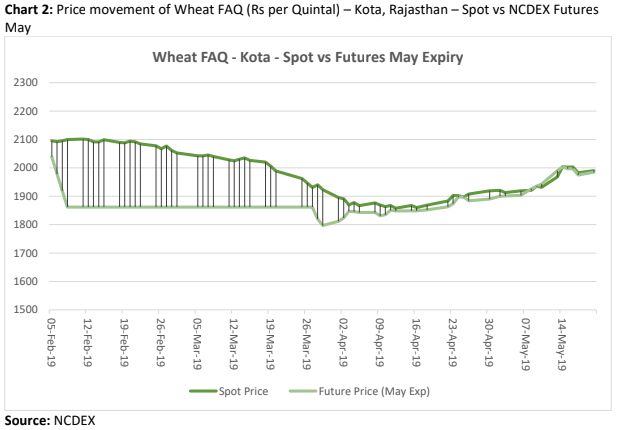 Note: Spot market and Futures prices are moving in tandem with each other.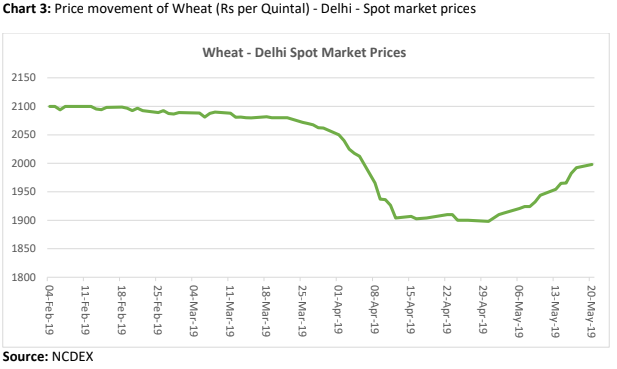 Market commentary: Price outlook
Overall physical market prices across centres of Wheat have been in the range of Rs. 1,910 – 2,000 per quintal and is expected to remain below Rs. 2,000 per quintal levels.
Wheat prices are likely to stay steady to slightly firm in the immediate/short term as the arrival pressure is likely to ease in domestic market.