Sowing period: October
Harvesting period: April to May
Crop season: Rabi
Key growing locations:
Madhya Pradesh – Ujjain, Ratlam, Dhar, Sehore, Indore
Rajasthan – Kota, Baran, Chittorgarh, Bundi, Jhalawar
Uttar Pradesh – Kanpur, Varanasi, Agra, Bahraich, Hardoi
Maharashtra – Mumbai, Vashim, Dhule, Akola, Nandurbar
Gujarat – Rajkot, Sabarkantha, Dahod, Junagarh, Ahmedabad
Production trend and Stock position:
All India area sown for Wheat as per Ministry of Agriculture until February 22, 2019 was 299.68 Lakh hectares down by 1.52 percent compared to 304.29 Lakh hectares in the previous Rabi season.
According to the Department of Food and Public Distribution, the estimate for procurement of Wheat for Central Pool during Rabi Marketing Season (RMS) 2018-19 was 320 Lakh MT up by 3.82 percent compared to RMS 2017-18 which was 308.24 Lakh MT.
Table 1: Agency wise procurement of Wheat for Rabi Marketing Season (RMS) 2018-19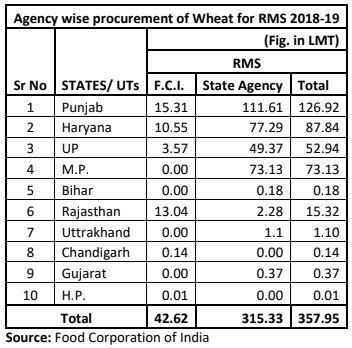 The government is planning to initiate an open market sale during this procurement season, usually open market sales start after procurement ends. However, in this season the stock position for Wheat is on a higher side. Therefore, to make way for the new crop, government wants to liquidate Wheat stocks in the open market.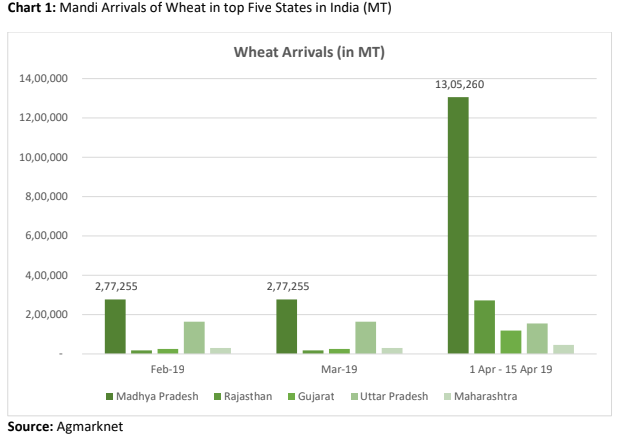 Note: April Mandi arrivals are for the period: 1 – 15 April, 2019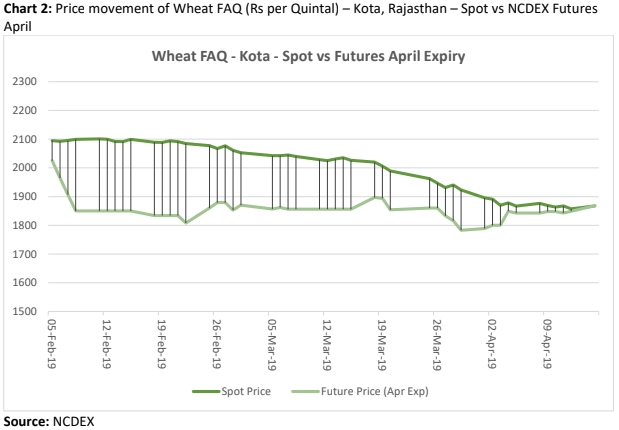 Note: Spot market and Futures prices are in convergence after a huge spread in prices since the last two months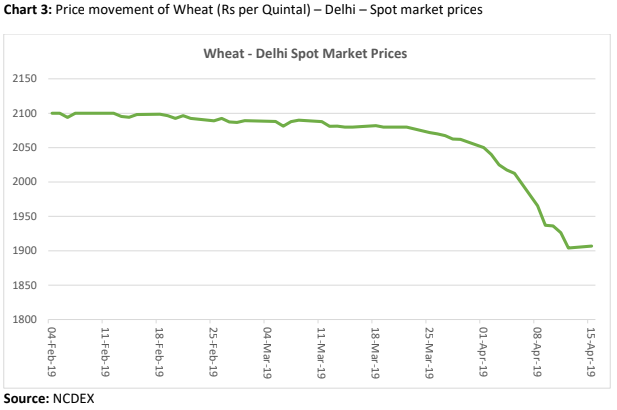 Market commentary: Price outlook
Wheat prices would remain weak in the immediate/short term due to ample availability of Wheat in domestic markets and good production in MY 2019-20.
There are bearish sentiments amongst market participants as prices of Wheat across centres such as Delhi, Kota and Rajkot have been low.