Sowing period: October
Harvesting period: April to May
Crop season: Rabi
Key growing locations:
Madhya Pradesh – Ujjain, Ratlam, Dhar, Sehore, Indore
Rajasthan – Kota, Baran, Chittorgarh, Bundi, Jhalawar
Uttar Pradesh – Kanpur, Varanasi, Agra, Bahraich, Hardoi
Maharashtra – Mumbai, Vashim, Dhule, Akola, Nandurbar
Gujarat – Rajkot, Sabarkantha, Dahod, Junagarh, Ahmedabad
Production trend and Stock position:
According to Department of Food & Public Distribution, the government has sold 3,36,700 MT of Wheat in open market sale scheme (OMSS) until the fourth tender in August 2019, out of which no Wheat was sold through rakes.
As per the Ministry of Agriculture fourth advance estimate, FY 2018-19 released on August 19, 2019, Wheat production was 102.19 Mn MT compared to FY 2017-18 which was 99.87 Mn MT, up 2.32 percent.
Stock positions of Wheat were down by 3.76 percent held at National Commodity Clearing Limited (NCCL) approved warehouses at Kota location. The stocks held as on September 16, 2019 was 32,450 MT compared to 33,719 MT as on August 29, 2019.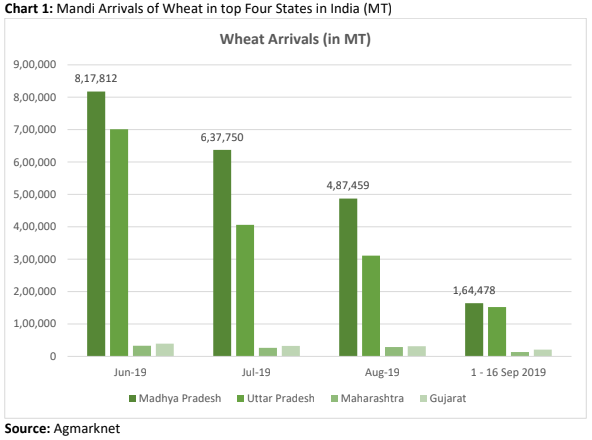 Note: September Mandi arrivals are for the period: 1 – 16 September 2019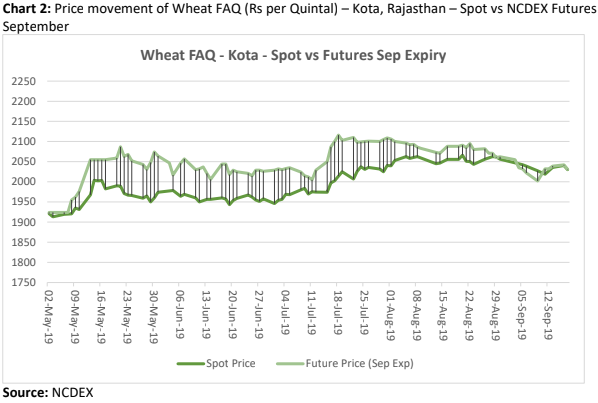 Note: Markets currently are in Contango where the Futures market prices are higher than the Spot market prices.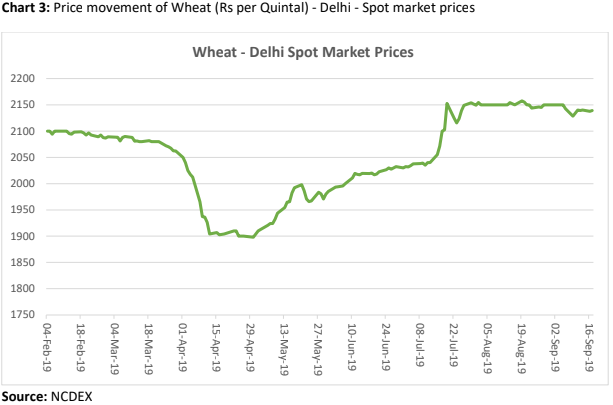 Market commentary: Price outlook
Overall physical market prices across centres of Wheat would trade steady to firm due to hike in import duty and good demand in the domestic market according to agriwatch website.
Wheat prices are likely to trade steady to weak in the immediate/short term.