Sowing period: October
Harvesting period: April to May
Crop season: Rabi
Key growing locations:
Madhya Pradesh – Ujjain, Ratlam, Dhar, Sehore, Indore
Rajasthan – Kota, Baran, Chittorgarh, Bundi, Jhalawar
Uttar Pradesh – Kanpur, Varanasi, Agra, Bahraich, Hardoi
Maharashtra – Mumbai, Vashim, Dhule, Akola, Nandurbar
Gujarat – Rajkot, Sabarkantha, Dahod, Junagarh, Ahmedabad
Production trend and Stock position:
According to Ministry of Agriculture, the sowing acreage of Wheat as on January 31, 2020 was 336.18 lakh hectares (lh) up by 12.32 percent compared to 299.30 lh during the corresponding period.
Acreage under wheat has increased in the states of Madhya Pradesh, Gujarat, Maharashtra and Rajasthan till date.
The Food Corporation of India (FCI) had declared the reserve price of wheat under OMSS which had been reduced to 2,135 per quintal for fair average quality (FAQ) and to 2,080 per quintal for lower quality. The benchmark price was ` 2,245 per quintal for the Jan-Mar period of 2019-20.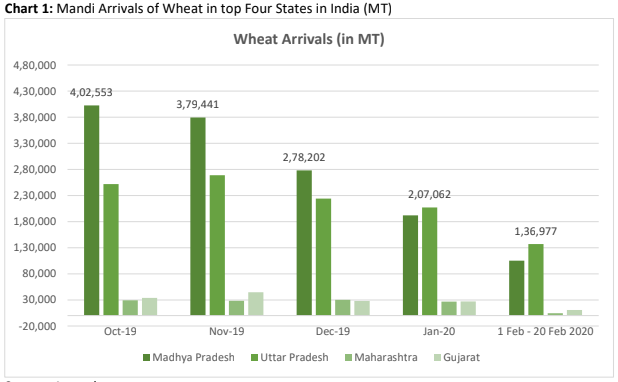 Source: Agmarknet
Note: February Mandi arrivals are for the period: 1 – 20 February 2020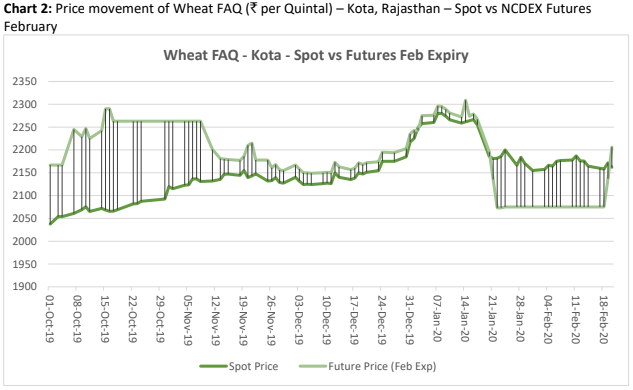 Source: NCDEX
Note: Markets currently are in Contango where the Futures market prices are higher than the Spot market prices.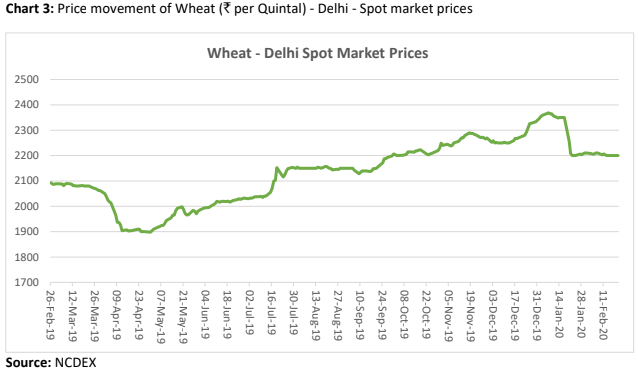 Market commentary: Price outlook
Wheat prices are likely to trade steady to slightly weak to below Rs. 2,150 – 2,000 per quintal levels in the immediate / short term.
Overall spot market prices of Wheat have been trading above Rs. 1,925 per quintal which is the government's fixed minimum support price for Wheat.