Sowing period: October
Harvesting period: April to May
Crop season: Rabi
Key growing locations:
Madhya Pradesh – Ujjain, Ratlam, Dhar, Sehore, Indore
Uttar Pradesh – Kanpur, Varanasi, Agra, Bahraich, Hardoi
Maharashtra – Mumbai, Vashim, Dhule, Akola, Nandurbar
Gujarat – Rajkot, Sabarkantha, Dahod, Junagarh, Ahmedabad
Production trend and Stock position:
As per the Ministry of Agriculture second advance estimate FY 2018-19 released on February 28, 2019 for Wheat production was 97.11 million tonnes (Mn MT) compared to FY 2017-18 which was 99.12 Mn MT, down 2.03 percent. The target was 102.20 Mn MT down 4.98 percent compared to FY 2018-19 estimate.
Total food grain output is expected to be around 281.37 Mn MT compared to 277.49 Mn MT up by 1.40 percent in second advance estimate for 2017-18.
All India Wheat sowing as on February 15, 2019 was 298.47 lakh hectares which was down by 0.46 percent from last year's corresponding period area of 299.84 lakh hectares.
Acreage of Wheat in Madhya Pradesh is higher as farmers have shifted from chickpea.
Steep rise in the food grain inventory might put the government in a spot, as Wheat procurement season for 2019-20 (Apr-Mar) will commence from April 01, 2019. The procurement will start from March 15, 2019 in Madhya Pradesh whereas procurement in Punjab and Haryana will start from April 01, 2019.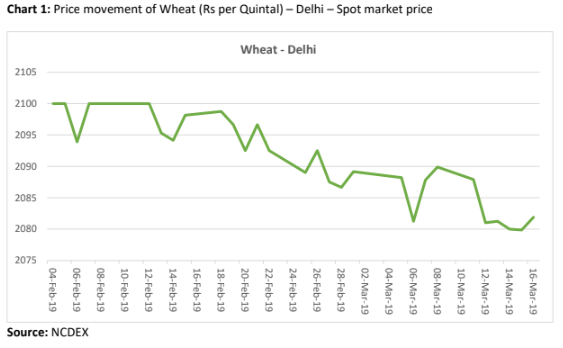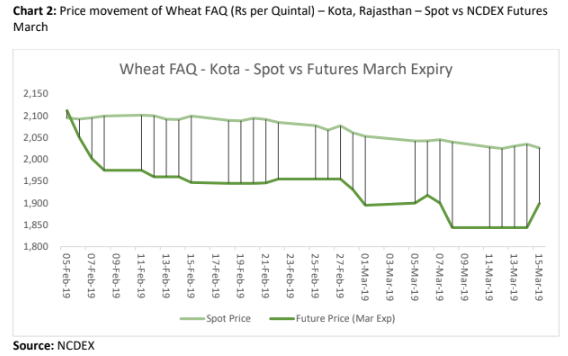 Market commentary: Price outlook
Wheat is expected to trade steady to weak in the coming weeks.
Prices are expected to remain weak in coming days due to abundant availability and fresh arrivals in domestic markets.
For the 2018-19 marketing season (Apr-Mar), the government fixed minimum support price for Wheat at Rs. 1,735 per 100 kg, up from Rs. 1,625 a year ago and Rs. 1,840 per 100 kg for 2019-20 marketing year.