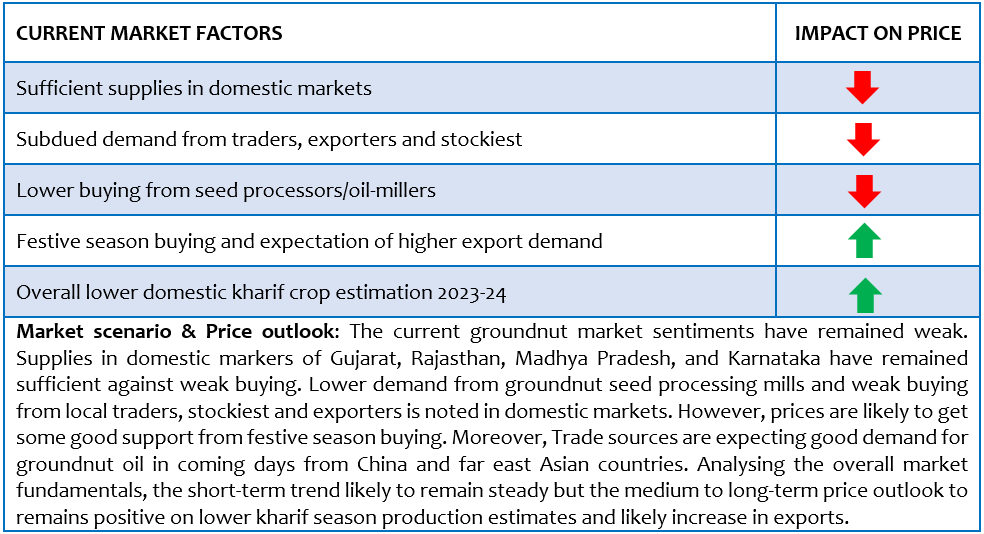 Current Market Developments:
Since September onwards Groundnut prices continue to remain weak and have declined from Rs 7100 per quintal to currently at Rs 6600 per quintal.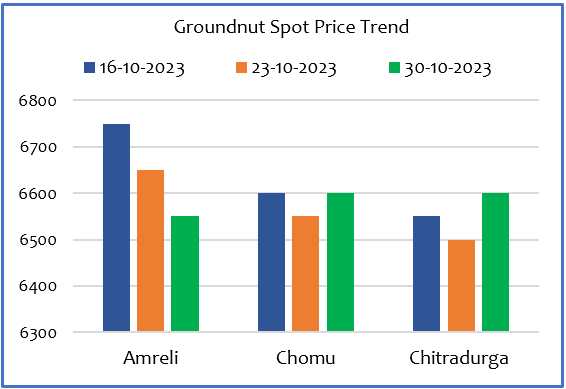 Buying demand has remained subdued in domestic spot markets of Gujarat and Rajasthan tracking weak demand from oil millers/processors and stockiest.
Moreover, the expectation of higher production mainly in Rajasthan, Uttar Pradesh and Madhya Pradesh have kept market sentiments low.
Trade sources are expecting Groundnut production in Gujarat to be around 35 lakh tonnes and uptill now 30-35 percent of the crop have arrived in markets of Saurashtra. Whereas in north Gujarat around 60-70 percent of crop has arrived in markets.
As per the 01st advance estimates for Kharif 2023-24 season by the Department of Agriculture Gujarat, Groundnut production in the State is estimated to decline by 11 percent at 39 lakh tonnes as compared to 44 lakh tonnes Kharif season 2022-23.
According to the Ministry of Agriculture, Kharif Groundnut crop production in the country during 2023-24 is estimated at 78.29 lakh tonnes as compared to 84.98 lakh hectares in 2022-23 Kharif season a decline of 8 percent.
At the export front, demand for groundnut oil and groundnut seed has remained low. Currently, Indian exporters are offering around 1800 dollars per tonnes. Exporters are expecting good improvement in demand from China in November-December 2023. Exports to far eastern countries such as Indonesia, Malasia, Philippines, Thailand have not yet picked up. Groundnut seed TJ variety 80-90 count offered at 1180 dollar per tonne and 50-60 count offered at 1210 dollar per tonne.
According to the Solvent Extractors association of India, Groundnut meal exports during April-September 2023 have increased significantly at 11,166 metric tonnes as compared to 5,086 metric tonnes April-September 2022.
Groundnut Spot Price Trend Vs Seasonality at Key Markets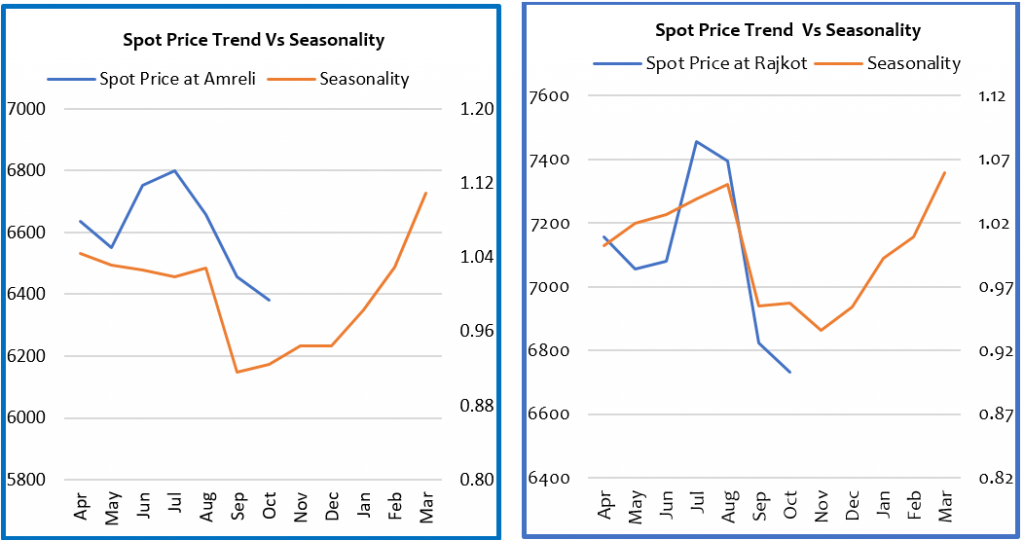 Statewise Kharif Season Acreage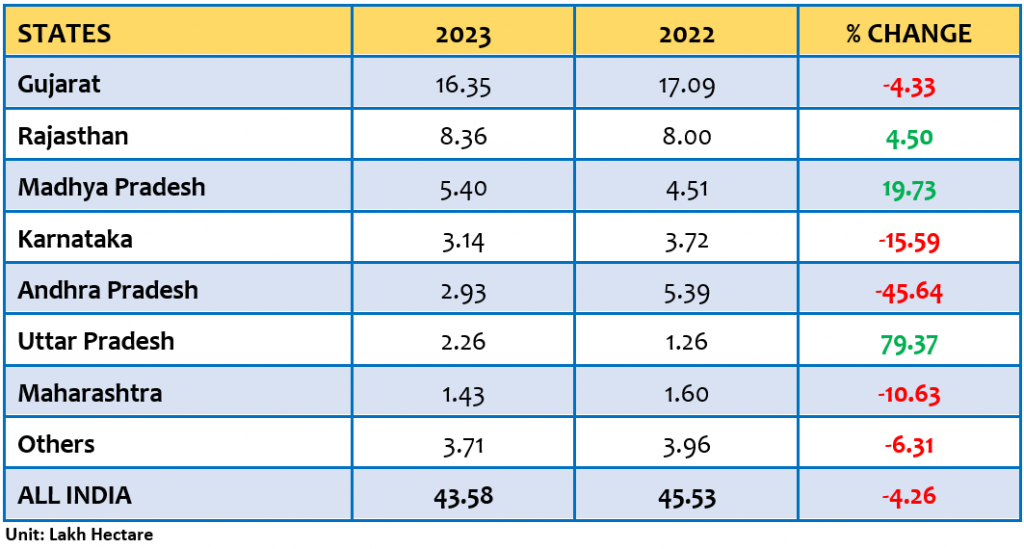 Area, Production and Yield: India & Major States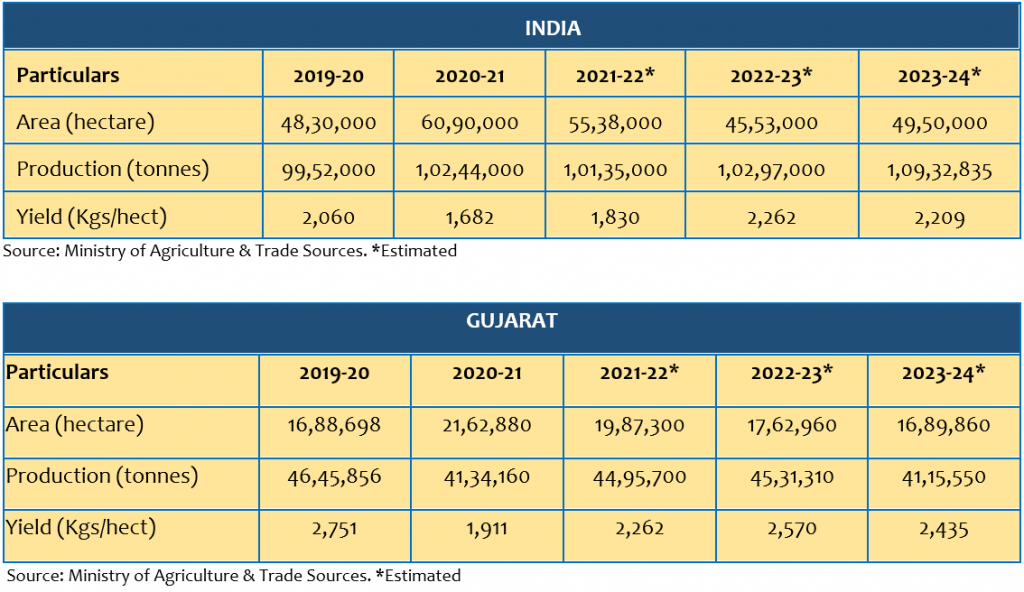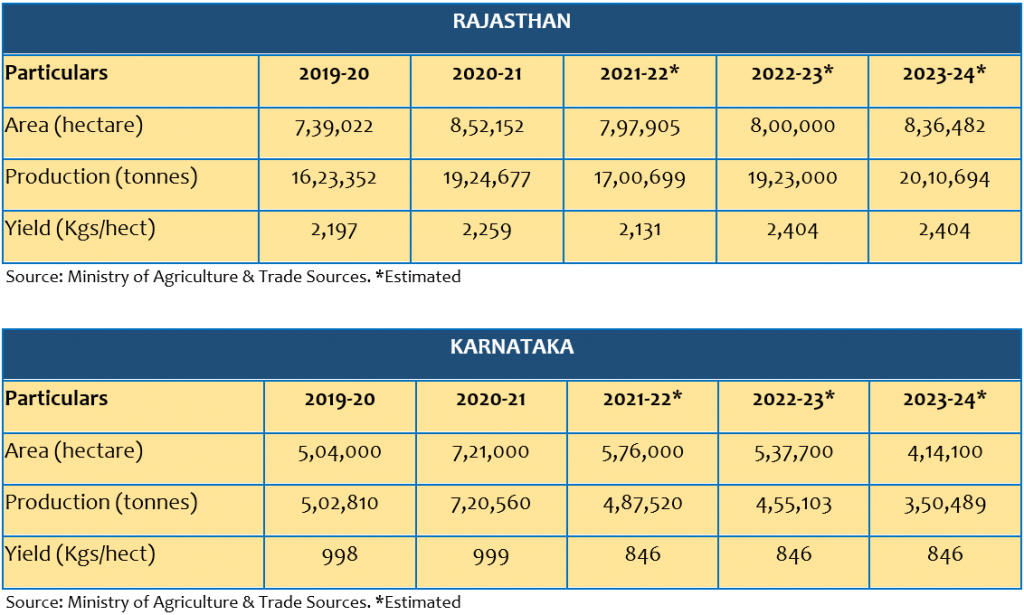 Disclaimer:
This report is prepared by "agribazaar". Information and opinions in this report have been taken from publicly available data and from sources believed to be reliable. Neither the report nor any part of the report shall be replicated without the written consent. agribazaar does not make any representations or warranties in relation to the accuracy, completeness and correctness of data or information contained in this report. Use of the data, information or opinions contained in this report is at the sole risk of the recipient of this report, and any such data, information or opinion should be independently verified. agribazaar, its affiliates, their officers, directors, and employees shall not be responsible for any loss or damage that may arise to any person from any error in the data, information or opinion contained in this report. "agribazaar" 2023.