The objective of this note is not only to provide information on the onset of the current Rabi season but also to comprehend the relation between the status of the crop sown to its production, prices owing to climatic, socio-economic, political conditions, and policies.
Rabi or winter crops are sown around the retreating monsoon and northeast monsoon season, from October till March. Harvesting for these crops typically happens during the summer season, i.e., April and May. A warm climate is required for seed germination and a cold environment for the growth of these crops.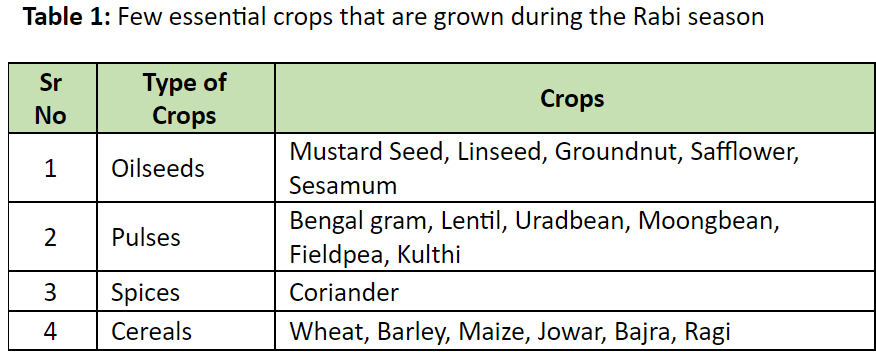 According to the Ministry of Agriculture, the sowing acreage as of October 29, 2021, for 2021-22 was 43.29 lakh hectares (LH), up by 1.81 percent compared to 42.52 LH during the corresponding period. Most of the key growing states in India where the crops mentioned above are grown are Madhya Pradesh, Rajasthan, Uttar Pradesh, Maharashtra, and Gujarat.
Monsoon Update
For the country, cumulative rainfall during this season until October 29, 2021, is above Long Period Average (LPA) by 38 percent. Details of the rainfall distribution over the four broad geographical regions of India are given below:


Road ahead:
On September 8, 2021, the Cabinet Committee on Economic Affairs (CCEA) increased Minimum Support Prices (MSP) for Rabi crops for marketing season 2022-23. An increase in MSP and the recently announced National Mission on Edible Oils-Oil Palm in expanding area and productivity would increase the farmer's income and help generate additional employment. Since the past few years, there have been rigorous efforts to realign the MSPs in favor of oilseeds, pulses, and coarse cereals to encourage farmers to shift to a larger area under these crops and try to adopt the best technologies and farm practices to correct the existing demand-supply imbalance. As per the Press Information Bureau (PIB) press release, "the increase in MSP for rabi crops for RMS 2022-23 is in line with the Union Budget 2018-19 announcement of fixing the MSPs at a level of at least 1.5 times of the all-India weighted average cost of production, aiming a reasonably fair remuneration for the farmers'.
CCEA has also approved Rs. 28,655 crores, the new nutrient-based subsidy rates for phosphatic and potassic fertilizers on October 11, 2021. This subsidy will be paid to fertilizer companies to sell their products to farmers below market prices. Unlike urea, where the Centre sets a fixed maximum retail price, non-urea fertilizer prices are decontrolled with the Government improving nutrient-based subsidy rates instead.
There has been a more than 60 percent decline in the crop insurance claims of farmers at Rs. 9,570 crore under the Pradhan Mantri Fasal Bima Yojana (PMFBY) for the 2020-21 crop year from the previous year as there were no significant crop losses, and much of the crop insurance claims reported for 2020-21 and 2019-20 crop years have been cleared by the government.