The Indian agriculture sector is being immensely pressurized by issues of the increasing population, unfavorable climate occurrences, and land limitations. An urgent need to adopt endurable agricultural practices exists due to the demand for affordable, high-quality food products. All these changes in customer behavior and conditions indicate that the agri industry needs to embrace new technologies and farming techniques. Agritech integration holds thrilling prospects for the agriculture sector.
In 2023, we expect to see several advanced agritech trends that will drive evolution and sustainability in the farming sector.
The growing use of satellite imaging
Satellite imaging helps in the effective management of crops. With the help of satellite imaging, farmers can monitor the health of crops and resources to manage the crops. It is challenging to find out the issues with crops and fields. Satellite imaging will enable a more accurate examination of crop fields and improve yields.
Sustainability using modern technology
The agri industry must adopt sustainable farming practices with faster climate change than expected and increasing extreme weather occurrences. It is becoming more evident that sustainable farming practices will be given the most importance in 2023 to meet the demands of the expanding population.
Technologies, such as AI, will enable the use of relevant data leading to low-input agriculture and better decision-making. IoT technology can be used to optimize the use of agricultural resources and enhance crop yields.
Establishing regenerative agriculture
Regenerative agriculture concentrates on restoring the life and health of farm soil and enhancing water retention. Multiple new technologies will be used to achieve these objectives and improve the quality of the farm. Sensors, IoT-powered smart irrigation, and AI & ML-based applications allow farmers to make smarter decisions based on soil humidity, pH, temperature, moisture, and nutrients.
Digital information sharing
While saving time and money, digital information sharing allows farmers to exchange helpful information and facts. Farmers can communicate with input providers, crop advisors, and other professionals to improve crop yield and make more profits. Emerging faster internet connectivity will facilitate real-time communication and exchange of crucial farming-related information between farmers and agri experts.
Precise yield predictions
Technologies like AI & ML allow farmers to predict the yields accurately before harvesting the crops. Farmers can explore the exact products and eliminate food wastage to increase profits using such technologies.
As per a report by FAO, there were about 811 million hungry people in 2020, and the pandemic worsened the matter further. Advanced technologies will support decisions on which crops to grow for which conditions and measures should be taken during the growing season.
Field mapping
Field mapping involves using GIS technologies to help farmers map their fields and extract data about them to achieve the goals like processing data, managing their farm, and getting valuable decision aid. Farmers can track the latest growth with field mapping and follow perfect planting, spraying, and harvesting conditions. Farmers will also be able to predict the best practices to keep their farms healthy.
Growing efficiency in lighting & sensor technology
Farmers can have a more capable and tailored lighting solution that will enable them to control heat and light more effectively by adopting LED growth. They can also find the correct answer to meet the specific needs of various crops and climates to reduce substantial long-term costs. Using sensor technology, they can also manage the crop environment with more precision, which will offer several benefits for the farmers:
Boost production.
Avoid energy wastage and reduce costs.
Implement more sustainable ways of agriculture.
Regulated Agriculture Environment
Regulated environment agriculture provides a practical solution to the problem of changing and extreme weather conditions that adversely affect traditional farming practices. Under this practice, crops are exposed to a particular amount of temperature, light, humidity, and nutrients to facilitate crop growth under the right circumstances. Vertical farming, indoor farming, and greenhouses are a few examples.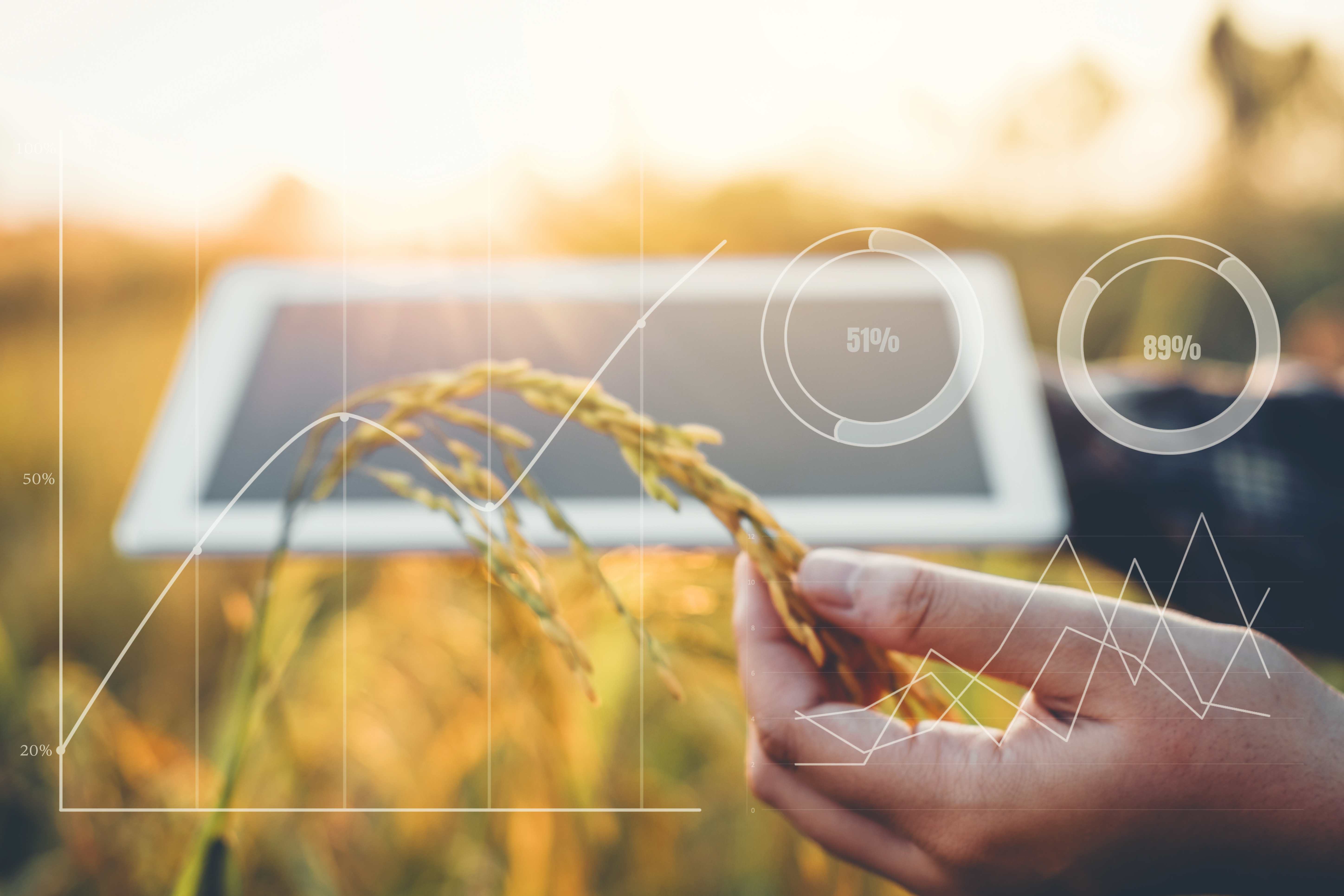 Conclusion
Many such tech-based services are offered by agribazaar to support farmers achieve the best farm yields. Agritech has been transforming the Indian agriculture sector and will continue to enhance the farmlands' productivity and fertility. All these tech trends will boost the Indian economy and improve farmers' incomes. Many government schemes have been introduced to support the agritech industry in India. Due to the government's support, many agritech startups have been able to fulfill the needs of the Indian agriculture sector.