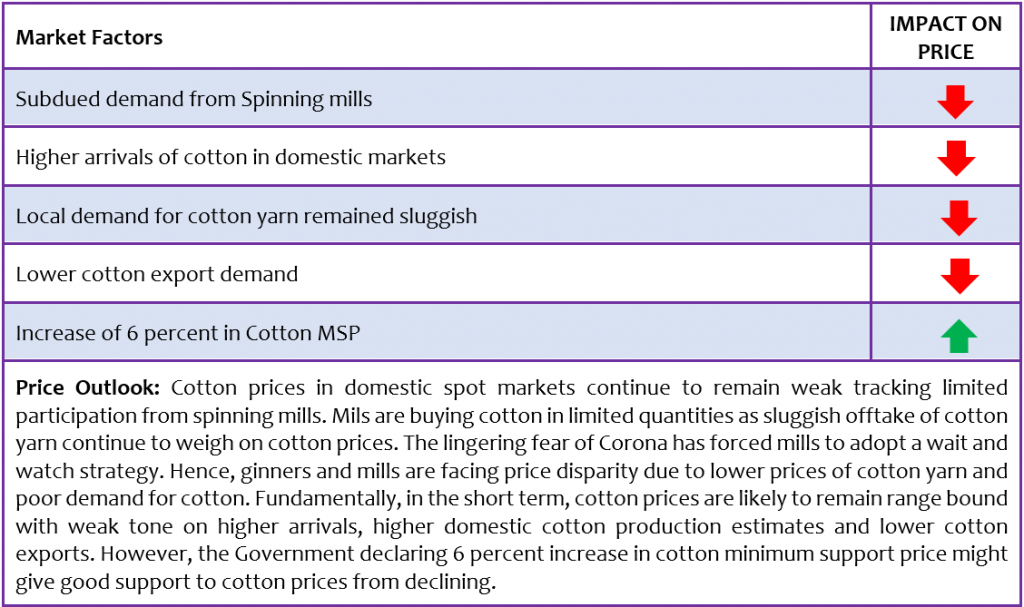 Current Market Developments:
In the spot markets the spinning mills are buying cotton in limited quantities due to the sluggish yarn demand.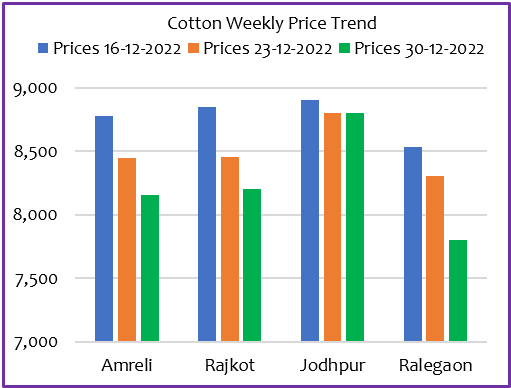 Currently, the mills are adopting wait and watch policy due to concerns about the spread of virus in China, as it is the major importer of cotton in the world.
Ginners and mills are facing price disparity due to lower prices of cotton yarn and poor demand for cotton. Apparently, they are involved in need-based buying. Meanwhile, realisation from raw cotton continues to yield negative returns. Hence, multinational companies have adopted a wait and watch approach.
As per market sources, cotton production of 340-355 lakh bales is estimated during the current season out of which around 77 lakh bales are arrived in markets. Last year around 125 lakh bales had arrived till 31 December 2021.
The Cotton Association of India (CAI) has reduced the cotton crop estimate by 4.25 lakh bales to 339.75 lakh bales for the 2022-23 season, beginning from October 2022, as the production in Haryana, Andhra Pradesh and Karnataka is expected to decline. The total cotton production in the last season is estimated at 307.05 lakh bales, which is 32.7 lakh bales less than the current season estimates. Production of cotton crop for 2022-23 season for Haryana is estimated at 13.02 lakh bales, Andhra Pradesh at 15 lakh bales and Karnataka at 24 lakh bales.
At the global front, a total of 5.98 million tonnes of cotton were produced nationwide in China in 2022, up 4.3 percent over the previous year, among which over 90 percent was produced in Northwest China's Xinjiang Uygur Autonomous Region.
Cotton Price Movement Vs Seasonality at Key Markets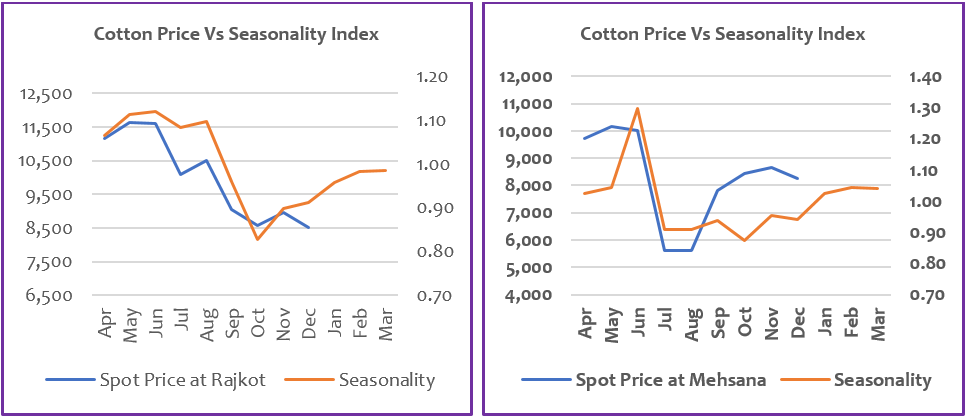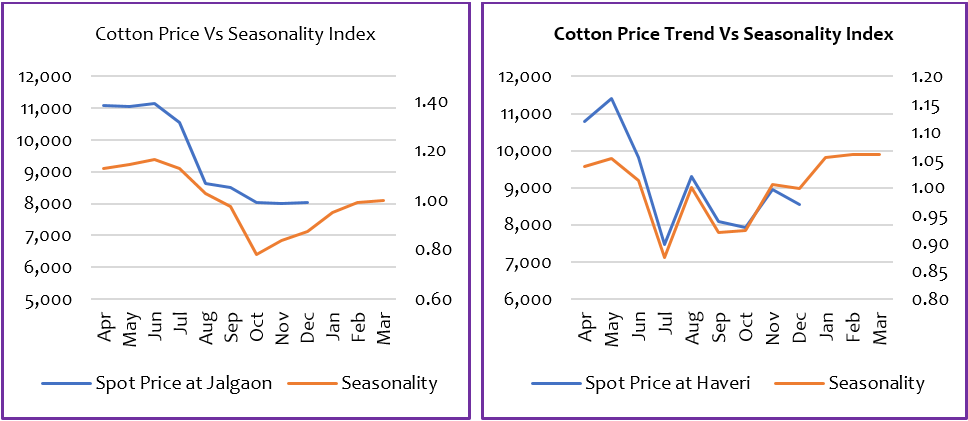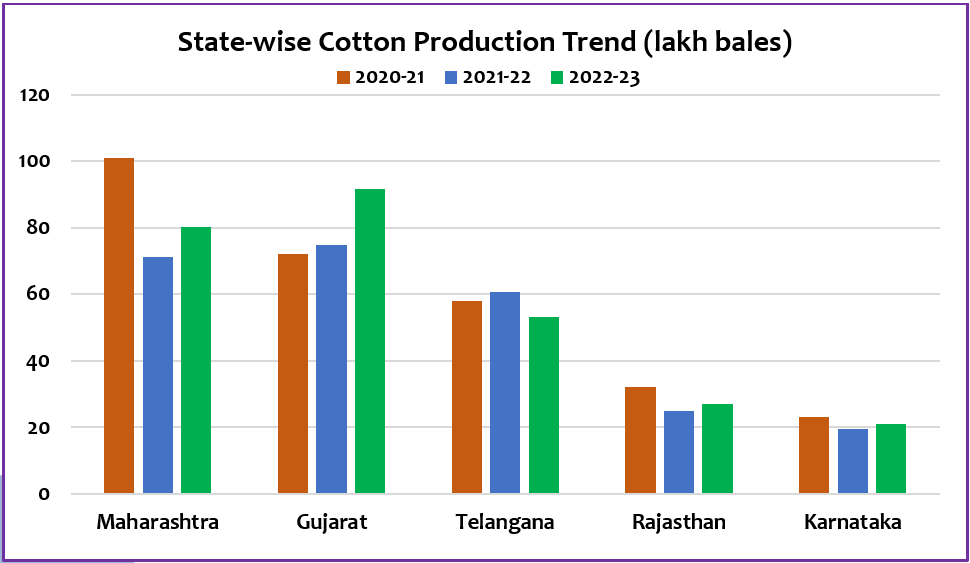 Domestic Cotton Supply & Demand Scenario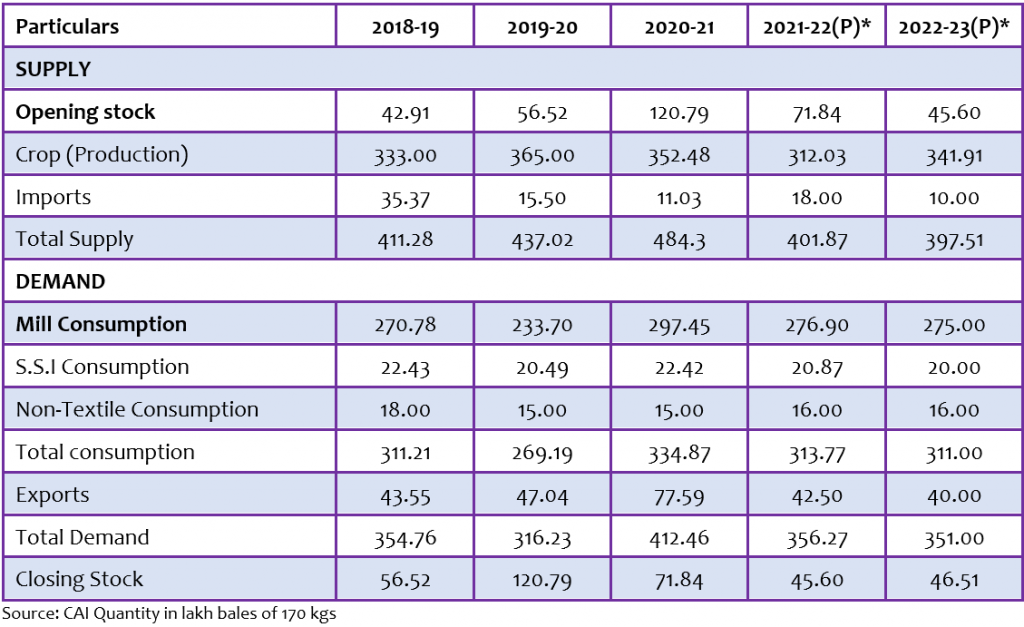 Global Cotton Supply & Demand Scenario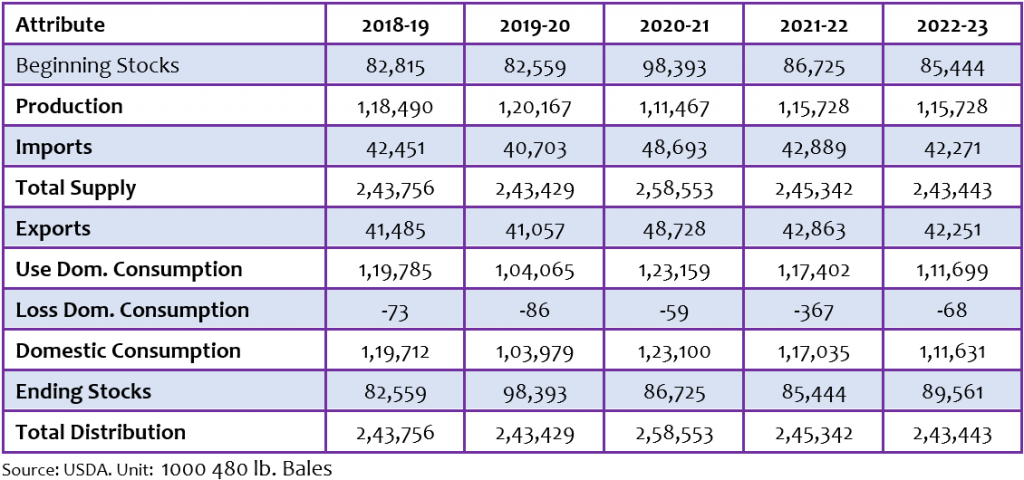 Disclaimer:
This report is prepared by "agribazaar". Information and opinions in this report have been taken from publicly available data and from sources believed to be reliable. Neither the report nor any part of the report shall be replicated without the written consent. agribazaar does not make any representations or warranties in relation to the accuracy, completeness and correctness of data or information contained in this report. Use of the data, information or opinions contained in this report is at the sole risk of the recipient of this report, and any such data, information or opinion should be independently verified. agribazaar, its affiliates, their officers, directors, and employees shall not be responsible for any loss or damage that may arise to any person from any error in the data, information or opinion contained in this report. "agribazaar" 2023.