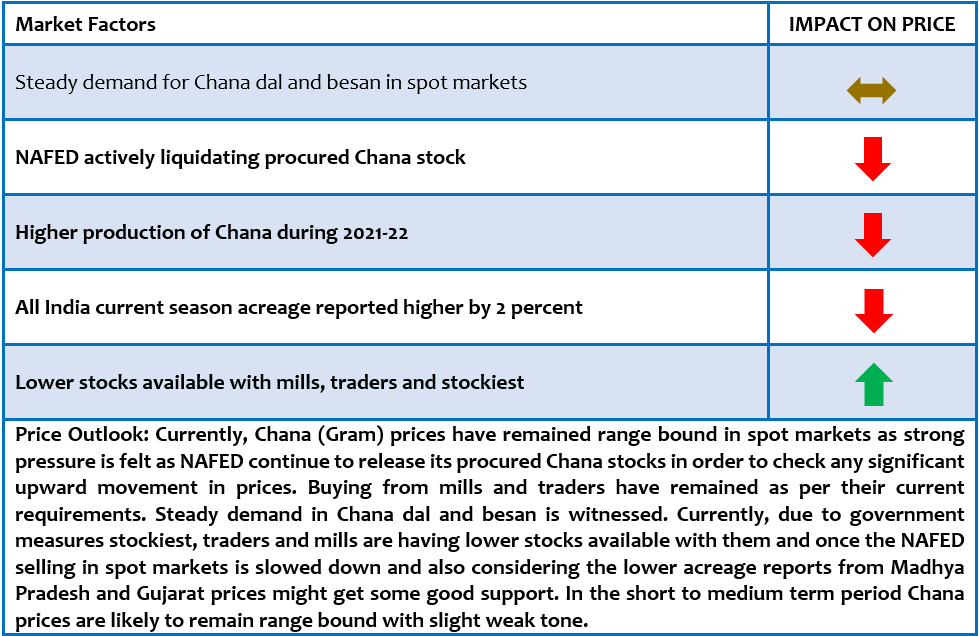 Current Market Developments:
Chana prices in most of the spot markets in the country traded in a range bound manner with weak tone. The buying demand from mills and traders have remained subdued. Moreover, prices of Chana dal and besan have also remained steady with weak tone in spot markets.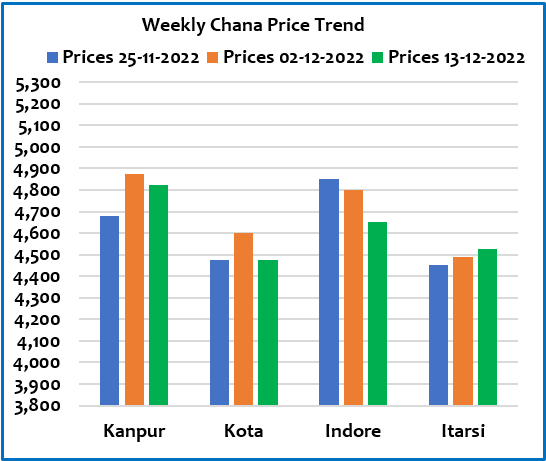 NAFED releasing its procured stock of Chana in most of the spot markets have kept pressure on prices. NAFED was selling its Chana around Rs 4,700 to Rs 4,750 per quintal in most of the markets.
The stocks available with mills, traders and stockiest have remined low due to strict implementation of government directives.
This year due to steady increase in the Minimum Support Prices (MSP) of Rs 5,335 per quintal for Chana its acreage in the current season till 08th December 2022 has increased by 2 percent over last year at 89.42 lakh hectares. Last year around 87.28 lakh hectares of area was covered. However, current Chana acreage in Gujarat and Madhya Pradesh have declined significantly by 22 and 17 percent over last year.
As per trade sources, considering the current acreage scenario Chana (Gram) production this year would be around 80-85 lakh tonnes as against the annual consumption of around 85-90 lakh tonnes. This year around 10-15 lakh tonnes decline in production would be there.
As per the fourth advance estimates of crop production by Ministry of Agriculture, Chana production 2021-22 estimated higher by 15 percent at 13.75 million tonnes as compared to 11.91 million tonnes in 2021-21.
Gram (Chana) Price Trend Vs Seasonality at Key Markets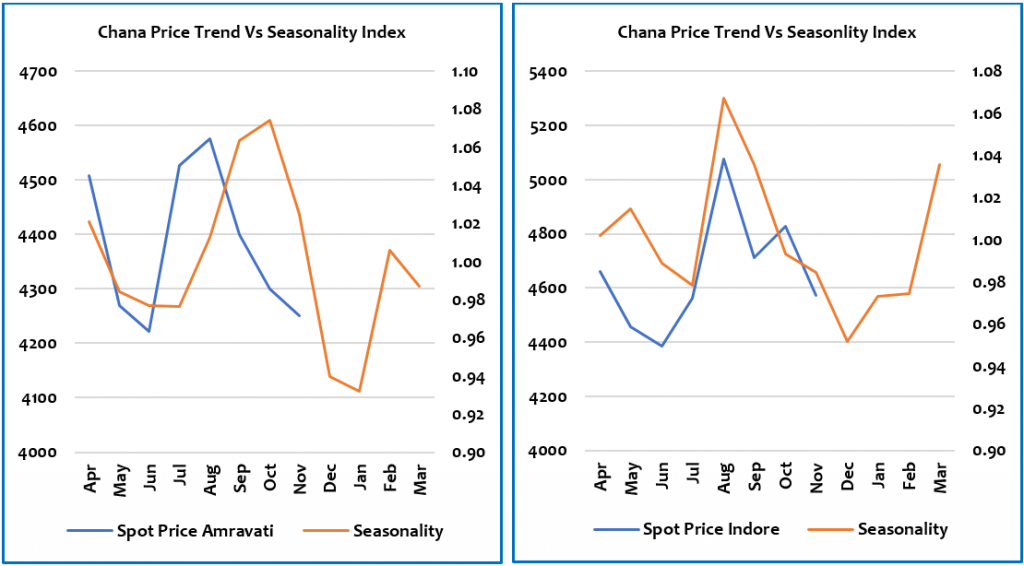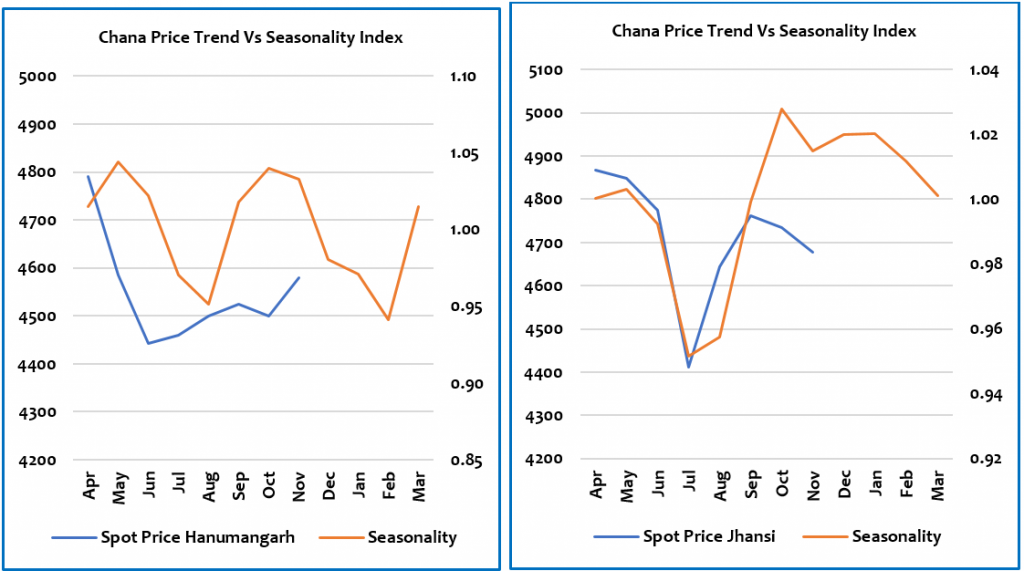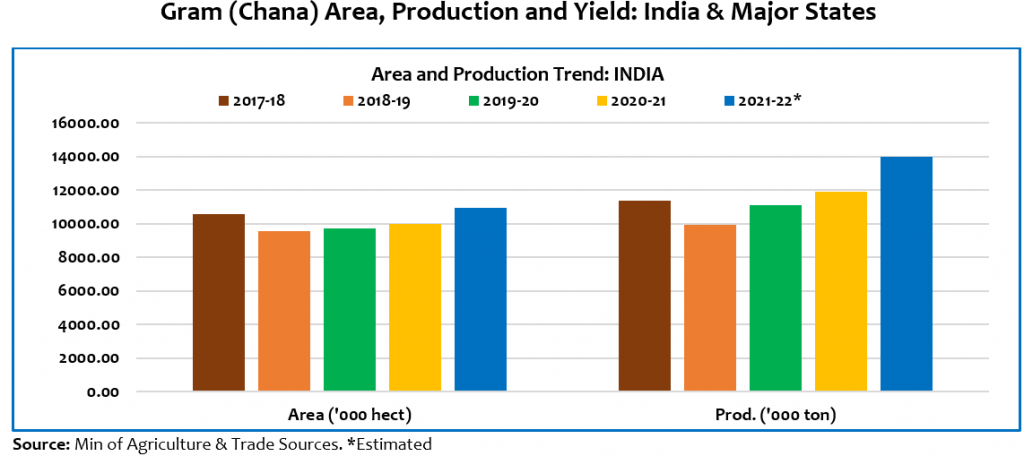 Disclaimer:
This report is prepared by "agribazaar". Information and opinions in this report have been taken from publicly available data and from sources believed to be reliable. Neither the report nor any part of the report shall be replicated without the written consent. agribazaar does not make any representations or warranties in relation to the accuracy, completeness and correctness of data or information contained in this report. Use of the data, information or opinions contained in this report is at the sole risk of the recipient of this report, and any such data, information or opinion should be independently verified. agribazaar, its affiliates, their officers, directors, and employees shall not be responsible for any loss or damage that may arise to any person from any error in the data, information or opinion contained in this report.
"agribazaar" 2022.