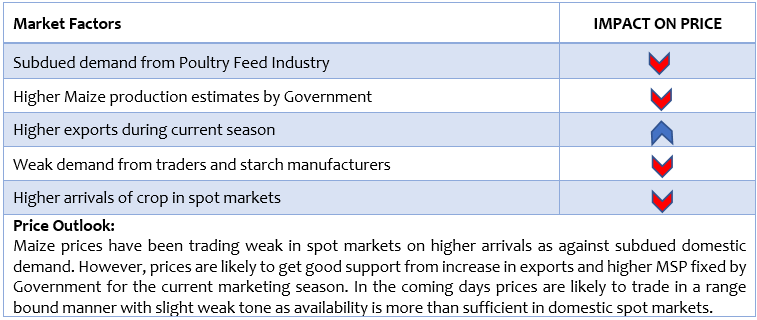 Current Market Developments:
During this week, Maize prices in most of the spot markets have declined tracking subdued demand in spot markets. However, increased volume of exports and diversion of significant volumes of maize for production of bio-fuel could support prices from declining much. Maize prices were trading in the range of Rs 2150 per quintal to Rs 2450 per quintal in most of the spot markets across the country.
Poultry feed industry and Starch manufacturers demand have remained subdued, normally poultry feed consumption demand declines during summer season as consumption of feed is less by birds.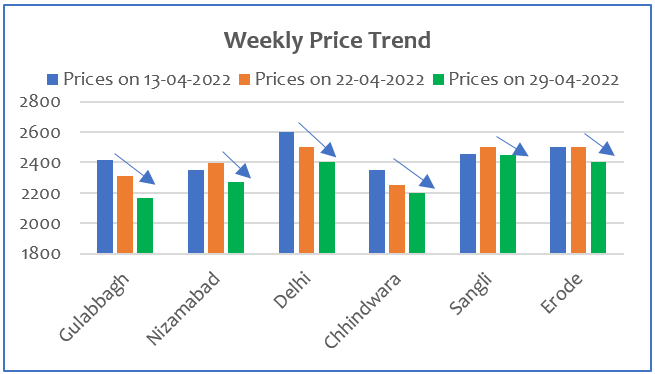 At the key Gulabbagh market in Purnea district Maize prices in the last few weeks continued to decline as supplies have increased due to good harvest in major growing belts. Currently, Maize prices have declined by 6 percent over previous week at Rs 2167 per quintal. Similarly, in other markets such as Nizamabad prices declined by 5 percent, at Delhi declined by 4 percent, at Chhindwara declined by 2 percent, Sangli by 2 percent and Erode also prices have declined by 4 percent.
Higher availability due to higher production estimates has also kept pressure on prices. As per the Ministry of Agriculture advance estimates 2021-22 Maize production is estimated to increase by 2.43 percent at 32.42 million tonnes as compared to 31.65 million tonnes last year.
India's Maize exports have increased as output is estimated to decline in top producer United States and Ukraine resulting in higher exports from India. During April-February 2020-21, India exported 3.42 million tonnes of maize an increase of 30 percent over 2.64 million tonnes over last year.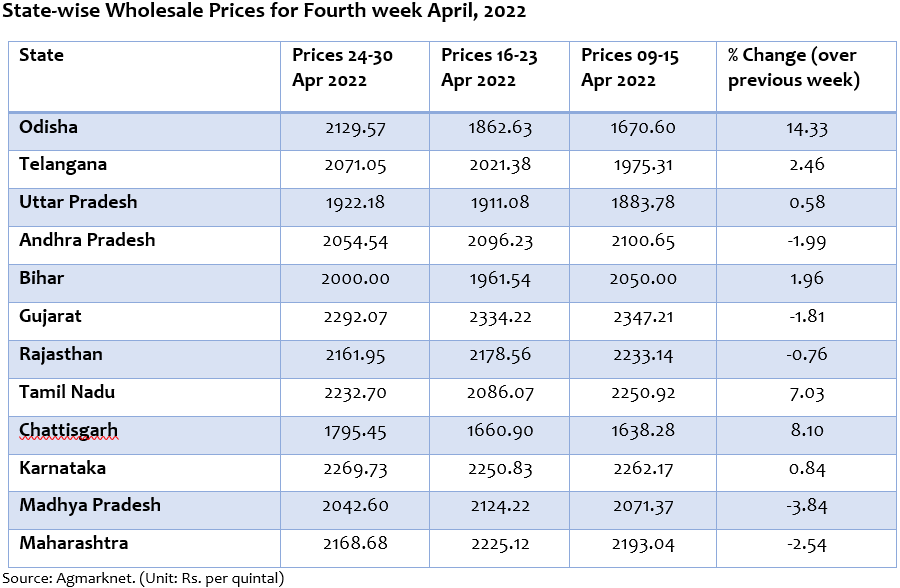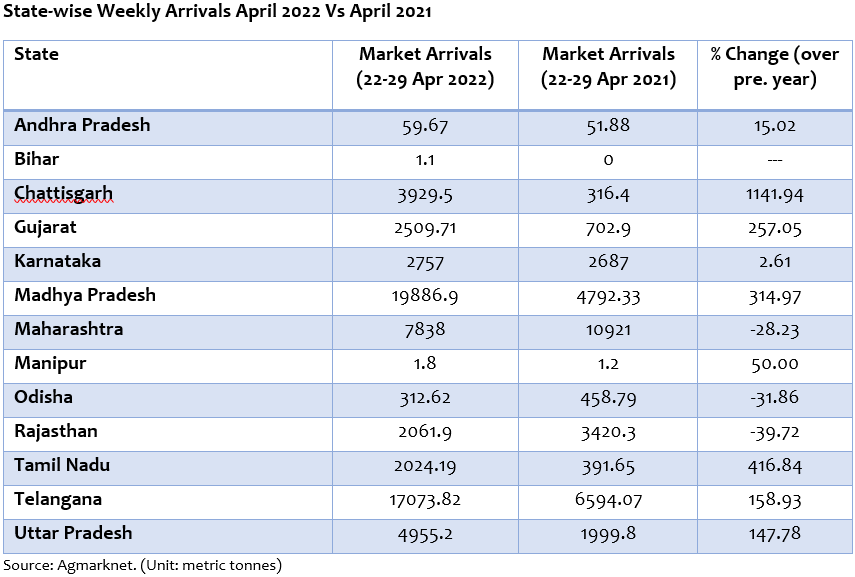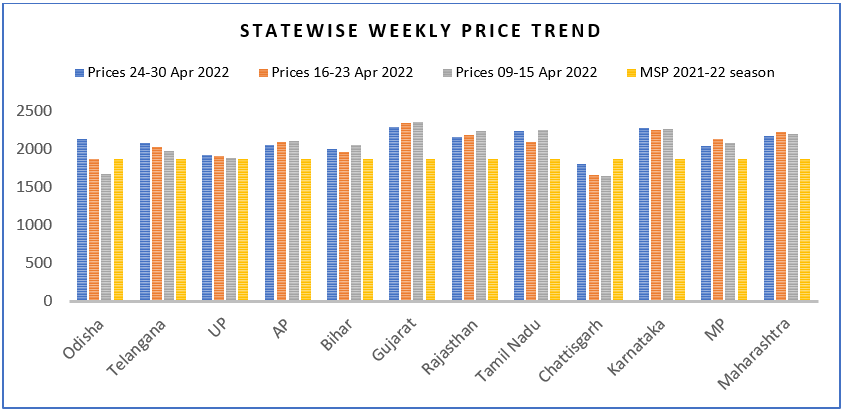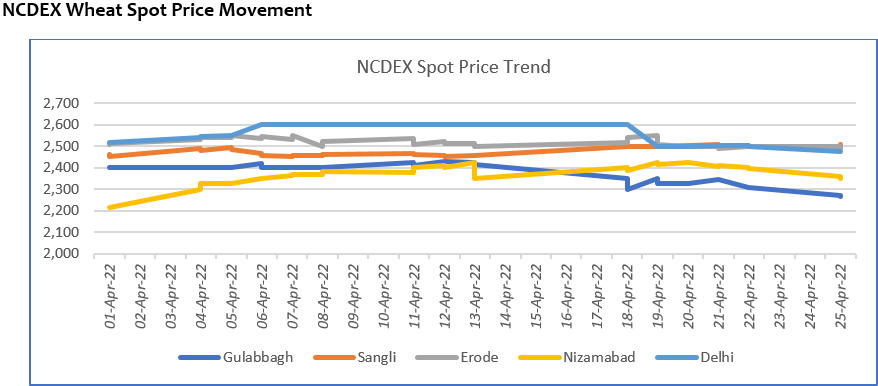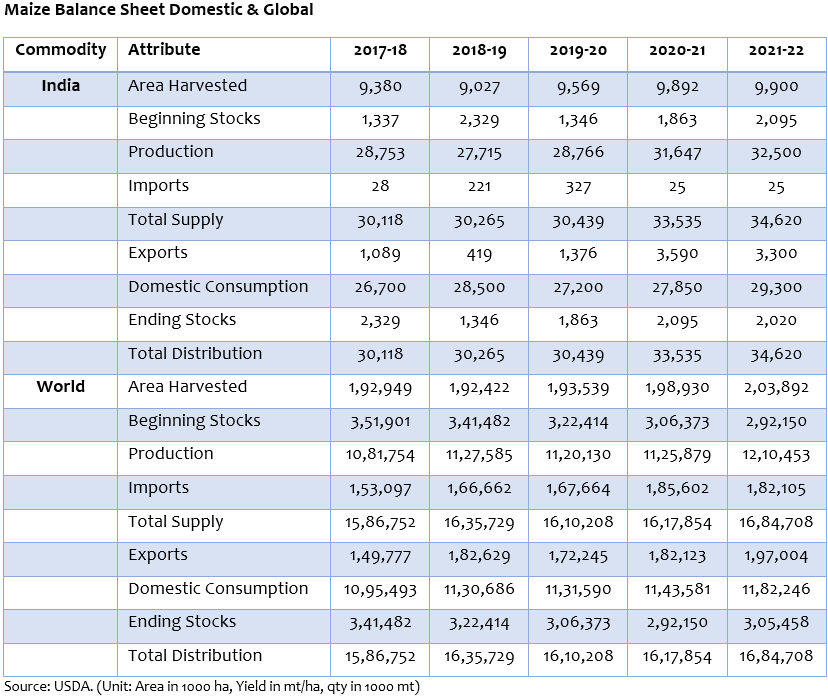 Disclaimer:
This report is prepared by "agribazaar". Information and opinions in this report have been taken from publicly available data and from sources believed to be reliable. Neither the report nor any part of the report shall be replicated without the written consent. agribazaar does not make any representations or warranties in relation to the accuracy, completeness and correctness of data or information contained in this report. Use of the data, information or opinions contained in this report is at the sole risk of the recipient of this report, and any such data, information or opinion should be independently verified. agribazaar, its affiliates, their officers, directors and employees shall not be responsible for any loss or damage that may arise to any person from any error in the data, information or opinion contained in this report.
"agribazaar" 2022