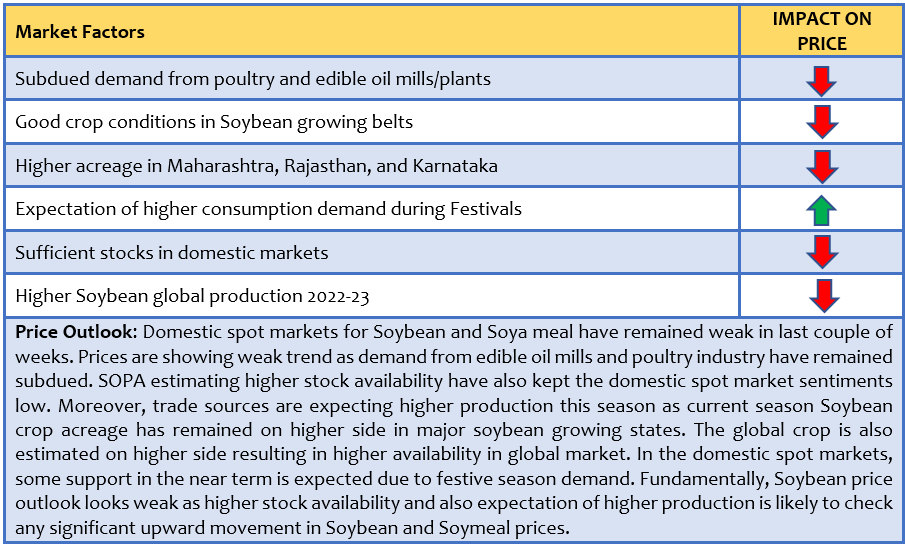 Current Market Developments:
The adjacent Soybean price trend chart shows that prices has declined significantly in the last 10-12 days as consumption demand from poultry and edible oil industry/plants in most of the States have remained weak.
Moreover, traders and stockiest demand for soybean and meal have also declined resulting in further weakness in prices.
According to trade sources, this season prices are likely to remain weak as production is expected on higher side as good acreage is reported from Maharashtra, Rajasthan, and Karnataka. However, prices are likely to get some good support from the upcoming festivals (Dussehra and Diwali).
Higher domestic stock availability has also kept pressure on soybean prices. As per SOPA, around 35 lakh tonnes of Soybean and 2.17 lakh tonnes of Soymeal stock was available as on 01st September 2022. Moreover, the new soybean crop is expected from October onwards which will further keep pressure on Soybean prices.
According to the Ministry of Agriculture, first crop advance estimates 2022-23 Soybean production is estimated slightly lower at 128.92 lakh tonnes as compared to 129.95 lakh tonnes in 2020-21.
At the International front, this year there will be higher Soybean availability in global markets as Soybean acreage and yield in 2022-23 season in Brazil is expected on higher side. Sowing activities in Argentina and Uruguay has started and, in the US, Soybean harvesting activities have been initiated. The IGC has estimated 11 percent increase in 2022-23 global soybean production.
Soybean Price Trend Vs Seasonality at Key Markets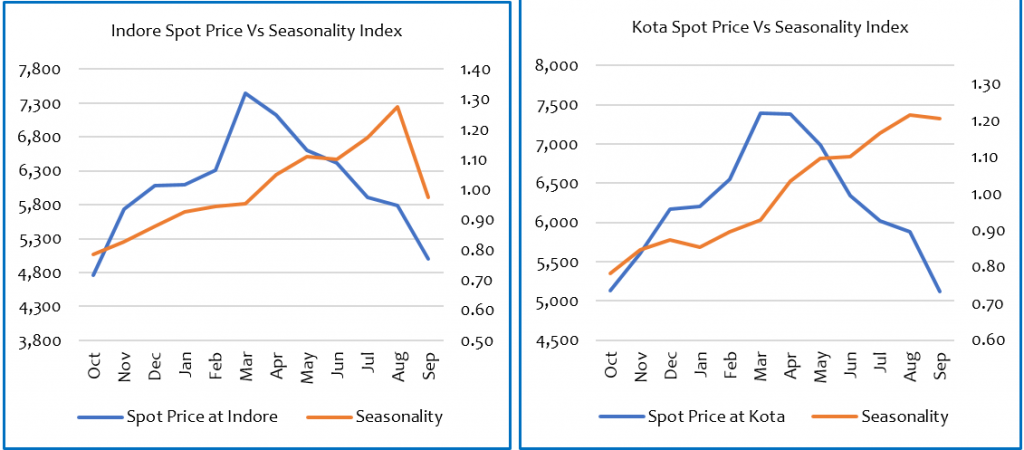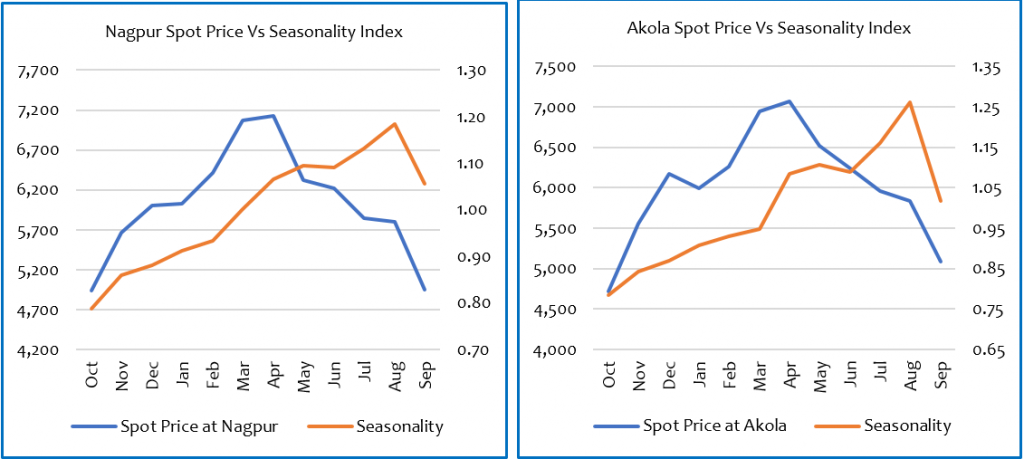 Progress Under Kharif Soybean Acreage: Major States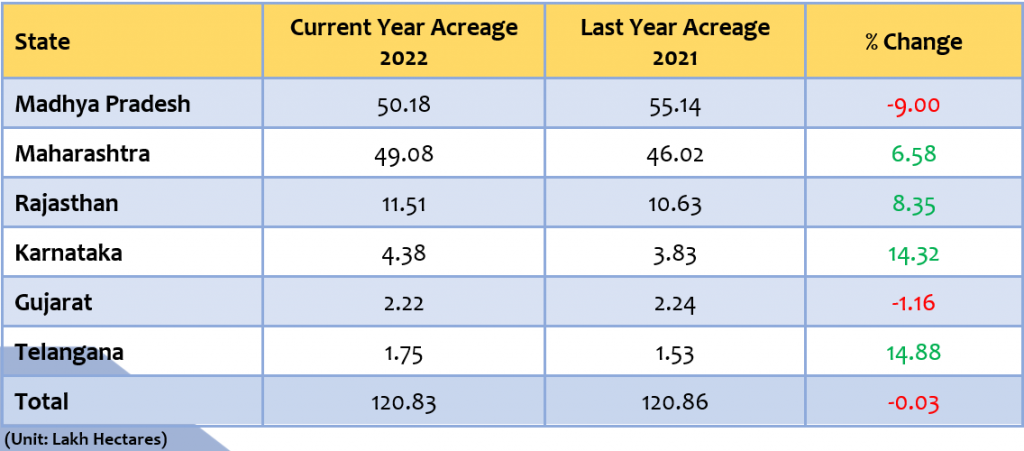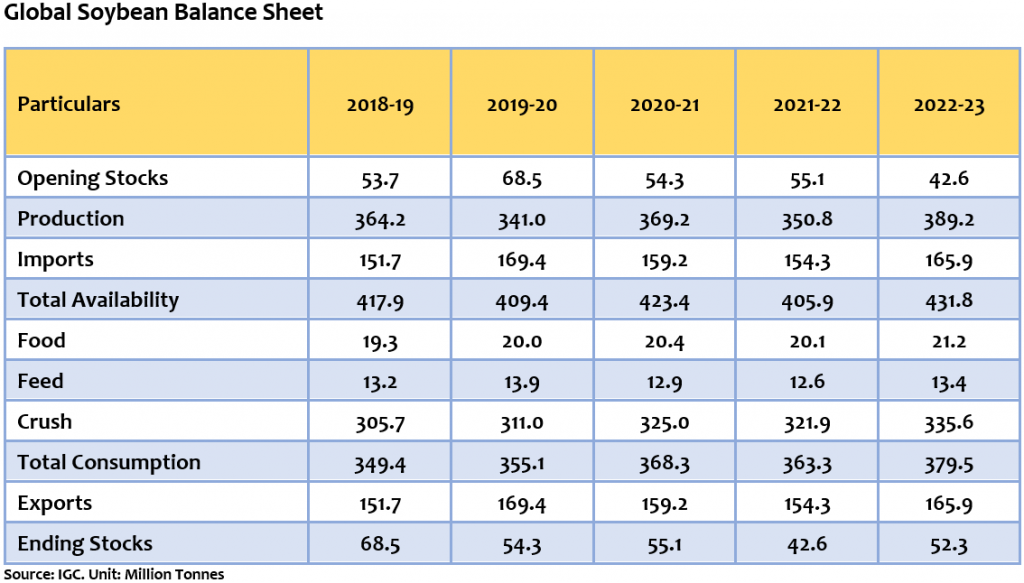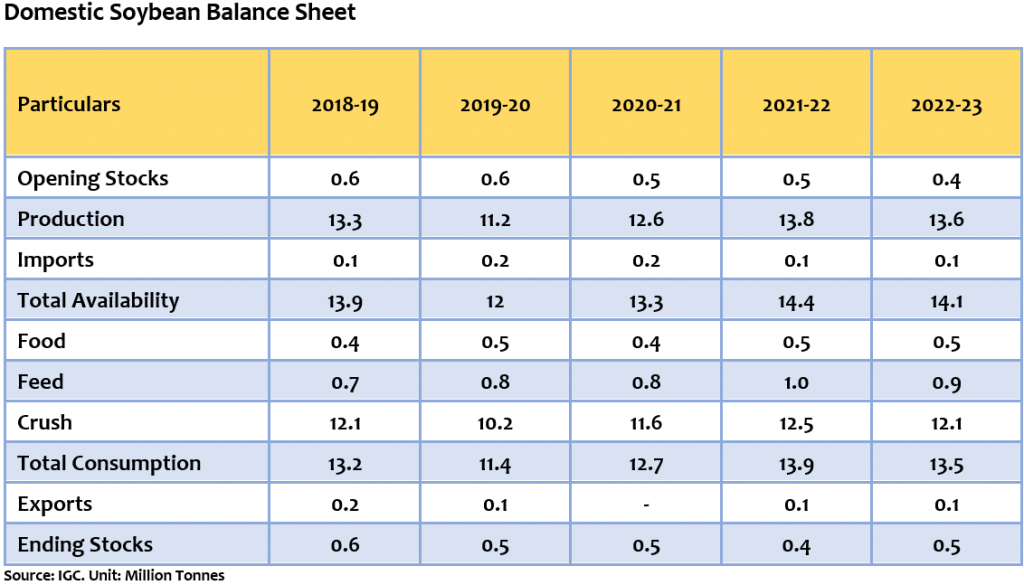 Disclaimer:
This report is prepared by "agribazaar". Information and opinions in this report have been taken from publicly available data and from sources believed to be reliable. Neither the report nor any part of the report shall be replicated without the written consent. agribazaar does not make any representations or warranties in relation to the accuracy, completeness and correctness of data or information contained in this report. Use of the data, information or opinions contained in this report is at the sole risk of the recipient of this report, and any such data, information or opinion should be independently verified. agribazaar, its affiliates, their officers, directors, and employees shall not be responsible for any loss or damage that may arise to any person from any error in the data, information or opinion contained in this report.
"agribazaar" 2022.