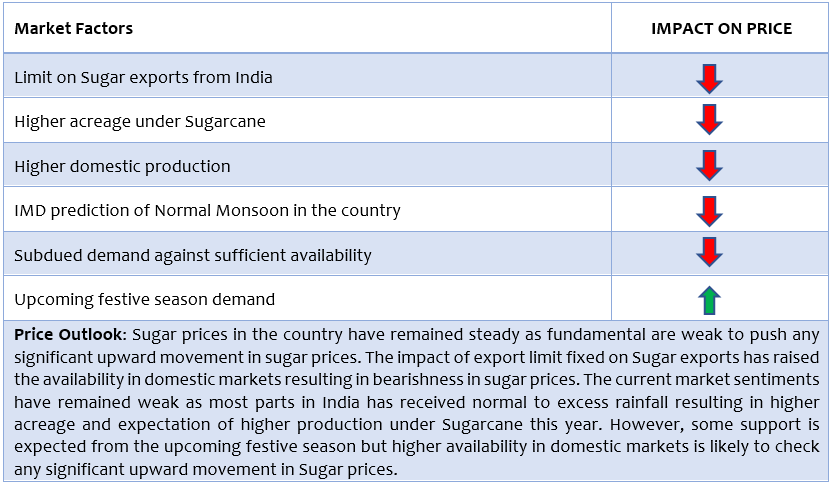 Current Market Developments:
Sugar prices in spot markets continue to remain steady tracking subdued demand against sufficient availability in markets.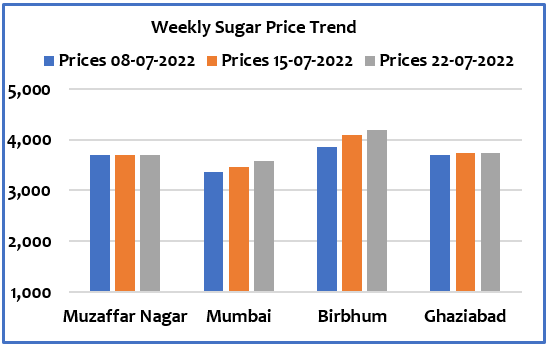 However, sugar prices are likely to get good support as festive season demand is likely to improve in coming days.
Indian Sugar Mills Association (ISMA) has requested Govt. to allow sugar mills to export an additional 1o lakh tonnes of sugar in current season (2021-22).
It is estimated that the diversion of cane juice and B-molasses to ethanol will reduce sugar production by about 45 lakh tonnes in next season, as compared to about 34 lakh tonnes estimated to be diverted this year. Therefore, after accounting for the reduction of 45 lakh tonnes in sugar production due to diversion of cane juice and Bmolasses to ethanol, ISMA estimates sugar production in 2022-23 at around 355 lakh tonnes of sugar and consumption would be around 275 lakh tonnes therefore keeping a surplus of about 80 lakh tonnes which needs to be exported.
According to a notification issued by the DGFT, export of sugar (raw, refined & white) was placed under restricted category from 01st June till 31st October 2022. It allowed exports only through permits and has fixed a maximum quantity of 100 lakh tonnes for the entire season to prevent any surge in domestic prices.
Due to higher availability of Sugar in the country, the food ministry has allocated 21 lakh tonnes of sugar quota for the month of July 2022 to mills for domestic sale. The average monthly consumption is around 22-23 lakh tonnes.
Sugar Price Trend Vs Seasonality at Key Markets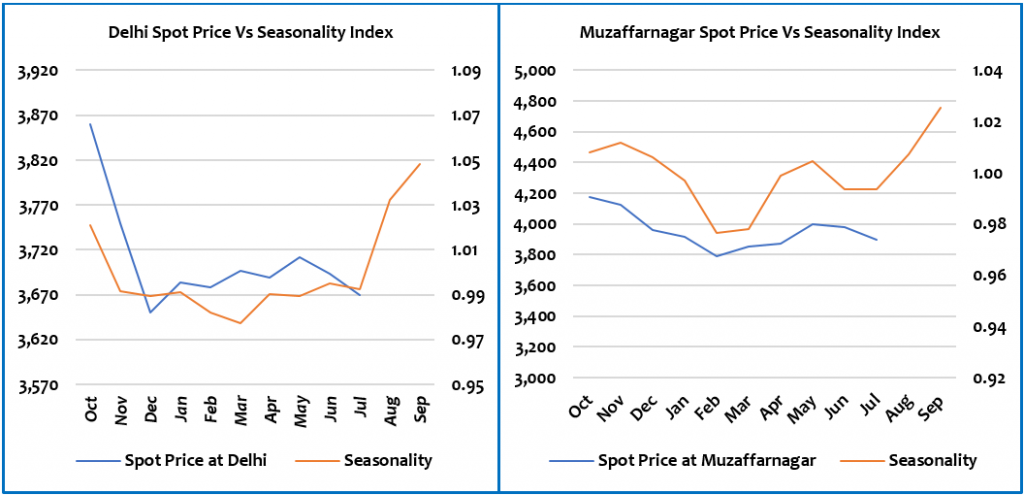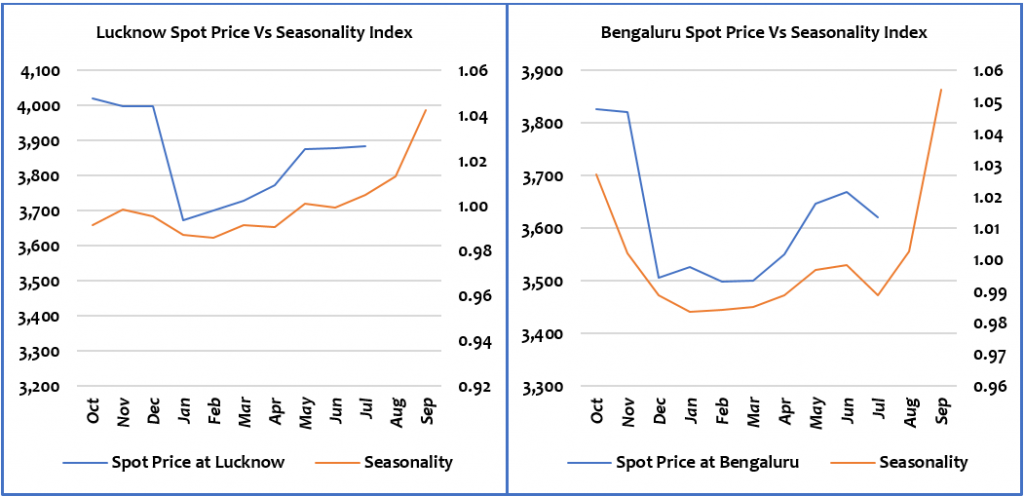 Progress under Kharif sugarcane acreage: Major States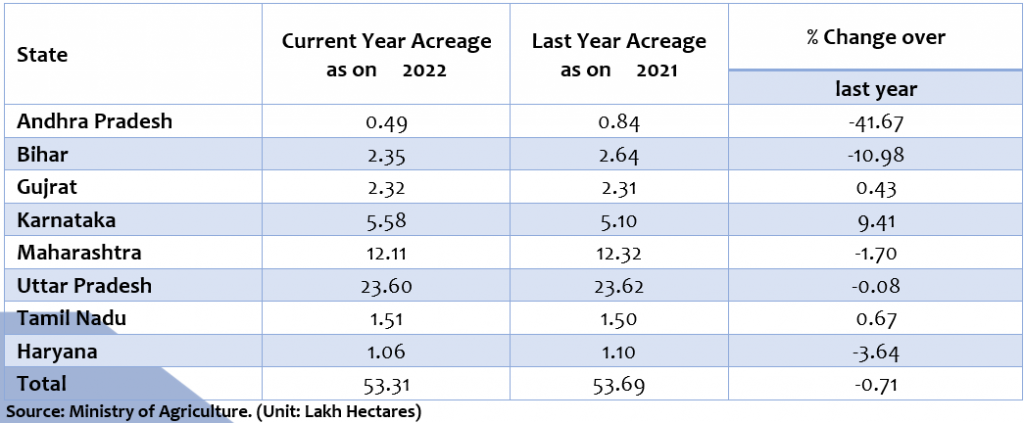 Domestic Sugar Balance Sheet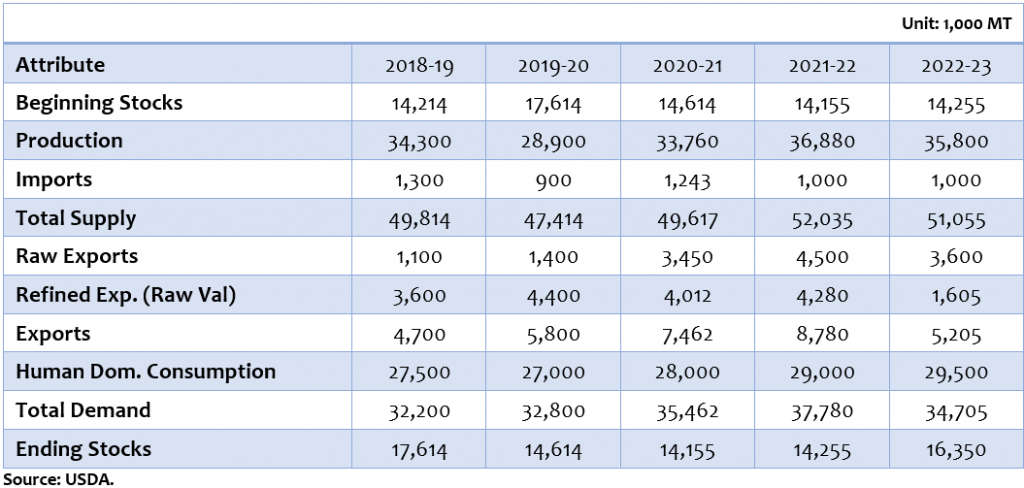 Global Sugar Balance Sheet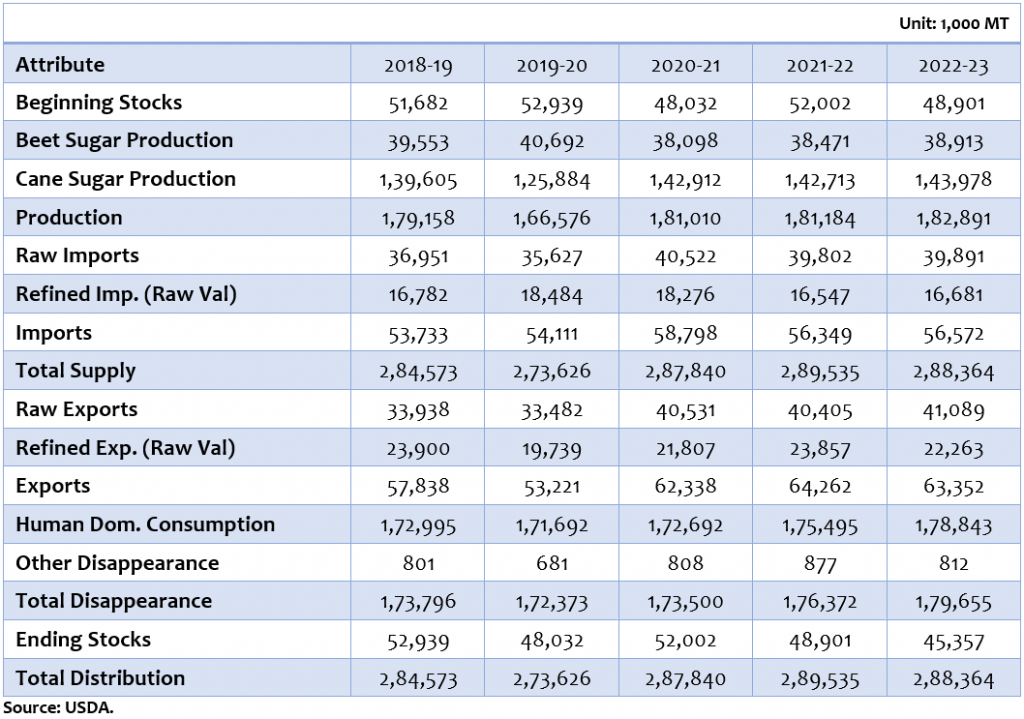 Disclaimer:
This report is prepared by "agribazaar". Information and opinions in this report have been taken from publicly available data and from sources believed to be reliable. Neither the report nor any part of the report shall be replicated without the written consent. agribazaar does not make any representations or warranties in relation to the accuracy, completeness and correctness of data or information contained in this report. Use of the data, information or opinions contained in this report is at the sole risk of the recipient of this report, and any such data, information or opinion should be independently verified. agribazaar, its affiliates, their officers, directors and employees shall not be responsible for any loss or damage that may arise to any person from any error in the data, information or opinion contained in this report.
"agribazaar" 2022.