"Even though the Indian economy has taken a huge hit from the COVID-19 pandemic and resultant lockdowns, the agriculture sector is the silver lining in the year 2020-21."
The Farmers' Produce Trade and Commerce (Promotion & Facilitation) Ordinance, 2020 allowed farmers and traders the freedom to pursue agribusiness to purchase outside the markets notified under various state agricultural produce market jurisdictions. The Farmers (Empowerment and Protection) Agreement on Price Assurance and Farm Services Ordinance, 2020. This Act secured the interests of farmers to engage in business with agri-business firms, processors, wholesalers, exporters, or large retailers for farm services and sale of future farming produce. And the Essential Commodities Act (ECA), 1955 Amendment Ordinance made agricultural markets more responsive to forces of demand and supply. It allowed for stocking of the farm crops by both sellers and buyers, by removing stock limits on cereals, pulses, oilseeds, onions, and potatoes.
Well, thanks to these reforms in the fundamentals of Indian agriculture, we at agribazaar have been able to make the best out of these ordinances to help our farmers during these crucial times. As a full-stack agritech player, agribazaar has replicated the physical mandi to an (electronic) e-mandi aggregator model through which once a farmer registers and uploads his produce, buyers can give orders for the purchase. It charges a transaction fee from buyers, while farmers can sell their produce at no additional cost.
In contrast to the current expected conditions, our website and mobile app is helping our registered farmer members to find purchasers on our platform in a transparent yet safe manner. Our field staff and agronomists spread all over the country, providing the critical last-mile logistics support to pick up the produce from the farmers and deliver it to the buyer. This ensures the safety of the farmer, social distancing norms, and less crowding at the mandis. Additionally, we provide value-added services like warehouse financing for the produce, quality checking facility, pre-sowing, and post-harvesting solutions to increase yield. We've waived registration charges for farmers on our platform during the COVID-19 lockdown period. This limited period offer is to ensure that no farm produce gets wasted and to minimize agri-supply chain disruptions.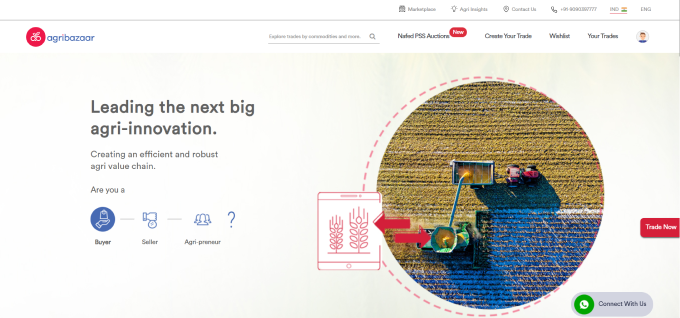 Turning out to be a blessing in disguise,  we've seen a 400% surge in the number of registrations from farmers & buyers and turnovers since the COVID-19 lockdown. Our platform connects around 10,000 traders and processors, over 100 Farmer Producer Organisations (FPOs) with its network of over 2 lakh farmers across India. The average deal size is 300 tonnes. To date, 32,437 auctions have been listed on our portal, with 11,322 crore contract value traded and transaction volume of 26,29854 metric tonnes. We have also integrated Nafed milling auction in its app.
To be honest, we never imagined social distancing and safety of the Indian farmer would get linked so closely with our business model of electronic buying and selling of farmer produce. We're indeed very honored and fortunate to mention that agribazaar is India's first and pioneering digital e-mandi. Today it is the only player that is present in both pre and post-harvest sales on its online platform. It wants every Indian small farmer to go trade in its e-mandi to get a better price, information, and advisory.
Last but not the least, Indian agriculture has faced one of its biggest challenges due to COVID-19. However, not to forget to mention the efforts of our government and local administration, the journey of digital agriculture has brought relief during such hard times for Indian farmers.