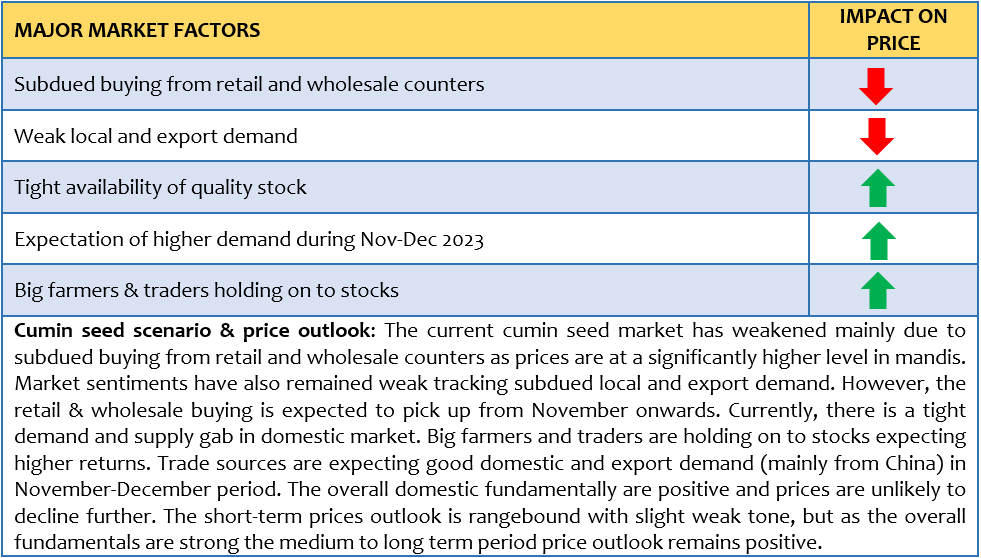 Current Market Developments:
Cumin seed prices in major domestic mandis have declined tracking subdued demand from retail and wholesale counters as prices have remained on higher side this season.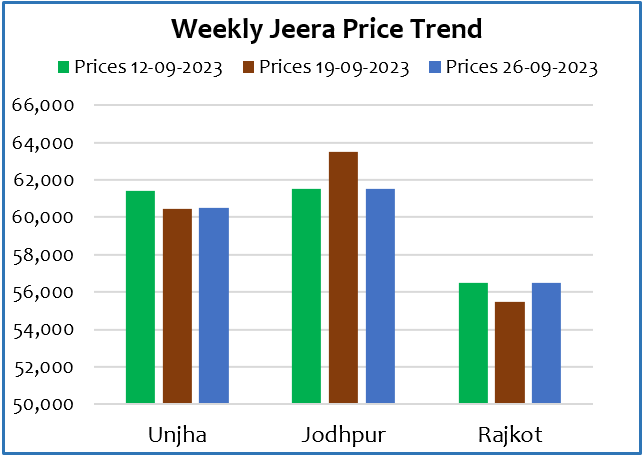 Stockiest and exporters buying have also remained weak. Availability of good quality stocks in mandis have remained on lower side.
Daily around 600-800 bags are arriving in Rajasthan mandis and quoted around Rs 520-560 per kg, whereas the processed cumin seeds are quoted around Rs 620-640 per Kg.
As per market sources, traders and stockiest are holding around 10-15 percent of stocks with them and are not in a hurry to dispose them in markets. Currently, there is a gap between demand and supply scenario and there are almost 5 months for the next season crop, so the local and export demand is likely to improve in the month of November-December 2023.
This year Cumin seed exports during April-July 2023 registered a decline of 9 percent at 57,526 tonnes as compared to 63,392 tonnes corresponding period April-July 2022. Last year 2022-23 (Apr-Mar) period cumin seed exports stood at 1,76,011 tonnes as against 2,04,388 tonnes in 2021-22 (Apr-Mar) a significant decline of 14 percent.
Currently, the domestic cumin seed stocks availability is estimated around 10-12 lakh bags. In Saurashtra region around 2 lakh bags stock is estimated to remain and daily around 500 bags are arriving in markets. Big farmers and traders are holding good quantity of stock with them anticipating higher returns in coming days.
In International markets Indian cumin seed quoted around $6600 per tonne for China. Syrian cumin seed for China is quoted around $6500 per tonne, and from Dubai cumin seed quoted around $6800-6900 per tonne.
Cumin Seed (Jeera) Price Trend Vs Seasonality at Key Markets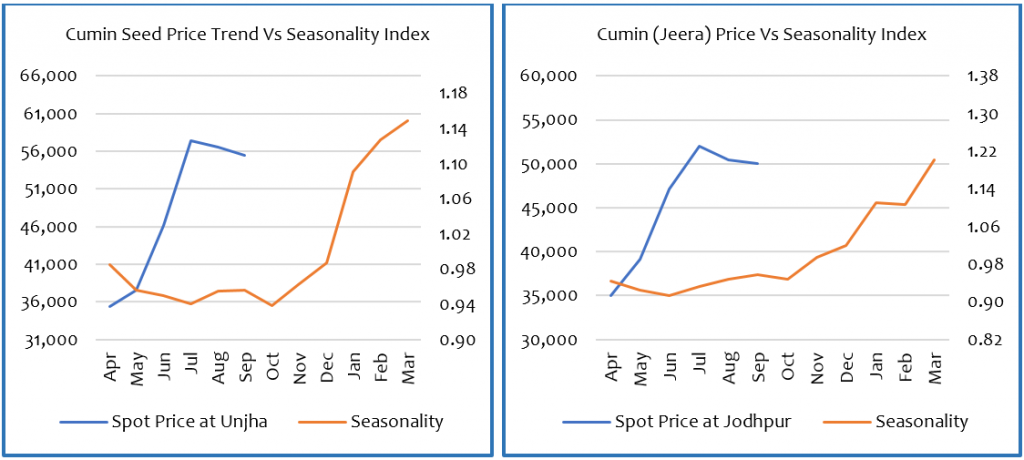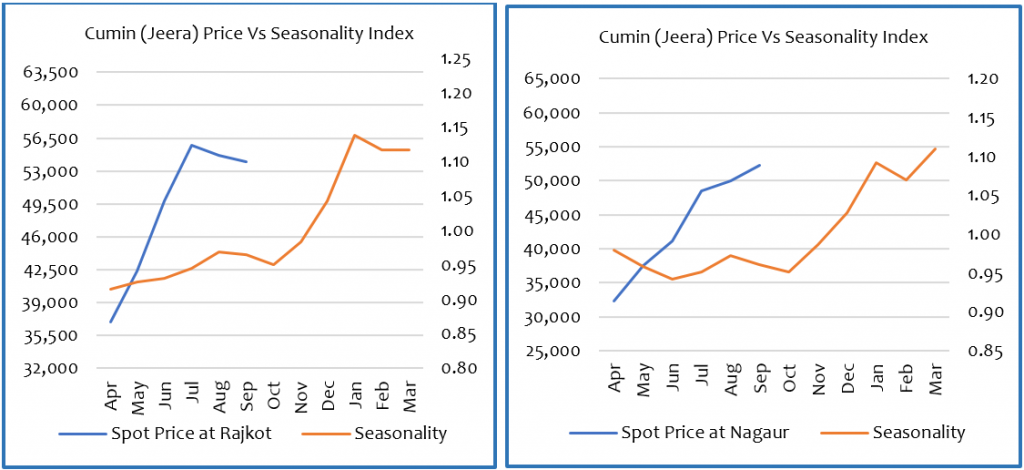 Cumin Seed Export and Production Trend

Cumin Seed Area, Production & Yield Trend



Disclaimer:
This report is prepared by "agribazaar". Information and opinions in this report have been taken from publicly available data and from sources believed to be reliable. Neither the report nor any part of the report shall be replicated without the written consent. agribazaar does not make any representations or warranties in relation to the accuracy, completeness and correctness of data or information contained in this report. Use of the data, information or opinions contained in this report is at the sole risk of the recipient of this report, and any such data, information or opinion should be independently verified. agribazaar, its affiliates, their officers, directors, and employees shall not be responsible for any loss or damage that may arise to any person from any error in the data, information or opinion contained in this report. "agribazaar" 2023.