Team ThinkAg: 4th July, 2019
By facilitating contracts with values over $1B, this digital bazaar is gunning to bring over 100 Million farmers into the Digital Marketplace by 2021
The story, idea and vision behind Agribazaar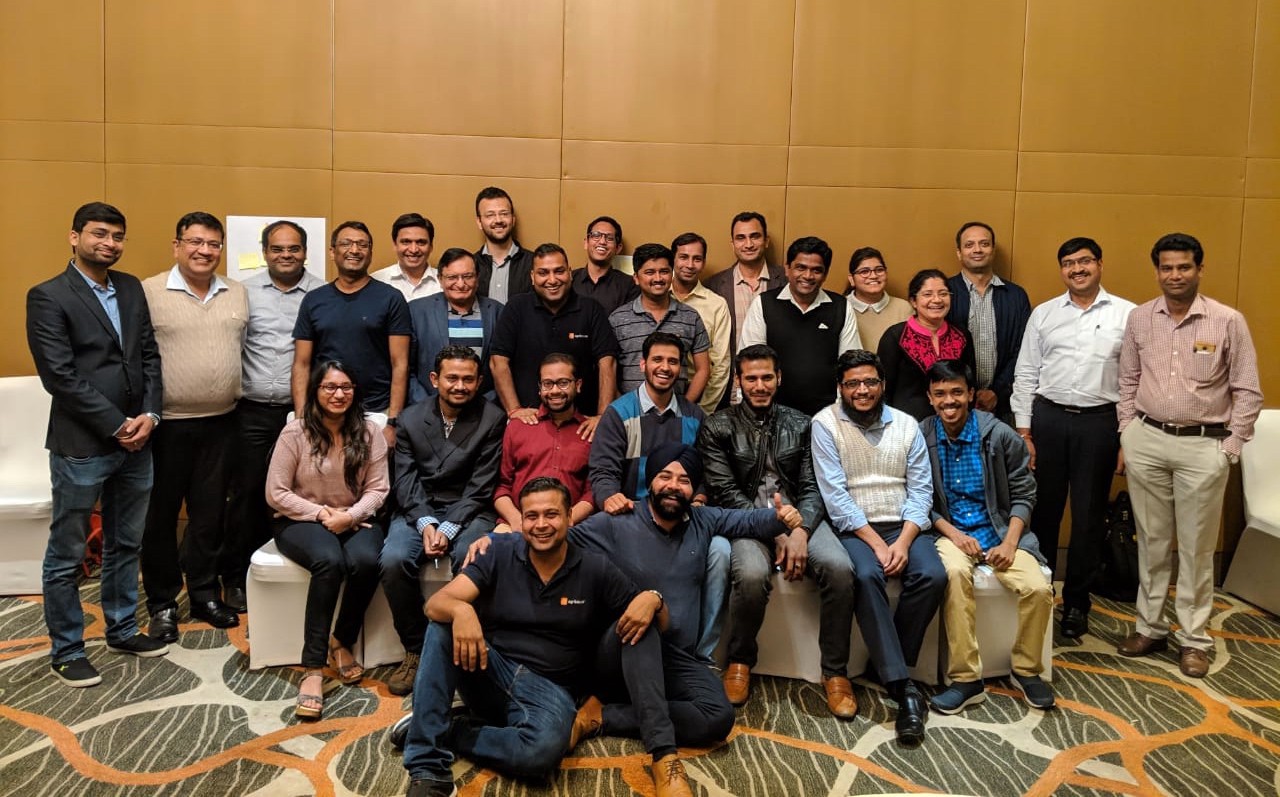 Indian agriculture has the potential to be the engine that powers the Indian economy. The biggest bottleneck that prevents the sector from firing at its best is the inefficiencies in every part of the chain. Chief among them is the inability of the farmers to get the right price for their produce. Even if they harvest a bumper crop, the profits are pocketed by middlemen leaving the hardworking farmers with little or no upside.
Having been in the agriculture sector for more than 10 years, we have an intimate understanding of such problems. In an effort to tackle this problem of poor farmer remuneration head-on, we came up with the idea of an agri-tech platform that opens up a nationwide market for the farmers. It connects farmers with multiple buyers at one place which allows them to discover the best price for their produce. They no longer have to be at the mercy of the cartel of middlemen who would artificially keep the buying price low.
Agribazaar is essentially an app that acts as a digital bazaar for agricultural produce. Here the farmers have access to multiple buyers from all over the country. With competitive bidding, they have a greater chance of making higher profits. Additionally, Agribazaar also offers solutions such a crop monitoring, crop yield estimation, weather tracking and soil moisture detection along with better storage and procurement facilities, hence enhancing farm productivity.
We are committed to the betterment of our farming community with transparent trade practices and by arming them with the right knowledge. The improvement in food grain quality, better and fairer prices for the agricultural community and commodity financing to provide capital to them is what India and its farmers desperately need. Agribazaar's model is aligned with our national priorities. Our vision is to bring nearly 100 million farmers into the digital marketplace in the next 3 to 5 years.
The journey to $1B worth of contracts on the platform and beyond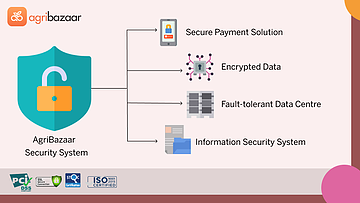 Agribazaar is a full-stack agri-tech company with a successful track record in the post-harvest Indian agricultural market. We now are expanding into the pre-harvest area as well. We have been able to earn trust and confidence of farmers with our financing services, quality assurances and customized trading auctions with the best and safest payment and settlement solutions. So far, Agribazaar has facilitated contracts worth Rs.7,575 crore with a total transaction volume of 18,90,333 MT.
Agribazaar is focussed on quality and the improvement of Indian farmers' incomes. We've been assisting our farmers with the best of our agri services to help them enhance the quality of their harvest and future sell the harvest.
Agribazaar has also come up with its own soil moisture detector using IoT and sensors. We have built an application for our users to test the physical parameters of the grain or seed they are using.
Also, our in-house digital wallet for online payments is quick, risk-free, transparent and completely secure. In addition, we have our warehouse management system to give our users a seamless and hassle-free experience of stocking goods. We have commodity financing and trading solutions for cheaper access to capital and better prices for our farmers
On how agribazaar is changing the game for the trading of outputs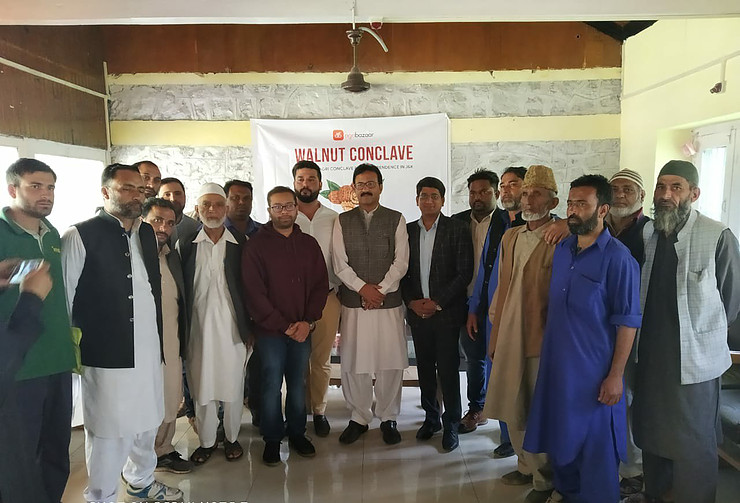 Garlic trade: We've had a presence in Kota–through our branch office and silos and dry warehouses–for about eight years now. We were therefore aware of the problems faced by farmers – specifically, low price realization and delayed payments. While we have been helping farmers in cash crops (with at least six months shelf life), in 2016-17 we decided to step into perishables for the first time.
We noticed that garlic producers were finding it hard to get good prices and would receive payments a few days after they had handed their produce over to the mandi traders. We used our network of traders/processors in other parts of Rajasthan so that farmers could sell their garlic to them (through us). Our pilot project involved 20 farmers. These 20 farmers delivered 17 MT of garlic. Not only did these farmers realise 5-10% higher prices, but they also received cheques the same day for the value of their produce.
We have thereafter tried to connect with farmers in multiple ways – buy from farmers through our group firms, buy through agri-entrepreneurs working closely with farmers and allow farmers to sell directly on our e-Mandi (this is in the final stages of receiving approval from the Rajasthan state government).
Similarly, in May – July 2018, agribazaar partnered with Rajasthan State Co-operative Marketing Federation Ltd. (RajFed) to help farmers in various districts of Rajasthan to get good prices for their garlic produce. We helped RajFed in procuring garlic from farmers in Kota, Baran, Bundi, Bhilwara, Jodhpur, Nagore and other areas. RajFed derived maximum value by selling garlic through the agribazaar platform.
A glut in garlic production crashed prices for farmers. However, the Agribazaar platform gave RajFed the confidence that they could sell the produce of the farmers at a good price. RajFed was happy with their experience and so were the farmers. RajFed sold 77,320 MT of garlic and ensured that farmers got a higher price for their produce.
Maize: Bihar scrapped the APMC law in 2006. There were positives as a result such as the freedom to sell anywhere and to anyone farmers wanted. But there were also negatives such as farmers still being unable to reach out to the larger community of buyers. Agribazaar made a good beginning this year in Bihar where more than 2,300 MT of Maize was sold through our platform. Both agri-entrepreneurs and traders were sellers on the platform, and buyers were mainly processors of Maize. The processors consume Maize to extract starch from it or use it as poultry feed.
Of the more than 2,300 MT of Maize sold on agribazaar, 182 MT came from agri-entrepreneurs, who are connected to about 500 farmers. Maize prices have been extremely volatile this year. They have been fluctuating between Rs 1,700 to Rs 2,150 per quintal. In a volatile market, settlement risk can be high. However, farmers and other traders who sold through agribazaar realised that in addition to getting a better price they could also mitigate their settlement risk.
The Agribazaar Impact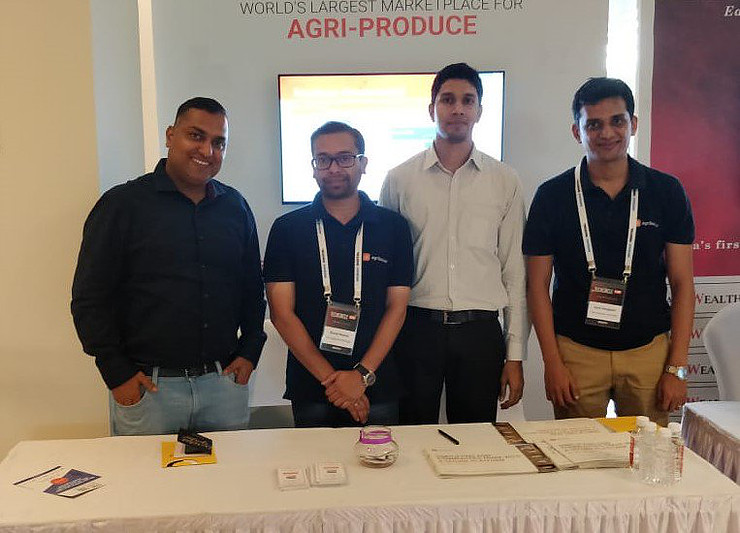 The Agribazaar platform intends to provide services to all stakeholders in the agri-value chain. We have started with post-harvest services of testing, storing, trading and financing of agri-produce.
Every transaction on the platform is settled by means of delivery. In the last 24 months, 18.9 Lakh MT of goods valued at Rs 7,575 cr has been delivered.
We have 11,300 registered participants, of which 4,500 are farmers. The remaining consist of traders, processors, FPOs, government and financial institutions.
The most significant impact of Agribazaar is in terms of providing an alternative marketing channel for farmers and other participants to sell their produce. The fact that Agribazaar is a transparent price discovery platform that reduces settlement risk and provides financing products at a much lower price are other factors that empower farmers and other small participants.
The Team behind it all
Amith Agarwal
Amith Agarwal is the co-founder and Chief Executive Officer. Amith plays a key role in realizing Agribazaar's vision of building integrated platforms serving the needs of all stakeholders in the farm-to-fork value chain. He is responsible for managing the day-to-day operations, investor relations, legal and financial matters and business development at Agribazaar. Amith has attended the Management Development Program (MDP) at Harvard Business School and holds an MBA from Chetana Institute of Management, Mumbai. He is a regular speaker at industry platforms such as CII, FICCI and SEA.
Amit Mundawala
Amit Mundawala is a co-founder of Agribazaar and is driven by his passion to unleash the power of millions of Indian farmers. He is responsible for operations and strategy execution. Mr. Mundawala has extensive experience in rural lending, collateral management and the financial services sector. He has previously worked in senior roles at Adani Wilmar, ITC and Alarsa Sons in their rural initiatives. He is a Bachelor of Commerce from New Delhi and a Master of Arts from Maharshi Dayanand College, Sri Ganganagar.
Sushan Rungta
Sushan Rungta is the Chief Technology Officer and co-founder of Agribazaar. He holds a Master's degree in technology (Computer Application) from Amity and a post-graduate degree in Management from IMT, Ghaziabad. He is a true-blue entrepreneur with a passion for startup businesses. He is responsible for conceiving, conceptualizing, designing and implementing the idea into the product.
Sarat Mulukutla
Sarat Mulukutla is the Chief Business Officer of Agribazaar. Sarat has over 20 years of experience in the fields of risk management, business development and general management and international business. He is passionate about connecting farmers to markets. At Agribazaar, his focus is on providing a wide range of services to every stakeholder in the agri value chain. In his previous role at NCDEX as Chief – Commercial Segment, he helped FPOs sell their produce on derivatives markets. Sarat was also the founding Director of India's first repository, NERL. Sarat is an Electronics and Communications Engineer with an MBA and a PhD in Risk Management.