New Delhi: 9th May, 2018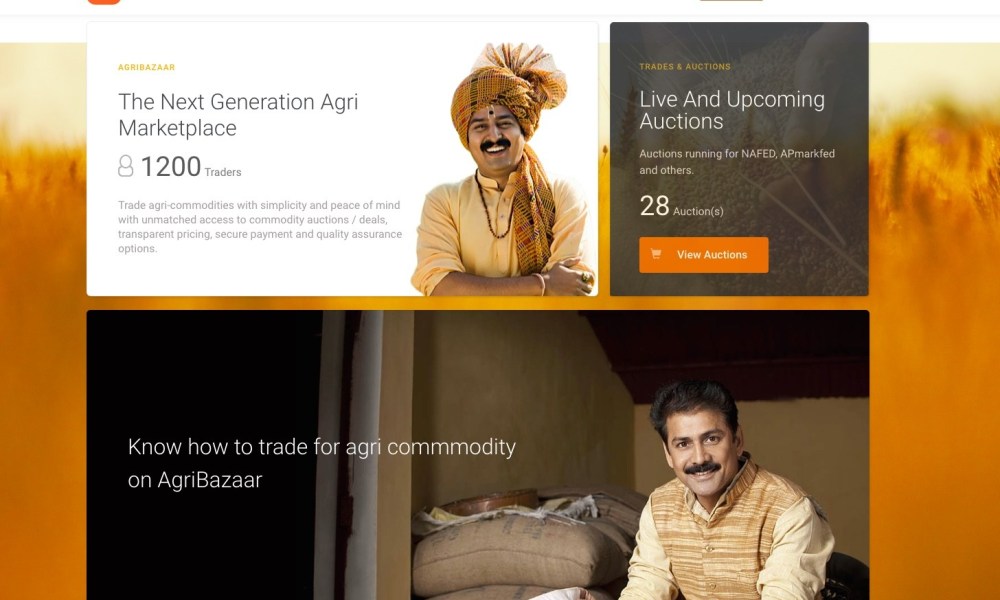 INDIA STILL FEATURES SENIOR TRADERS WITH BIG BULKY LANDLINE PHONES AND A MEMORY LIKE AN ELEPHANT. IN THE SAME COUNTRY YOUNG ENTREPRENEURS HAVE CREATED THE FASTEST GROWING B2B AGRIBUSINESS PLATFORM IN THE WORLD. AT THE WORLD CASHEW CONVENTION WE HAD THE CHANCE TO SIT DOWN WITH THE FOUNDERS AND LEARN ABOUT THE FUTURE OF TRADING. AGRIBAZAAR DOES NOT SOUND LIKE THE NEXT AMAZON OR ALIBABA. BUT THE ONLINE TRADING PLATFORM FOR AGRICULTURAL GOODS IN INDIA IS DEVELOPING AT A REMARKABLE PACE. I TALKED TO SUSHAN RUNGTA/BASHIR UDDIN, MANAGER FOR MOBILE TECHNOLOGY IN AT THE WORLD CASHEW CONFERENCE IN MACAO.
The Clipper: What is Agribazaar?
Sushan Rungta/Bashir Uddin: We have built a marketplace for agricultural commodities. You can consider this the Alibaba for the agriculture industry. We connect buyers, sellers, warehouse, logistics and insurance companies. We bring people together for transactions – and the financial transaction can be done entirely on the platform.
The Clipper: When did you start Agribazaar?
Sushan Rungta/Bashir Uddin: We started a year ago. It was an idea of a group of people. We did a lot of trials and rework. For 6 months we built the basic components of the site and then we piloted it from India. We did some research: We examined how traders work – and we did not find laptops in their workspace, they do everything with the smartphone. When we started there was no agri-trading app. Everybody knew about Alibaba and Amazon and people are using it. Quite a few people are still very old-fashioned, they take commodity prices from the newspapers. Trades are often done on the phone so you can still find a lot of bulky vintage landline phones in the companies. But as soon as they learn about the convenience of app-based trading they start to shift.
The Clipper: How do you make money?
Sushan Rungta/Bashir Uddin: We charge a brokerage fee from the buyer and the seller. It is a fixed percentage which varies from country to country based on volume. For cashews, the brokerage fee would be around .5% for each transaction party.
The Clipper: What is a typical transaction for you for cashews?
Sushan Rungta/Bashir Uddin: Most of the sellers for cashew nuts are from Africa who sells to India. Cashews are processed in India and consumed locally or exported.
The Clipper: What is the benefit for people in the industry to use the platform?
Sushan Rungta/Bashir Uddin: People in agribusiness can save a lot of money – no currency conversion charges, no banking fees. The currency can be converted by our customers – or they leave the money in the wallet. Our clients are saying that they get a lot of buyers and sellers on our platform – many more than they had in their own files. They say it is very convenient.
The Clipper: What is the value of transactions currently handled by Agribazaar?
Sushan Rungta/Bashir Uddin: Currently the value of goods traded is about 4-5 m USD every day.
The Clipper: That is impressive. Did you already have ties or experiences in agribusiness?
Sushan Rungta/Bashir Uddin: No, we started from scratch.
The Clipper: How do payments work at Agribazaar?
Sushan Rungta/Bashir Uddin: The moment the buyer receives the goods the payment is processed. The seller receives the money from Agribazaar. We developed a completely new payment gateway from scratch for Agribazaar. On our gateway, we are not charging anything from our customer. Every trader who gets registered with us gets a unique wallet account, which is directly integrated into the banking account. The buyer transfers the amount for the transaction into the wallet account. At the moment the transaction is completed the money is being transferred to the wallet of the seller.
The Clipper: The major argument against trading agricultural goods online is trust. How can you trust your trading partner when you do not know him, you have not verified his trustworthiness?
Sushan Rungta/Bashir Uddin: You do not need to trust the supplier. A buyer needs a commodity. It does not matter if supplier A or B is providing what he needs with standardized quality. Before a commodity is shipped from a sellers location it is tested. If a buyer needs cashew nuts he has to exactly specify what he needs in terms of quality and characteristics. Agribazaar hires a third-party lab that tests the commodity at the sellers' location. The quality matrix is shared with the customer. We choose the quality inspection team. So traders can trust the lab and us.
The Clipper: How do disputes work at Agribazaar?
Sushan Rungta/Bashir Uddin: We developed end-to-end warehousing solutions. And we have a settlement system which tracks the quality of the products. Most disputes are about the quality of the products. Either the buyer does not get the desired quality or quality deteriorates due to issues during the logistics process. All these factors are incorporated into our platform. As you might know, Android-based smartphones have a penetration of 95% compared to 5% with Apple iOs. In India there are far fewer iPhone users, there are only about 2% iPhone users. Surprisingly 12-15% of our users are iPhone users.
And it is actually a lot of fun as well. Traders are saying that using our app is like playing a video game. You just order, pay, receive. No need to go through a bank with charges.
Processors who buy raw material and sell processed material like cashew processors can do all their transactions with the app, buying and selling. As the app handles the transactions they can just take away the margin and a lot of working capital can be used in other areas.
The Clipper: Do you allow ratings for your users? Ratings that would help clients understand which source is more or less reliable?
Not yet, but it is on our to-do-list. For the ratings, you have to have a certain base of buyers and sellers. We already have an auction system in place – and one-to-one trading. For the auctions, the rating systems will be quite complex. For the one-to-one trade, it is quite simple to do something like what Amazon has established. For now, it is much more important that they trust the platform rather than trusting individual sellers. Our clients are buying from Agribazaar. We take responsibility for the product. All purchases for government goods are supposed to go through NAFED (National Agricultural Cooperative Marketing Federation of India) in India. We have created a platform for NAFED. If suppliers on this platform have issues like not delivering in time or not delivering at all we blacklist them. But we will establish something for Agribazaar in the near future. The most important aspect for trades is the product itself, the payment and timely information.
The Clipper: Your platform could offer a lot of additional services. Are you talking about partnerships like for example for logistics?
Sushan Rungta/Bashir Uddin: Yes, we are in talks already with companies like DHL and there is great potential. As soon as we feel that everything is done for our platform with the basic services we will expand our portfolio. We might embed services from third parties and charge a commission fee.
The Clipper: Is the Blockchain an option for you as a tool for secure trading?
Sushan Rungta/Bashir Uddin: We are currently experimenting on it. The current situation is still 'analogue': Whenever a physical delivery is being placed in the warehouse a physical note is issued which is called the CIS. We will put the CIS in the Blockchain you can certify it and immediately transfer to any person. This can be used as a certificate to pick up the product at the warehouse. Fortunately, the Bitcoin has raised awareness for the Bitcoin and people start to notice and understand. Until now Blockchain has not been acknowledged by most countries around the globe.
The Clipper: What are the next steps for Agribazaar?
Sushan Rungta/Bashir Uddin: We will include finance in our platform. This is a big step further. Rather than paying the goods on a realtime basis, our buyer can get funding for the transaction by a partner finance company. There are many sellers who hypothecate their commodities because they want to sell at a certain moment. Now they can finance their goods before any sale has taken place. Another new service is connecting farmers or harvesters directly on the platform.
The Clipper: You obtain a lot of valuable real-time market data. What do you do with it?
Sushan Rungta/Bashir Uddin: We acquire a lot of data and we use it to understand and predict demand, supply, prices. For example, we learn if a country like Ivory Coast is producing more cashew nuts. Gradually these data will help us understand and predict quantities and quality, value and other aspects of the trade. As we are a newcomer in the market we do not have sufficient data at the moment. We are currently developing an artificial intelligence system that allows us to determine the quality of a commodity by simply analysing pictures.
The Clipper: Did you get any funding for your startup?
Sushan Rungta/Bashir Uddin: We financed everything ourselves.
The Clipper: Thank you very much.