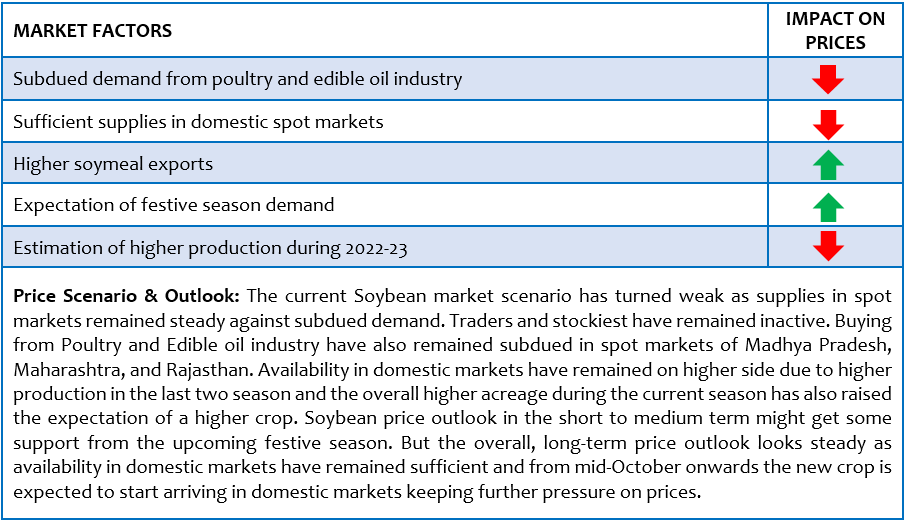 Current Market Developments:
After remaining higher during 1st week of September 2023, Soybean prices have declined in spot markets. Currently, prices are quoted in the range of Rs 4800 per quintal to Rs 5300 per quintal in markets of Maharashtra, Madhya Pradesh, and Rajasthan. Sufficient supplies in spot markets have kept pressure on prices.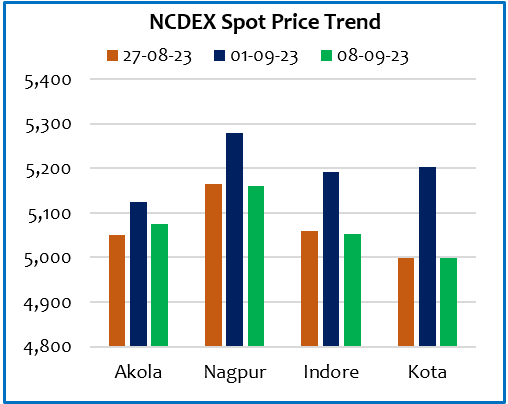 The consumption demand from the poultry industry has declined significantly. Moreover, the edible oil industry/plants buying has also remained weak. Prices are also pressurized by the decline in traders and stockiest demand for soybean and soymeal.
The timely and good monsoon rainfall during June-July month resulted in higher acreage under Soyabean in key soybean growing states Madhya Pradesh and Maharashtra. However, significant long break in monsoon rains might unfavorably impact the current crop conditions in parts of Madhya Maharashtra, Marathwada and Western Madhya Pradesh. The new season crop is expected to arrive in domestic markets from mid-October onwards.
According to the Ministry of Agriculture, third advance crop production estimates 2022-23 Soybean production is estimated significantly higher by 15 percent at 149.76 lakh tonnes as compared to 129.87 lakh tonnes in 2021-22 resulting in higher availability in domestic markets.
So far there has been a 15 percent decline in Soybean oil imports. As reported Soybean oil imports during November 2022-July 2023 declined to 2824557 metric tonnes as against 3330556 metric tonnes during November 2021-July 2022. However, the Soybean meal exports have increased significantly to 420820 metric tonnes during April-July 2023 as compared to only 90073 metric tonnes exported in April-July 2022. South Korea, Vietnam, Thailand, and Bangladesh were the major soymeal importers.
Soybean Price Trend Vs Seasonality at Key Markets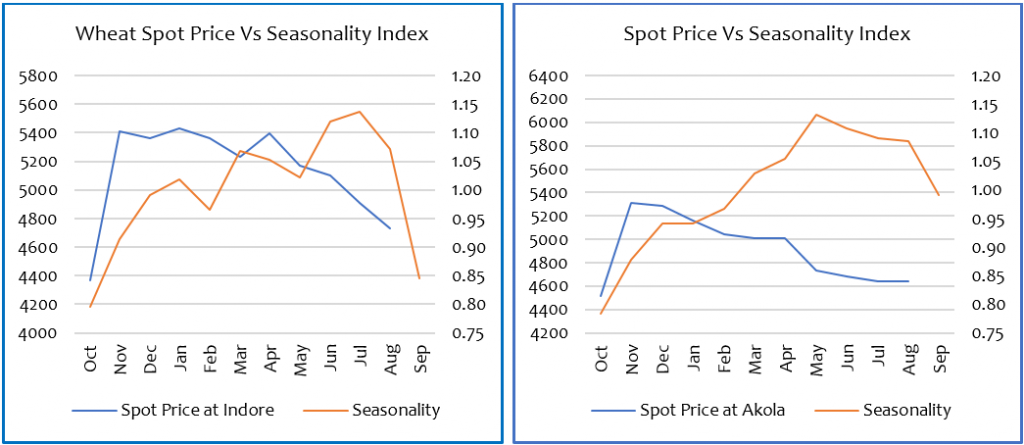 Current Soybean Acreage: Major States

Soybean Acreage in Major District of Maharashtra (In Hectares)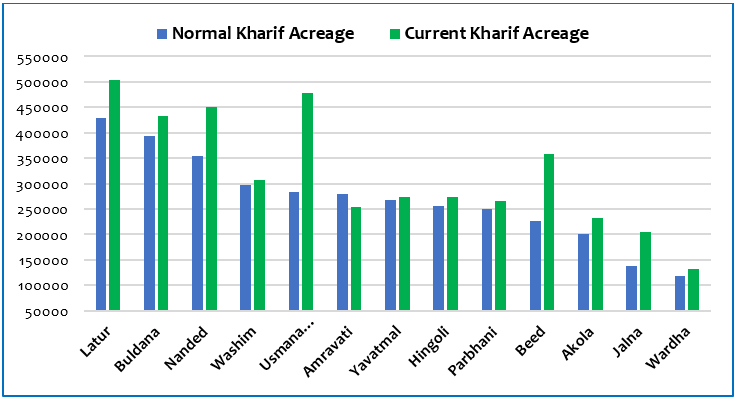 DOMESTIC Soybean Balance Sheet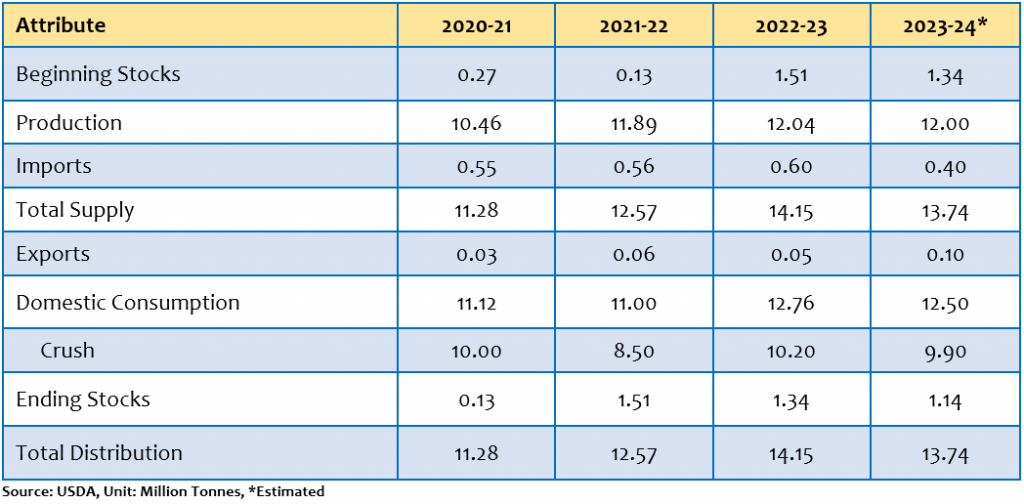 GLOBAL Soybean Balance Sheet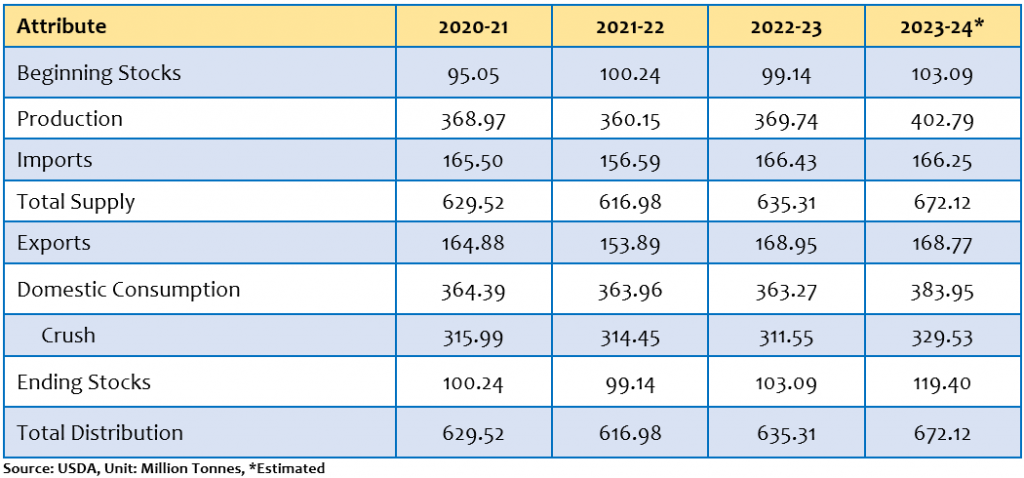 Disclaimer:
This report is prepared by "agribazaar". Information and opinions in this report have been taken from publicly available data and from sources believed to be reliable. Neither the report nor any part of the report shall be replicated without the written consent. agribazaar does not make any representations or warranties in relation to the accuracy, completeness and correctness of data or information contained in this report. Use of the data, information or opinions contained in this report is at the sole risk of the recipient of this report, and any such data, information or opinion should be independently verified. agribazaar, its affiliates, their officers, directors, and employees shall not be responsible for any loss or damage that may arise to any person from any error in the data, information or opinion contained in this report.
"agribazaar" 2023.