The Union Cabinet's nod to the setting up of the electronic agriculture market (e-mandi) made it an important day in the history of agriculture marketing reforms in India. Spot exchanges have been offering online trading in various commodities with standardised contracts wherein farmers, traders, processors, exporters, importers, can buy/sell in a transparent manner, with the exchanges providing counterparty guarantee for the trades. This has been a marked departure from the traditional mandi system and has helped facilitate efficient price discovery and transaction functions of the marketplace.
Problem statement
In the mandi system, farmers get a very low share of the rupee due to a long chain of intermediaries at the physical marketplace, which adds two major costs: the intermediaries' margins as well as multiple handling costs.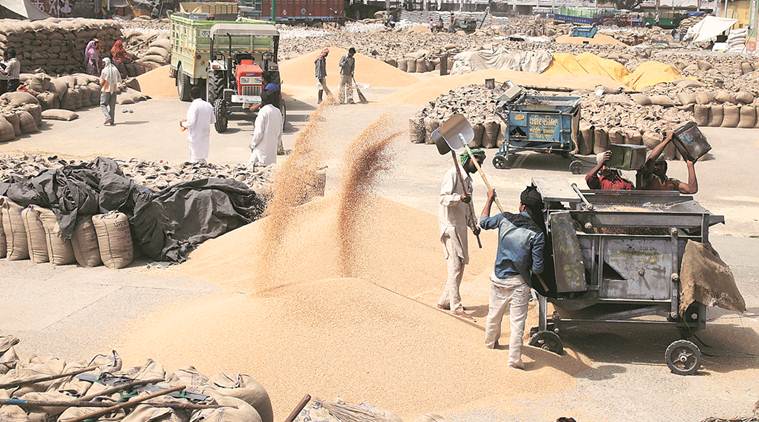 Further, there are various limitations under the current framework related to direct marketing legislation, multiple tax levies and licences, logistics and infrastructure. These challenges in the existing system and low returns to farmers prompted the Centre to visualise the creation of a unified electronic agricultural market.
The concept of this unified market has been proposed to induce transparency in the marketing system, leverage state of the art technology for a well-regulated market, and enable participation and benefits for the entire agri value chain, from farmer to consumer.
With the same vision, agribazaar has come with its new-age (electronic) e-Mandi platform in the form of procurement centres for small-farm owners (farmers) and merchants and buyers where they can buy and sell agri-produce directly at mutually transparent and best price mechanism without the involvement of middlemen. agribazaar's framework envisages real-time electronic auctioning of the commodities along with integrated assaying, weighing, storage and payment systems. Assaying and weighing will be integrated with auctioning in such a manner that the payments will be credited directly to the farmers' accounts. 
At agribazaar, we provide a dual benefit to producers by averting the need to bring produce to the market physically and enabling them to avail funding against the commodities stored in the warehouses, thus strengthening the price risk management framework for the farmer. 
Here is a list of the new e-Mandis associated with agribazaar:
| | | |
| --- | --- | --- |
| Location | Warehouse Name | Warehouse Address |
| RAMGANJMANDI | Associated Iron & Steel Industries Ltd. | Undawa Road Opp. Railway Station Ramganjmandi Dist.Kota (Raj.) IND |
| BUNDI | MORPAWALA REALCON PRIVATE LIMITED CHAMBER NO. C | CHAMBER NO.C, NH 12 BY PASS, VILLAGE AKTASA, DIST. BUNDI (RAJASTHAN)IND |
| BARAN | SUN PRIME AGRI SOLUTION PRIVATE LIMITED | KHASRA NO. 44 & 46, VILLAGE-HARIPURA, TEHSIL & DIST.-BARAN.RAJASTHAN 325205 |
| DAHRA | Star Agriwarehousing & Collateral Management Ltd | Khasra No. 359 & 360, Village- Dahra, Tehsil- Ladpura, Kota, Rajasthan |
| BUNDI | BUNDI AGRIMARKETING YARD PVT. LTD | Khasra No.165,Village-Ramganj Kota Bundi Road tehsil & Dist.- Bundi ( Raj.)323001 IND |
| BUNDI | Star Agriwarehousing & Collateral Management Ltd | Khasra No,361/52, Village-Hattipura, Teh. & Distt. Bundi RJ IND |
| KOTA | BHARAT JYOTI DAIRY PRODUCT LTD | G-142 & 147, E-148 & 152, AGRO FOOD PARK, RANPUR, KOTA ,RAJASTHAN – 325003 |
| RANPUR | Bapna Warehouse | F-41,42,43 Agro Food Park Ranpur, Kota-325003 IND |
| CHOMU | BAIRATHI WAREHOUSE | VILL-HATHNODA, TH.CHOMU, DIST -JAIPUR, RAJASTHAN , PIN CODE 303807 |
| SHEOGANJ | Farmer Harvest Warehouse | Plot No-F-107, Ricco Industrial Area, District Sirohi Sheoganj 307027 RJ IND |
| SUMERPUR | SUMITRA AGRO INDUSTRIES | KHASRA NO 1264, 1265, 1265/2, 1264/20, BAPU NAGAR, PALRI, SUMERPUR PALI, RAJASTHAN, PIN-306902. |
| SHEOGANJ | Star Agri Warehouse | Plot No. G 34 To 36 & H 37 To 40, Ricco Industrial Area, Sheoganj. Dist. Sirohi (Raj.) 307027 IND |
| JODHPUR | Star Agri Warehouse. | Plot No. 25-30 KHASRA NO 74/1 Village. Desuriya Bishnoiyan, Near Iccha Puran Balaji, On Nagaur Bye Pass Road, Jodhpur (Raj.) 342003 |
| JODHPUR | Star Agri cold storage | PLOT NO.01 to 04, KHASRA NO 74/1 of Village Desuriya Bishnoiyan,Near Iccha Puran Balaji,On Nagaur Bye Pass Road, JODHPUR RJ 42001 IND |
| JODHPUR | Star Agri Warehouse Godown No 01 | PLOT NO. 5 and 6, KHASRA NO 74/1 of Village Desuriya Bishnoiyan,Near Iccha Puran Balaji,On Nagaur Bye Pass Road, JODHPUR RJ 342001 IND |
| ALWAR | S.V. CASTING PVT. LTD | OLD INDUSTRIAL AREA, NEAR SHREE OM DHARAM KANTA, OLD DELHI ROAD, ALWAR, 301001 |
| KHARA | STARAGRI WAREHOUSING & COLLATERAL MANAGEMENT LTD | Khasra no 172/25, 172/26 & 172/27,Chak 2 NGM, Village-Husangsar,Teh.- & Distt.-Bikaner, Rajasthan-334001 |
| SRI GANGANAGAR | Mahipal And Sons | Chak 3 H.H. Murba No. 35, Killa No. 6,7,8,9,10,12,13,14,15 & 18 N.H. No. 15/62 Sri Ganganagar 335001. |
| SRI GANGANAGAR | NATIONAL AGRICULTURAL CO-OPERATIVE MARKETING FEDERATION OF INDIA LTD | AGRO FOOD PARK RIICOSRIGANGANAGAR RJ335001IND |
| Baran | Vaibhav Warehouse | Bhanwargarh Road, Gram Nahargarh, Tehsil Kishanganj, Dist Baran, Rajasthan |
| Bundi | Morpawala Realcon Pvt Ltd, Chamber no A & B | Chamber no. A & B, NH 12 Bypass, VIllage Aktasa, Dist Bundi, Rajasthan |
| Bansur | Prabhu Warehouse | Ladu lal gurjar, Village – Alanpur, Tehsil Bansur, Disrict Alwar, 301412 |
| Ramgarh | Sita ram agarwal warehouse | Sita ram agarwal, Kashra no. 642, Village – Bahala, Tehsil – Ramgarh, District – Alwar, 301030 |
| Takatgarh | Takatgarh Warehouse | Plot no. 47, Sundha Nagar, Rajpura Road, Takatgarh, Sumerpur, Rajasthan – 306912 |
| Kota | Jaydeep Bhandaran | Bus stand, Genta district, Kota, Rajasthan |
"It is a wonderful opportunity for India to leapfrog from the physical mandis scattered all over the country to single platform marketplaces as an e-mandi (electronic platforms). It will protect the Indian farmers' interest in the best possible manner." – Amith Agarwal, Co-Founder & CEO, agribazaar.