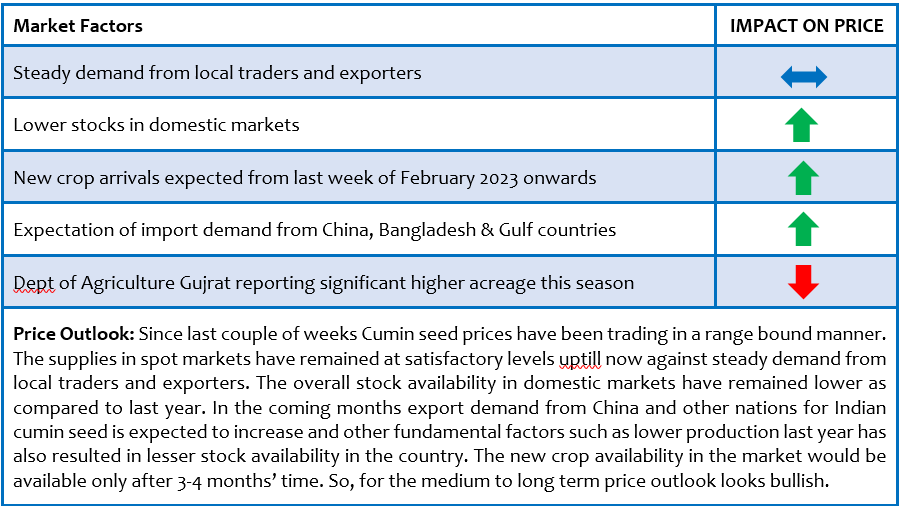 Current Market Developments:
Steady demand from local buyers & exporters witnessed in most spot markets. Currently, Cumin seed prices are trading in a narrow range. Daily around 1,500 to 2,000 bags are received in markets of Saurashtra.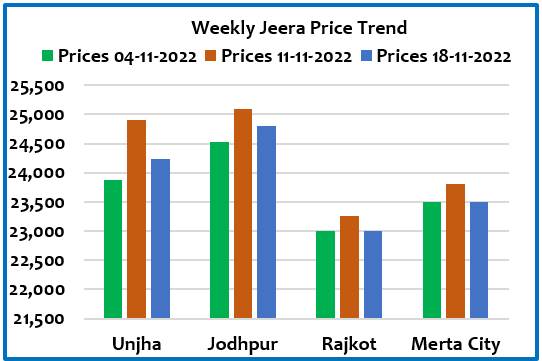 Cumin seed stock is the country have remained low and new crop is expected only after 3-4 months' time. In the country total stock is estimated to be around 12 to 15 lakh bags. In Saurashtra 1 to 2 lakh bags stocks are estimated to be available and most 0f it is in centres of Jamnagar, Rajkot, Gondal. Cumin seed stock is Unjha estimated around 6 to 7 lakh bags and in Rajasthan around 4 to 5 lakh bags stock is estimated. Last year carry forward stocks in the country was around 20 lakh bags but this year the carry forward stock would be around 3 to 5 lakh bags at the starting of new season.
As per the Ministry of Commerce & Industry, this year during 2022-23 (Apr-Sept) India exported around 1.04 lakh tonnes as compared to 1.32 lakh tonnes corresponding period last year. Trade sources are expecting exports to pick up in coming months due to strengthening of dollar against rupee. Good demand expected from China in December-January and Ramzan demand during January-February from gulf & other countries.
In International markets Indian cumin seed quoted around $3000 to $3050 per tonnes for Gulf countries, for European countries quoted around $3250 per tonnes and for America cumin seed quoted around $3350 per tonnes.
Due to Normal to excess monsoon rainfall in most parts of Gujarat and Rajasthan, the cumin seed acreage is expected to be higher. According to Department of Agriculture Gujarat, the current acreage under cumin seed is reported significantly higher at 28,592 hectares as compared to only 330 hectares last year same period.
Market and trade sources are expecting the overall acreage this season under Cumin seed to decline in Gujarat by 10-15 percent as farmers would prefer Coriander crop due to lower cost and good return. So far acreage under Coriander is reported higher at 32,210 hectares as compared to 159 hectares last year same period.
Cumin Seed (Jeera) Price Trend Vs Seasonality at Key Markets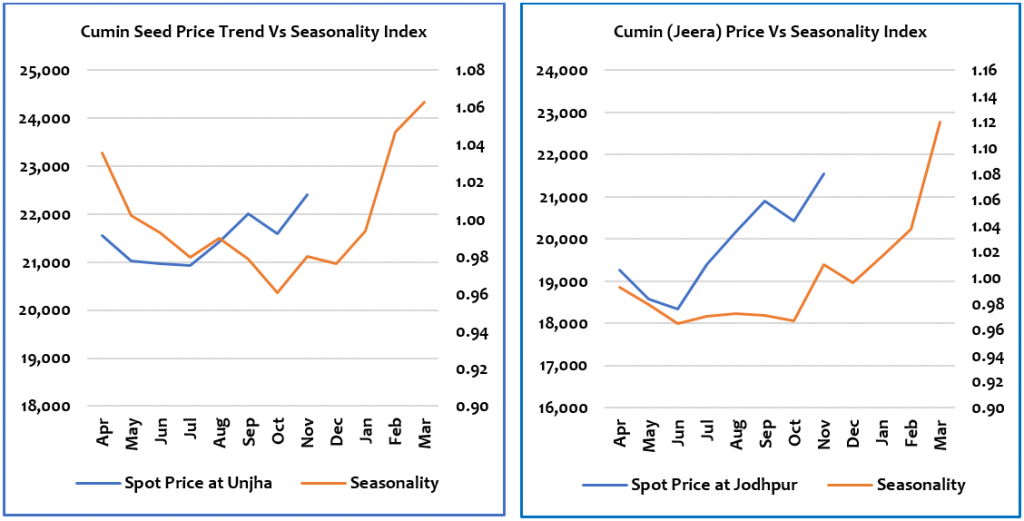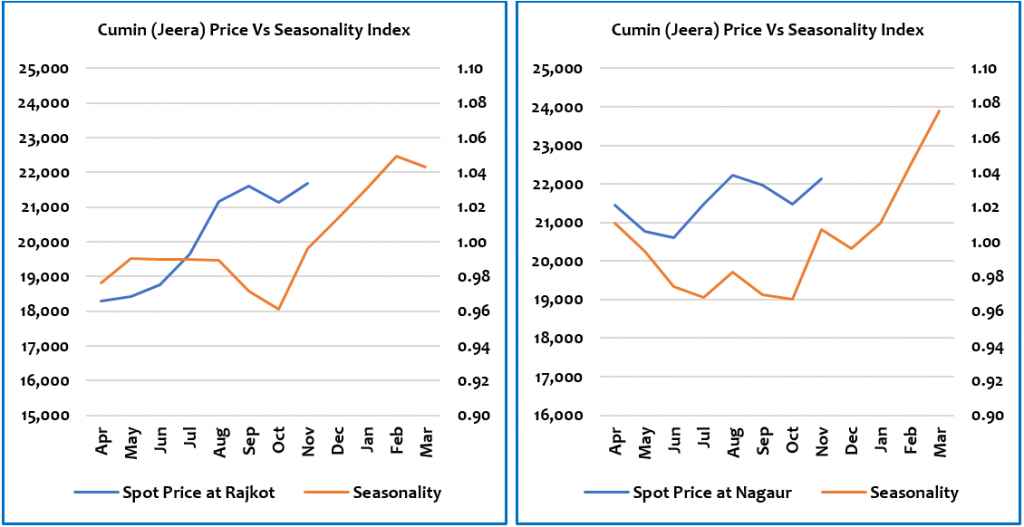 Cumin Seed Area and Production Trend: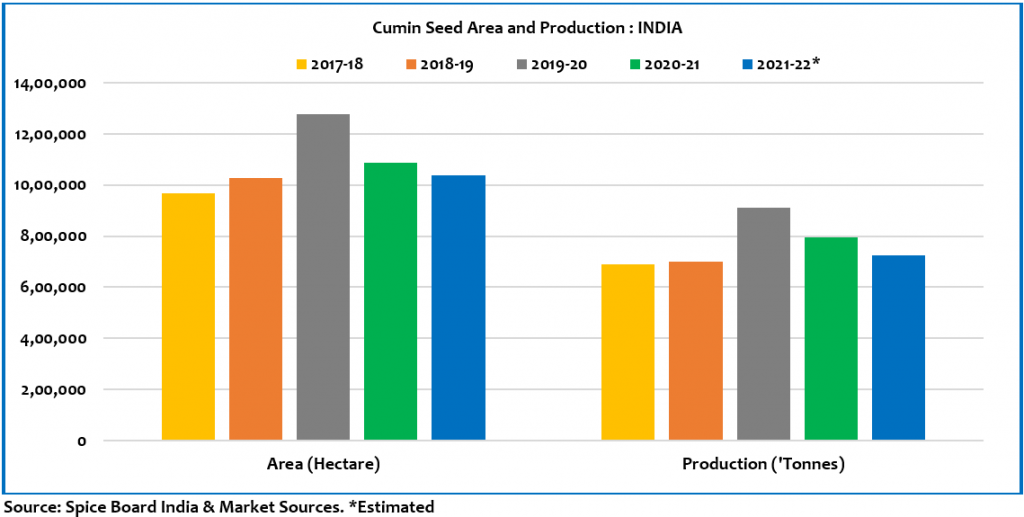 Disclaimer:
This report is prepared by "agribazaar". Information and opinions in this report have been taken from publicly available data and from sources believed to be reliable. Neither the report nor any part of the report shall be replicated without the written consent. agribazaar does not make any representations or warranties in relation to the accuracy, completeness and correctness of data or information contained in this report. Use of the data, information or opinions contained in this report is at the sole risk of the recipient of this report, and any such data, information or opinion should be independently verified. agribazaar, its affiliates, their officers, directors, and employees shall not be responsible for any loss or damage that may arise to any person from any error in the data, information or opinion contained in this report. "agribazaar" 2022.