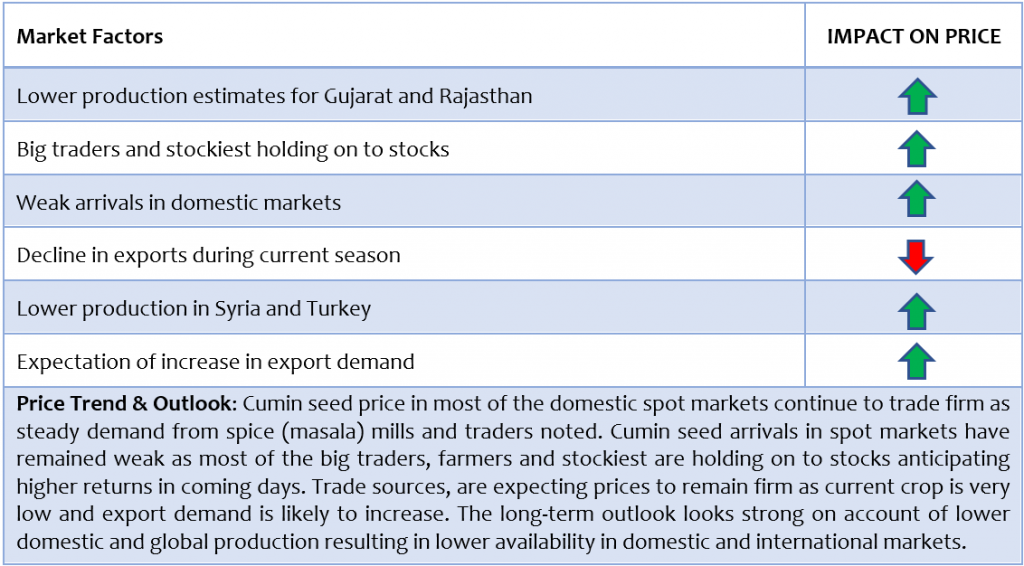 Current Market Developments:
Cumin Seed (Jeera) price at key domestic markets continue to remain strong on lower supplies against steady demand. Currently, in Gujarat and Rajasthan markets arrivals of Jeera have remained low. Big traders and stockiest have been holding to stocks anticipating further increase in prices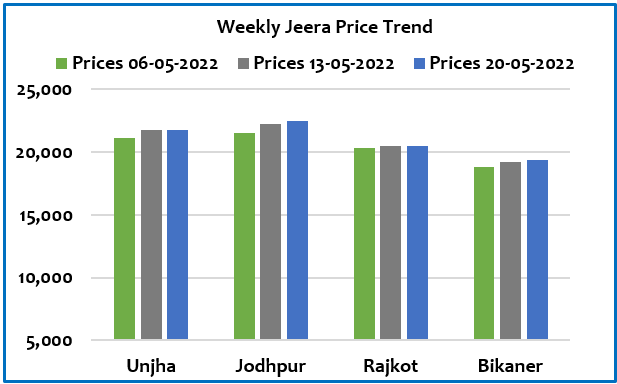 On daily basis Jeera arrivals in Unjha market were around 5,000 bags, Saurashtra and Gondal market around 800 t0 1,000 bags are arriving. Similarly, in Rajasthan also daily arrivals have remained weak, in Jodhpur market around 1,500 bags, at Nagaur 500 bags and other centres 500 bags arrivals noted.
Currently, steady demand can be seen from Bangladesh and other Islamic countries. And due to Bakri-Eid in July further increase in demand is expected. Demand from China has declined due to higher domestic prices in India. Around 32,407 tonnes and 42,788 tonnes have been exported to Bangladesh and China respectively during 2021-22 (Apr-Feb).
As per market sources, Cumin seed exports during the current season are likely to remain low as the current crop is very less this time. Cumin seed exports during 2021-22 (Apr-Feb) has declined by 24 percent at 1.91 lakh tonnes as compared to 2.52 lakh tonnes exported last year same period. In the month of February 2022 around 12,988 tonnes cumin seed exported as against 17,114 in February 2021. In International markets, Indian Jeera is quoted around 2850 to 2950 dollar per tonnes.
Due to higher purchases made in the domestic markets between January to March demand in April declined but now it has started to picking up slightly and is expected to improve in coming days. Looking at the export and domestic market demand prices may remain range bound with slightly firm tone.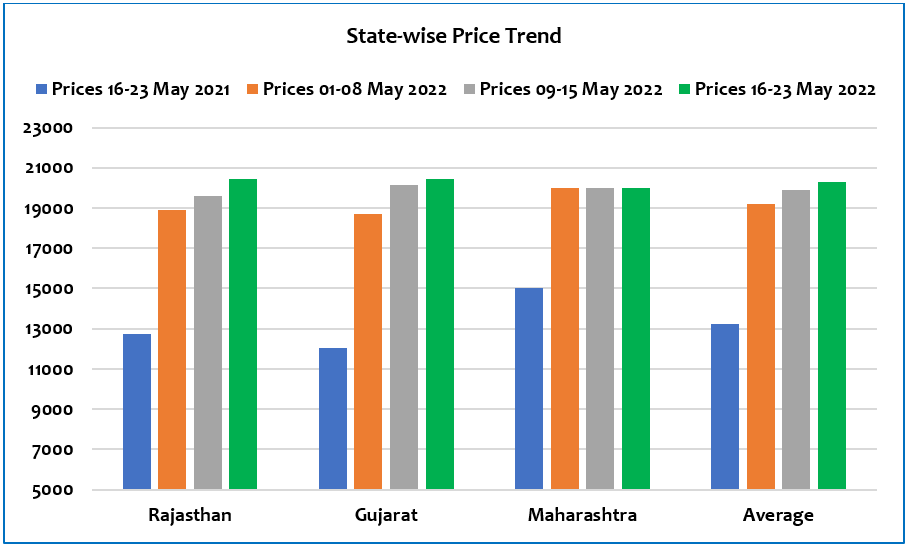 Cumin Seed (Jeera) Price Movement Vs Seasonality at Key Markets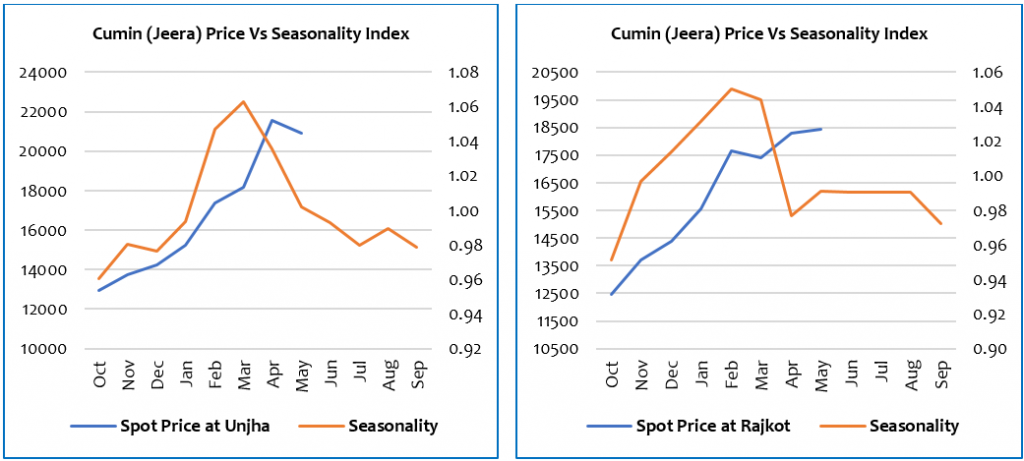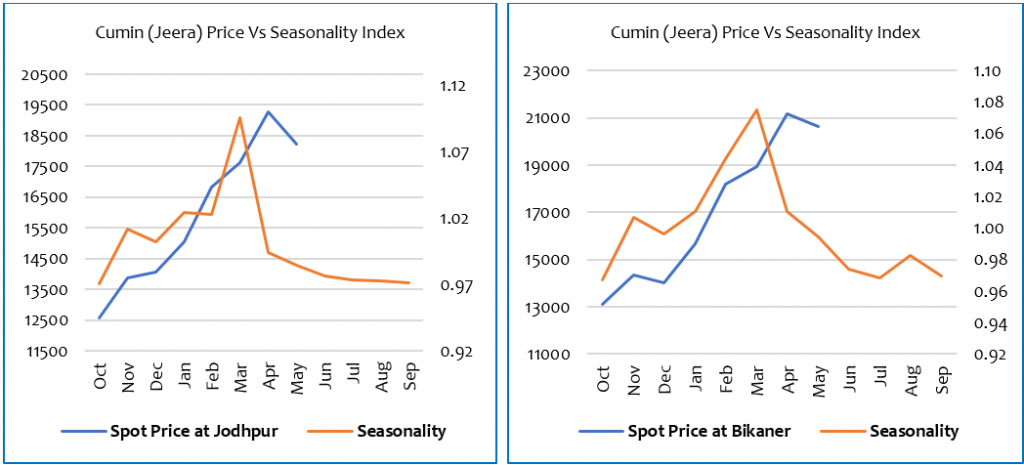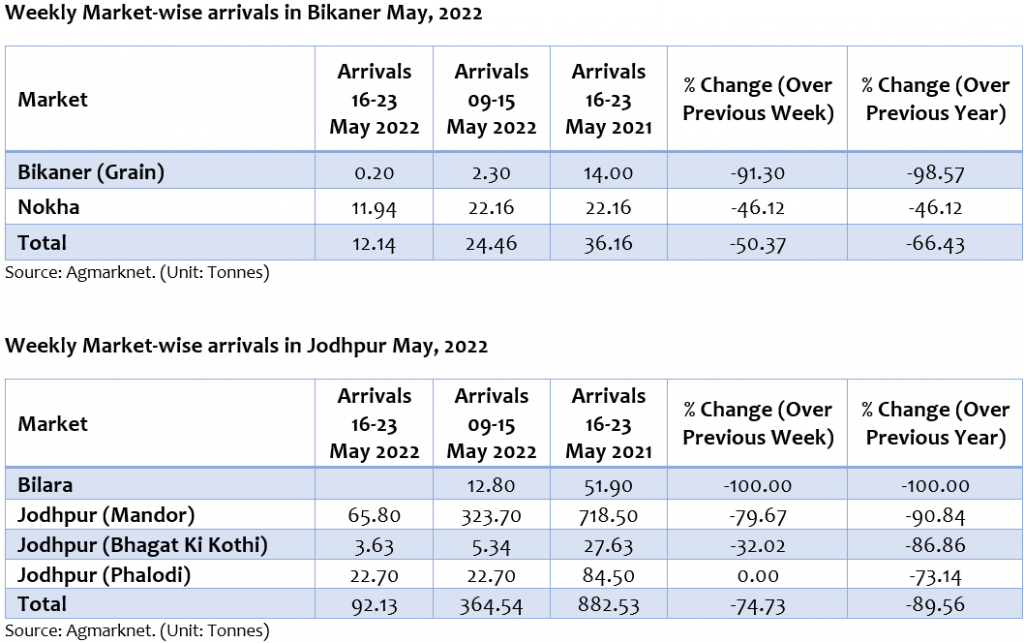 Disclaimer:
This report is prepared by "agribazaar". Information and opinions in this report have been taken from publicly available data and from sources believed to be reliable. Neither the report nor any part of the report shall be replicated without the written consent. agribazaar does not make any representations or warranties in relation to the accuracy, completeness and correctness of data or information contained in this report. Use of the data, information or opinions contained in this report is at the sole risk of the recipient of this report, and any such data, information or opinion should be independently verified. agribazaar, its affiliates, their officers, directors and employees shall not be responsible for any loss or damage that may arise to any person from any error in the data, information or opinion contained in this report.
"agribazaar" 2022.