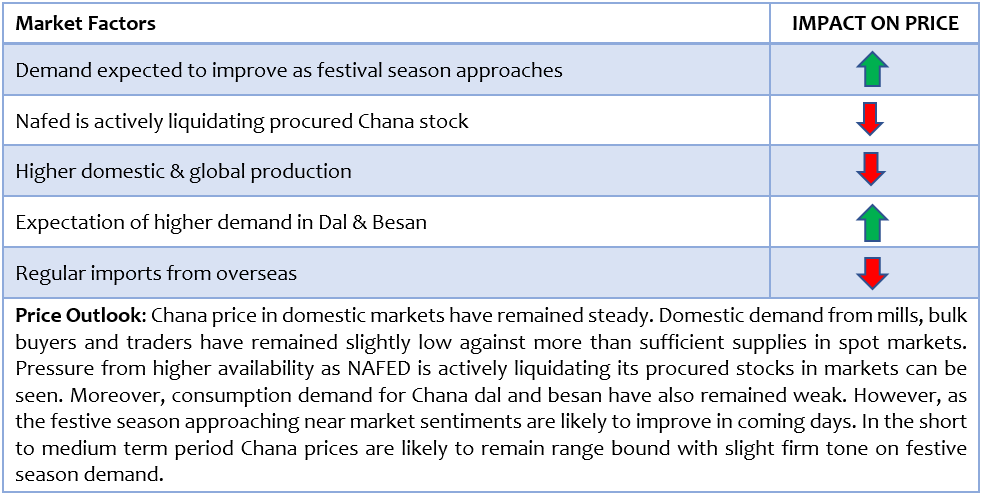 Current Market Developments:
Chana prices continue to trade in a range bound manner since last fortnight due to limited participation by mills despite restricted arrivals in spot markets.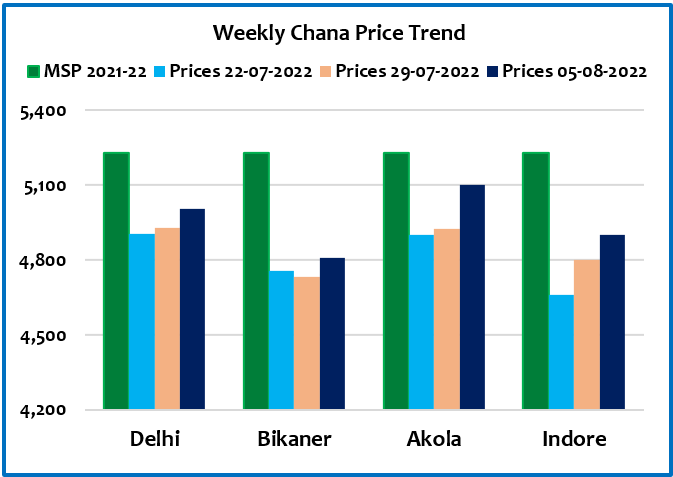 Consumption demand for Chana dal and Besan have also remained weak however, traders and stockists are expecting demand to improve gradually in coming day as festival season approaches near.
Meanwhile, millers were facing difficulty in getting good quality of Chana for crushing. Sellers were inactive in superior quality Chana.
NAFED is actively liquidating its old procured Chana stock in selected States. Old procured Chana was of average quality which millers prefer for beasan and not for processing into Chana dal.
As per Tanzania trade participants, production of desi Chana this year is likely to be better than the last year. Approximately 1.25 lakh tonnes Chana output is expected this year, however, no big change is expected as compared to last year.
This year domestic availability is higher as the Ministry of Agriculture, estimated 17 percent increase in Chana production during 2021-22 at 13.98 million tonnes as compared to 11.91 million tonnes during 2020-21 season.
With regular imports happening from overseas markets and NAFED disposing stocks in markets price are likely to remain range bound in short to medium term. However, some support is likely to be from the upcoming festive season.
Gram (Chana) Price Trend Vs Seasonality at Key Markets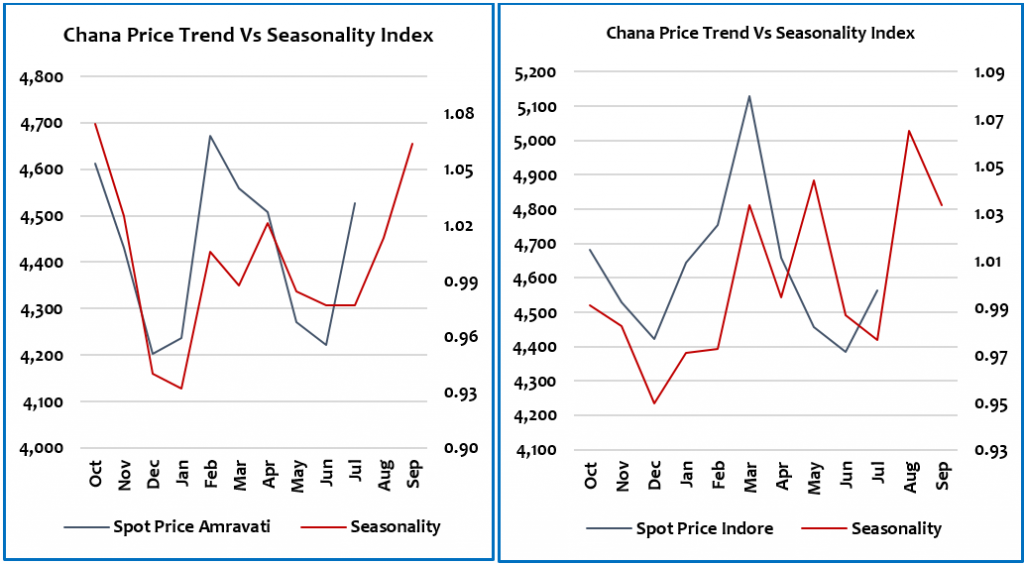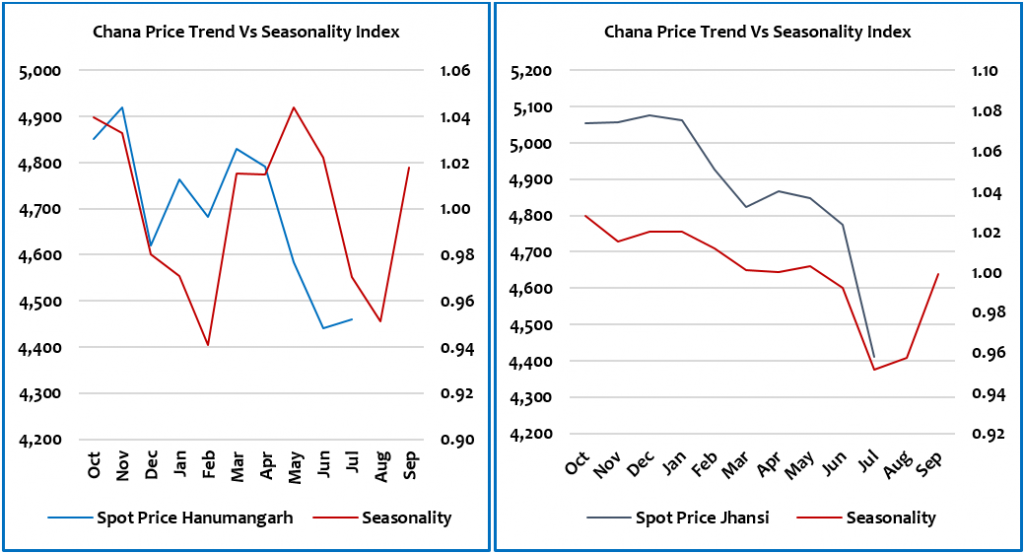 Gram (Chana) Area, Production and Yield: India & Major States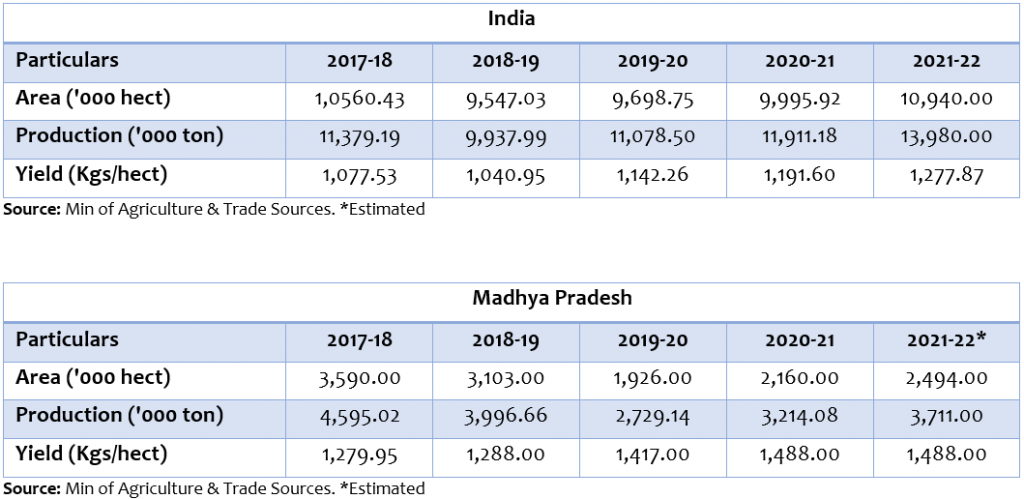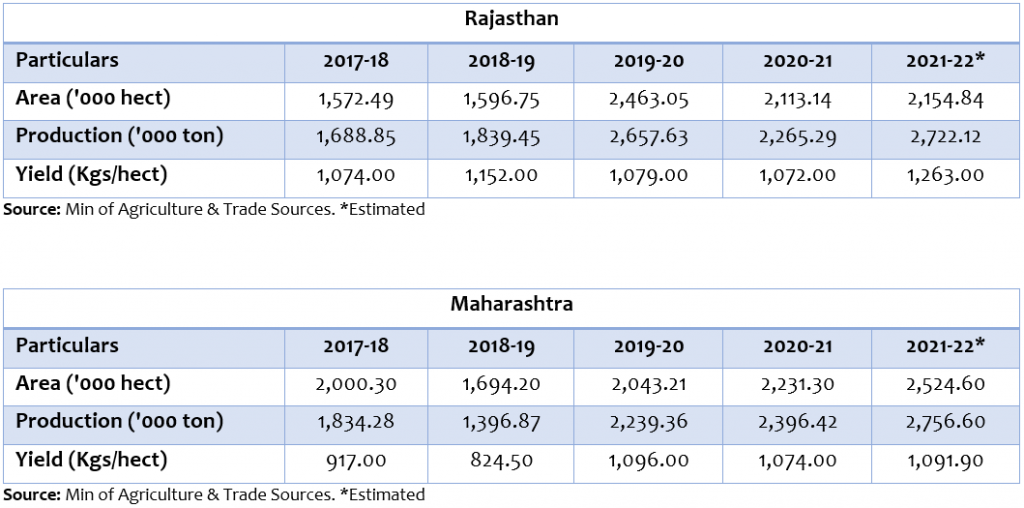 Disclaimer:
This report is prepared by "agribazaar". Information and opinions in this report have been taken from publicly available data and from sources believed to be reliable. Neither the report nor any part of the report shall be replicated without the written consent. agribazaar does not make any representations or warranties in relation to the accuracy, completeness and correctness of data or information contained in this report. Use of the data, information or opinions contained in this report is at the sole risk of the recipient of this report, and any such data, information or opinion should be independently verified. agribazaar, its affiliates, their officers, directors and employees shall not be responsible for any loss or damage that may arise to any person from any error in the data, information or opinion contained in this report.
"agribazaar" 2022.