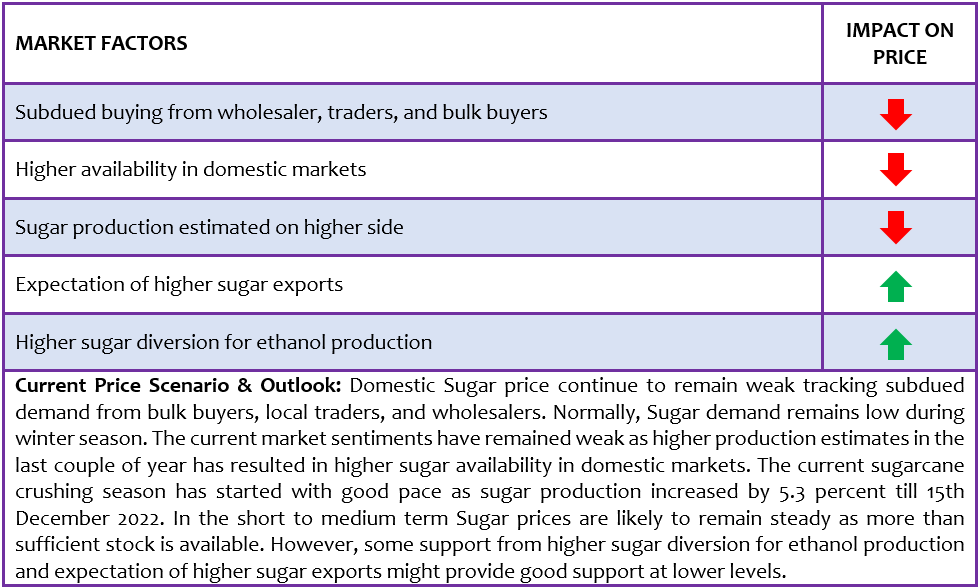 Current Market Developments:
Since last couple of weeks, domestic sugar prices have remained weak as buying from bulk buyers, traders and wholesaler have remained subdued.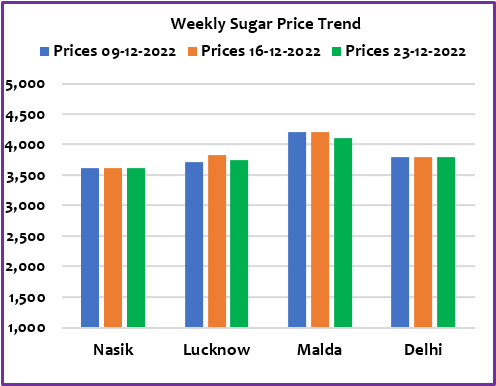 The current domestic market sentiments are weak tracking higher availability and production in the country.
Moreover, the sugarcane crushing is progressing at a good pace and Sugar production from 01st October to 15th December 2022 increased to 82.1 lakh tonnes as against 77.9 lakh tonnes last year same period. The number of factories operating is also higher at 497 against 479 operated last year.
As per market sources, around 40-45 lakh tonnes to sugar export contracts have been done. And out of which around 6 lakh tonnes have been exported till 30th November 2022. In the month of December around 8-9 lakh tonne of sugar is likely to be exported which will make total exports of around 15 lakh tonnes so far in the current marketing year (2022-23). During 2021-22 sugar marketing year India had exported around 111 lakh tonnes of record sugar.
India's total sugar production is expected to be the highest ever at 410 lakh tonnes (before diversion for ethanol) in the 2022-23 marketing year. Sugar diversion towards production of ethanol is estimated to be at 45 lakh tonnes in the current marketing year. Hence, the net sugar production after factoring in the diversion is expected to be at 365 lakh tonnes in the 2022-23 marketing year.
In the current season the state wise sugarcane crushing is progressing smoothly. Sugar production in Uttar Pradesh till 15th December has increased to 20.3 lakh tonnes as against 19.8 lakh tonnes last year same period. Similarly, in Maharashtra sugar production has also increased to 33 lakh tonnes as compared to 31.9 lakh tonnes last year. Karnataka sugar production increased to 18.9 lakh tonnes against 18.4 lakh tonnes last year.
Sugar Price Trend Vs Seasonality at Key Markets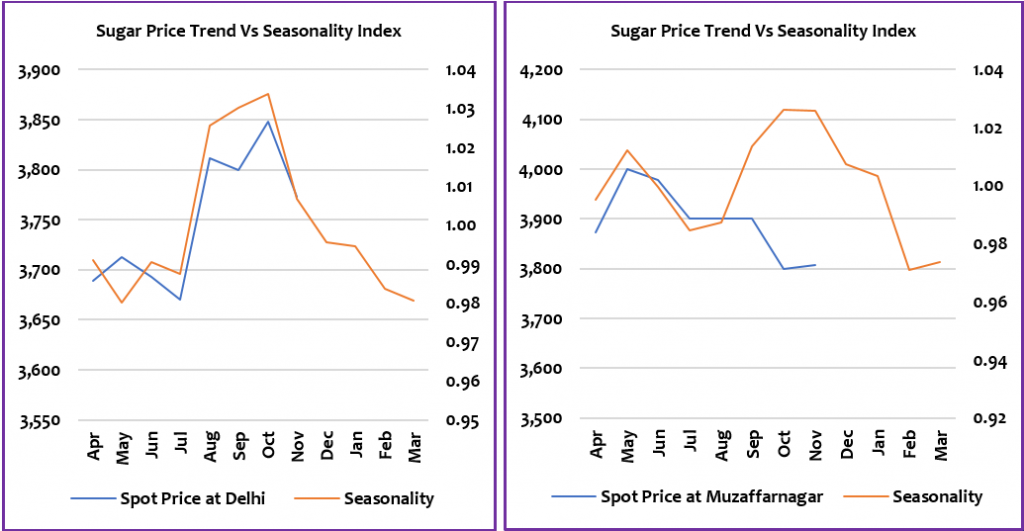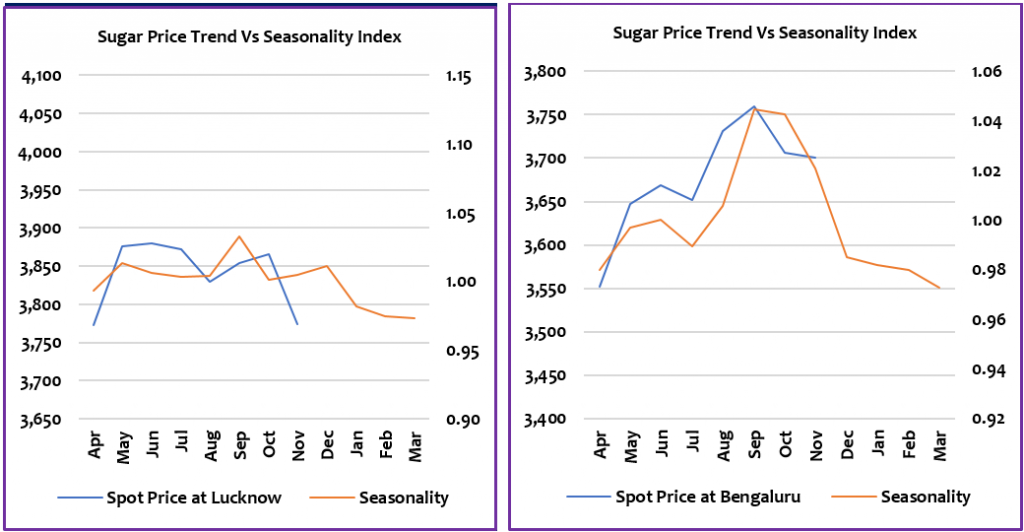 State-wise Sugar Production 2022-23 (Oct-Sept) Vs 2021-22 (Oct-Sept)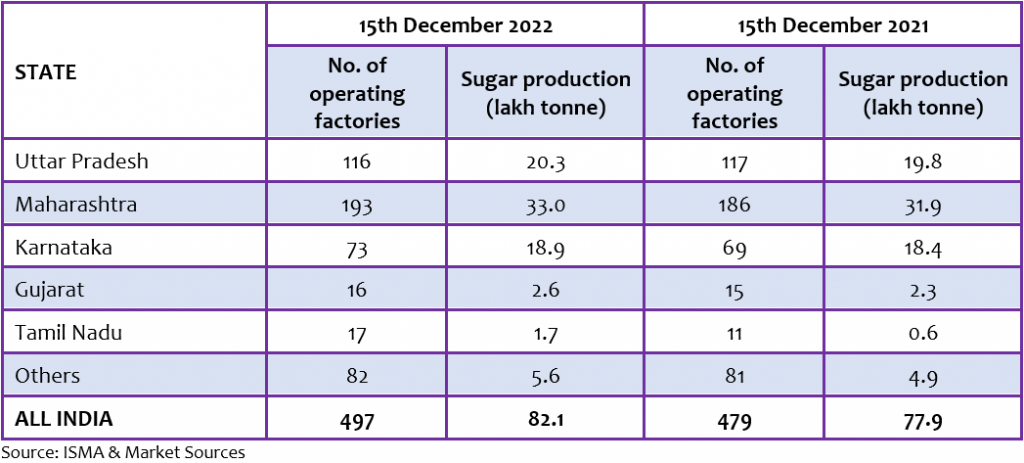 Domestic Sugar Balance Sheet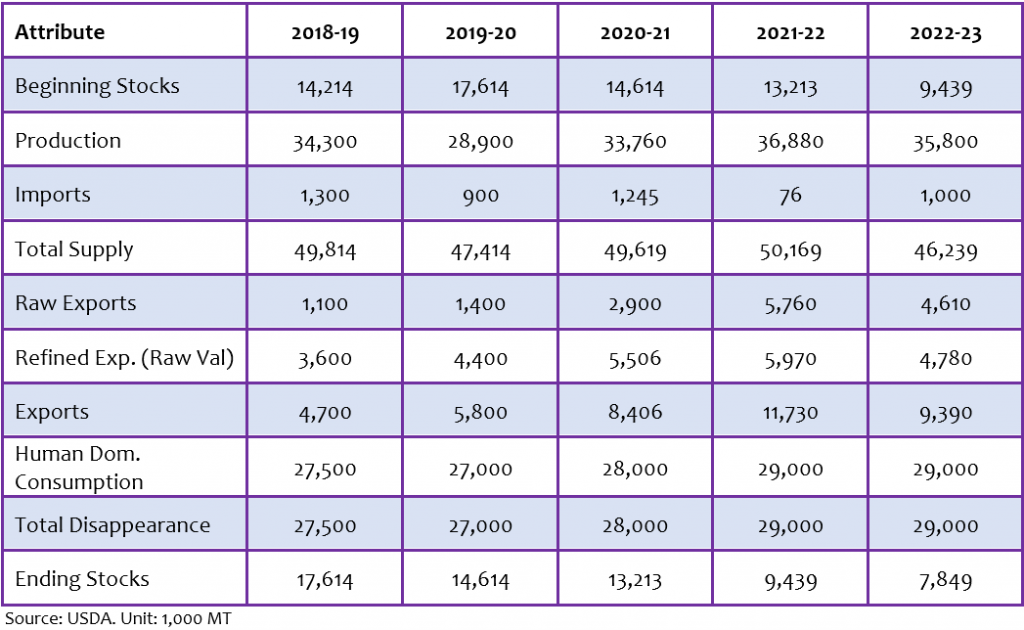 Disclaimer:
This report is prepared by "agribazaar". Information and opinions in this report have been taken from publicly available data and from sources believed to be reliable. Neither the report nor any part of the report shall be replicated without the written consent. agribazaar does not make any representations or warranties in relation to the accuracy, completeness and correctness of data or information contained in this report. Use of the data, information or opinions contained in this report is at the sole risk of the recipient of this report, and any such data, information or opinion should be independently verified. agribazaar, its affiliates, their officers, directors, and employees shall not be responsible for any loss or damage that may arise to any person from any error in the data, information or opinion contained in this report.
"agribazaar" 2022.