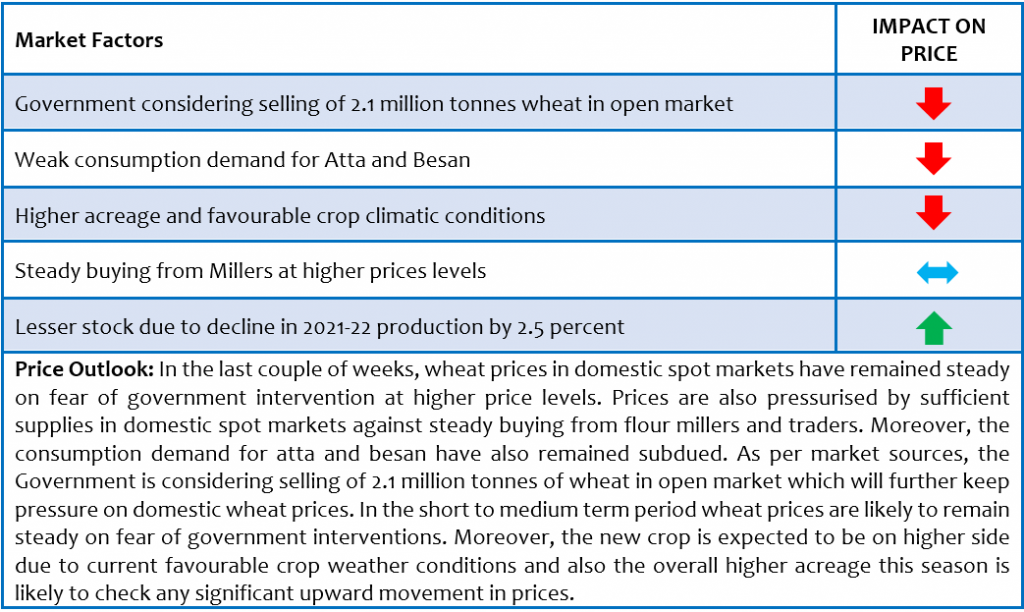 Current Market Developments:
Since last couple of weeks, wheat prices quoted mixed across major spot markets on a regular wheat supply amid robust crop prospects. However, prices of the commodity used for bread making have strengthened in South India on slight improved consumer demand.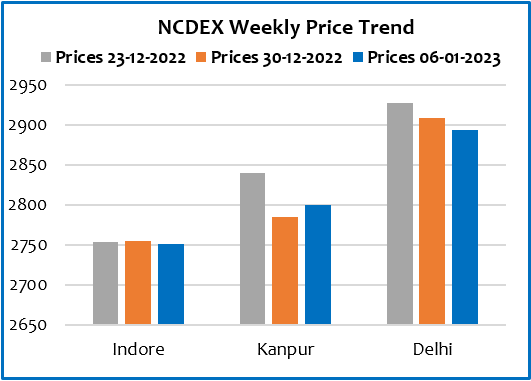 Wheat prices are expected to trade steady to weak as government intervention is likely at any sharp rise. Any significant increase in prices above Rs 2,950 – Rs 2,975 is unlikely as millers are not buying wheat at higher prices levels.
The new season wheat crop in parts of Gujarat and Maharashtra is likely to start by last week of February & current climatic conditions prevailing in north India likely to result in higher crop harvest.
Overall, wheat prices are now dependent on government OMSS policy, and in case of the government delaying intervention, the wheat prices may maintain steady to firm tone.
As per mkt sources, the flour millers have demanded the government offload wheat stocks from the FCI godowns to meet the shortage in the open market which has pushed up both wholesale and retail prices of wheat and wheat flour. The supply shortage is mainly due to a decline in domestic wheat production to 106.84 million tonnes in the 2021-22 crop year (July-June) from 109.59 million tonnes in the previous year due to heatwaves in a few wheat growing states.
As per data by Food Corporation of India (FCI), wheat stocks were at a six-year low of 19.02 million tonne as on 01st December 2022. In November, wheat stocks were recorded at 21 million tonnes. The earlier lowest levels for the months of November and December were last seen six years ago in 2016, at 18.84 million tonnes and 16.69 million tonnes, respectively. Wheat stocks in the central pool have been depleting on an average by 2 million tonnes every month over the last six months.
The higher MSP declared by the government has resulted in a significant increase in overall crop acreage this season. As per the latest data from the Ministry of Agriculture, the current Rabi season acreage in India has increased by 3.5 percent at 325.10 lakh hectares as compared to 313.81 lakh hectares last year same period. Compared to last year higher acreage is reported from Uttar Pradesh by 3.59 lakh hectares, Rajasthan by 2.52 lakh hectares, Maharashtra by 1.89 lakh hectares, Gujarat by 1.10 lakh hectares, Bihar by 0.87 lakh hectares, Madhya Pradesh by 0.85 lakh hectares, Chhattisgarh by 0.66 lakh hectares, West Bengal by 0.21 lakh hectares.
Wheat Price Trend Analysis (Spot vs Seasonality)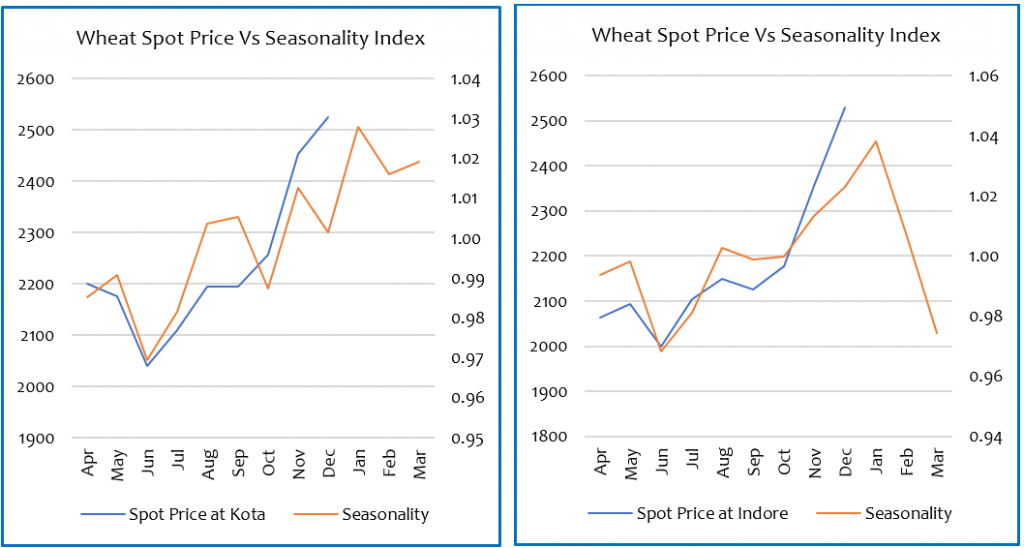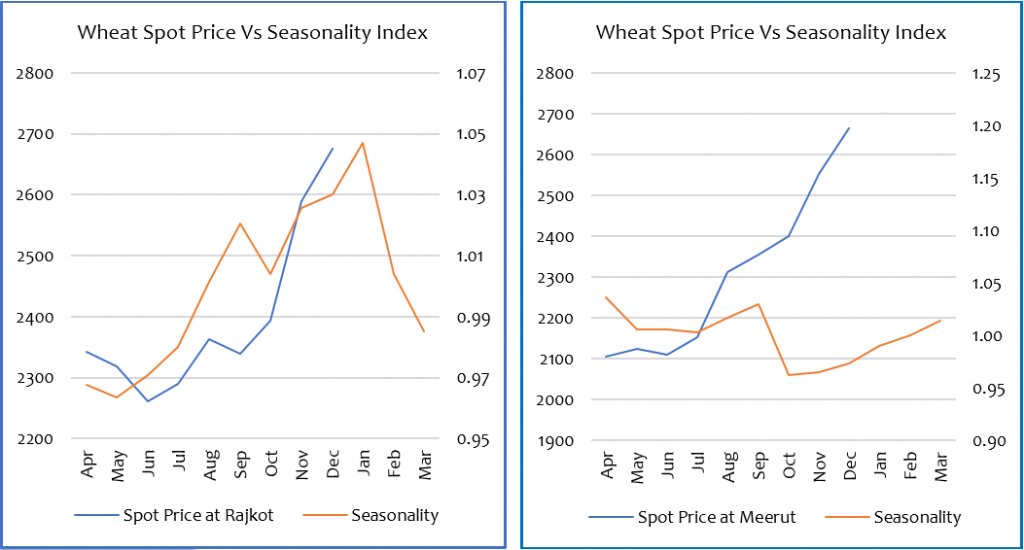 Current Rabi Season Acreage as on 30th December 2022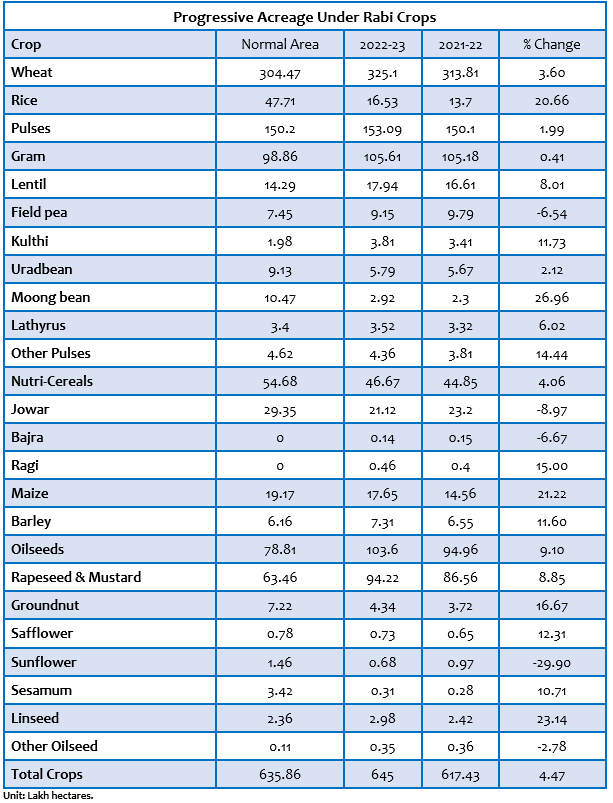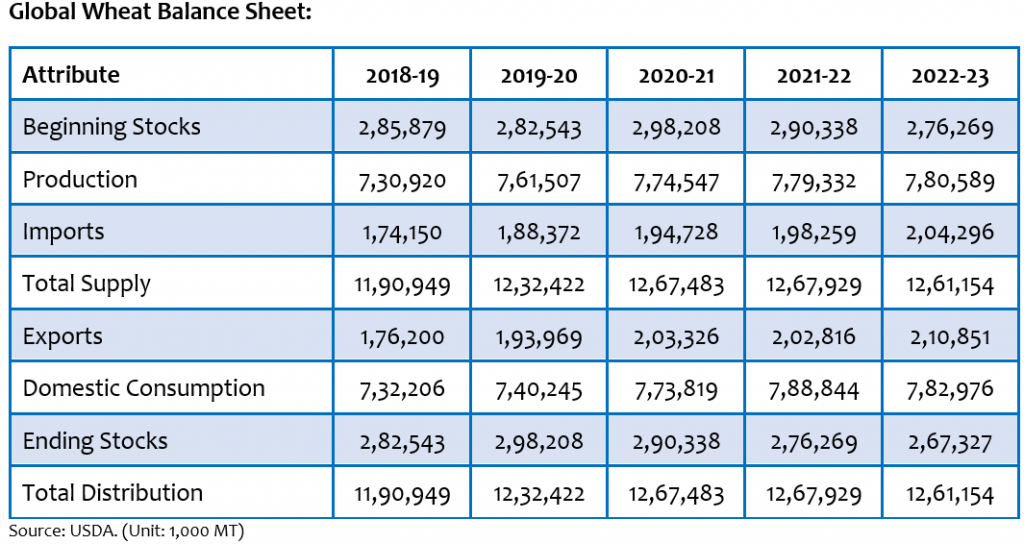 Disclaimer:
This report is prepared by "Agribazaar". Information and opinions in this report have been taken from publicly available data and from sources believed to be reliable. Neither the report nor any part of the report shall be replicated without the written consent. agribazaar does not make any representations or warranties in relation to the accuracy, completeness and correctness of data or information contained in this report. Use of the data, information or opinions contained in this report is at the sole risk of the recipient of this report, and any such data, information or opinion should be independently verified. agribazaar, its affiliates, their officers, directors, and employees shall not be responsible for any loss or damage that may arise to any person from any error in the data, information or opinion contained in this report.
"Agribazaar" 2023