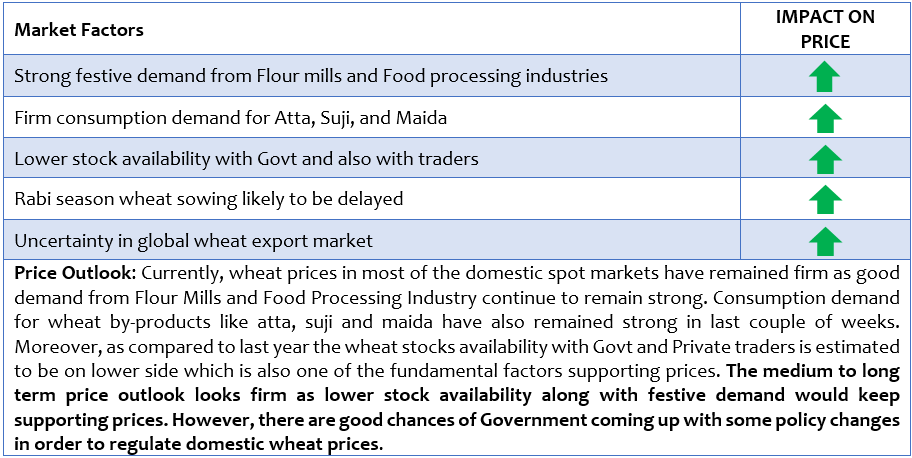 Current Market Developments:
Since, last fortnight Wheat prices in most of the domestic spot markets have increased as strong demand from flour mills and food processing industries was noted. Moreover, wheat byproducts such as Suji, Maida and Atta demand have also remained strong.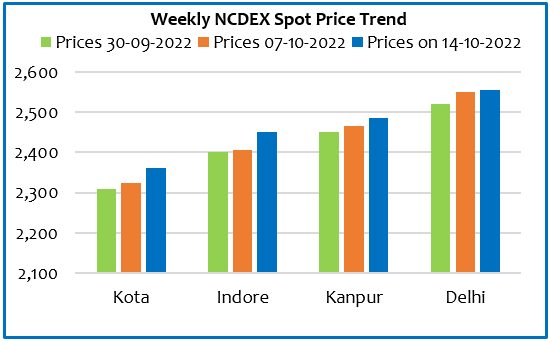 Normally good demand for wheat is seen during winters and also the upcoming festive demand is likely to keep Wheat prices strong throughout the season.
Wheat prices would also get good support from the delayed withdrawal of monsoon this year, as Rabi season wheat sowing is likely to get delayed.
This year there is an issue of lower stock with Government agencies and also with traders. As per the latest available data, Wheat stock at the central pool remained lower by 51 percent at 227.46 lakh tonnes as compared to 468.52 lakh tonnes last year. However, according to the buffer norm of 205.2 lakh tonnes as on 01st October 2022 the government is having 11 percent higher wheat stock.
During 2022-23 marketing season Food Corporation of India and its State agencies are able to procure only 187.92 Lakh Metric Tonnes (LMT) of Wheat as compared to 433.44 Lakh Metric Tonnes a decline of around 57 percent. Procurement from Punjab stood at 96.45 LMT, Haryana 41.86 LMT, Madhya Pradesh 46.03 LMT, and Uttar Pradesh 3.36 LMT.
At the global front, CBOT wheat prices are getting good support as there is an uncertainty in global wheat export market (due to Russia Ukraine conflict). UN-backed grain deal that has enabled Ukraine to export millions of tonnes of wheat is under strain as a surge in the number of cargo ships has caused a backlog aiming to cross the Black Sea. There is uncertainty about Russian and Ukraine wheat availability which is keeping Wheat prices strong in international markets.
Wheat Price Trend Analysis (Spot vs Seasonality)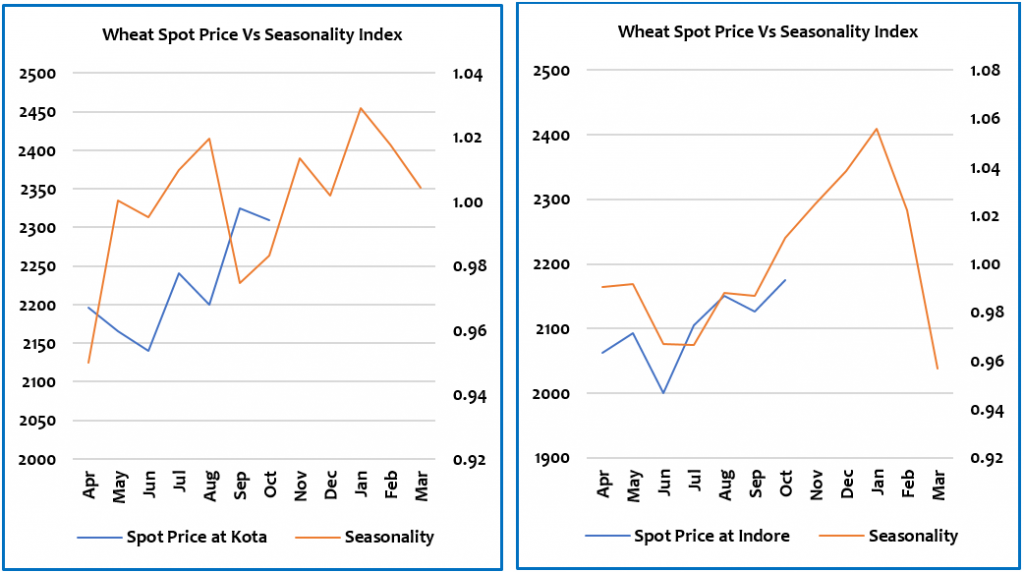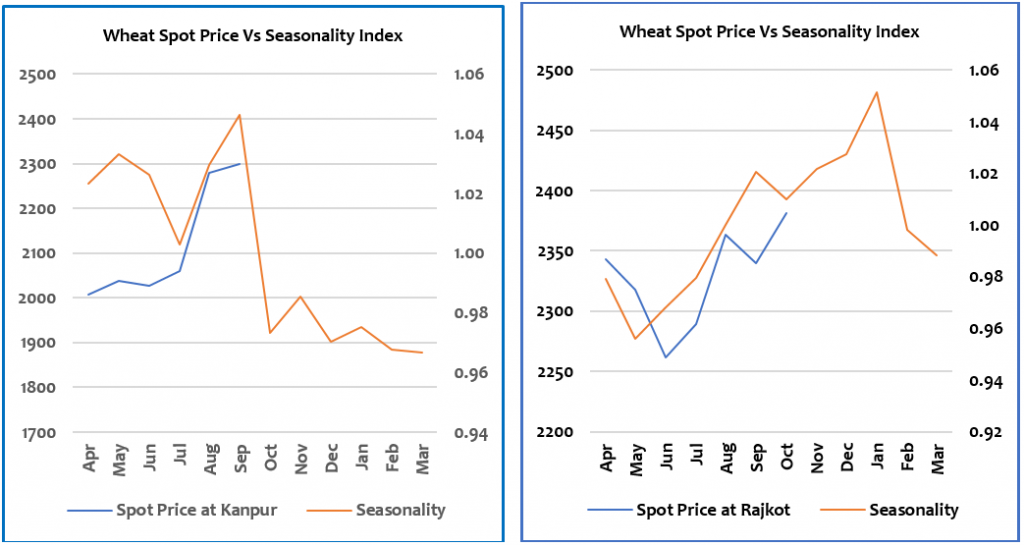 Domestic Wheat Balance Sheet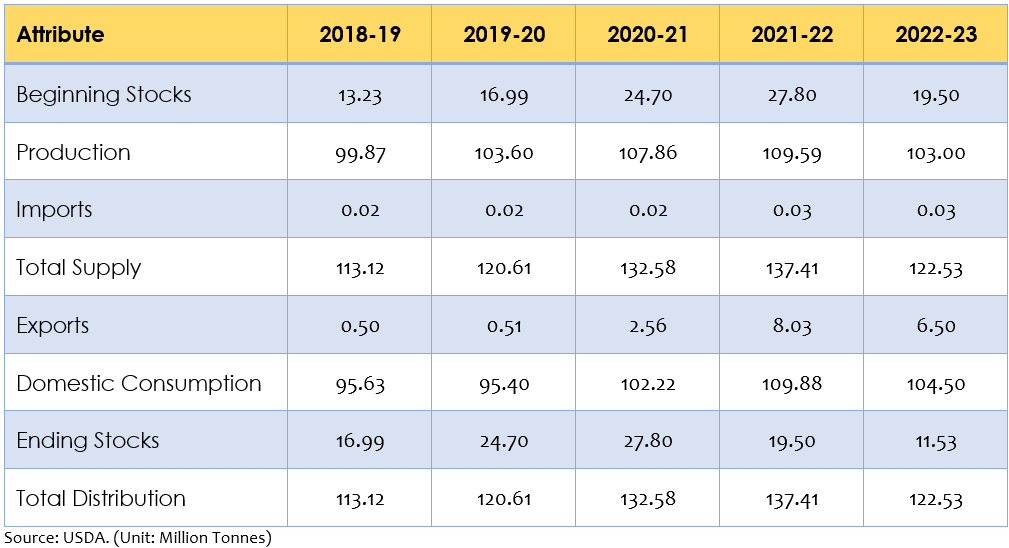 Global Wheat Balance Sheet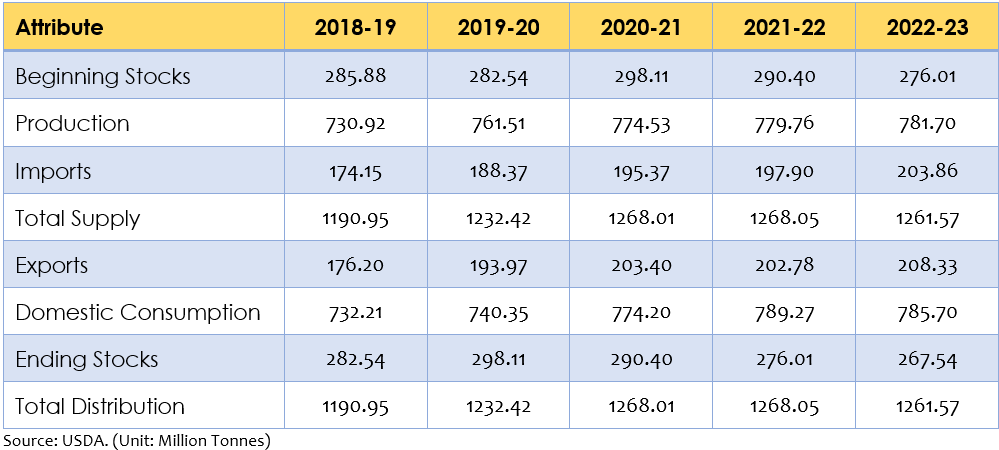 Disclaimer:
This report is prepared by "Agribazaar". Information and opinions in this report have been taken from publicly available data and from sources believed to be reliable. Neither the report nor any part of the report shall be replicated without the written consent. agribazaar does not make any representations or warranties in relation to the accuracy, completeness and correctness of data or information contained in this report. Use of the data, information or opinions contained in this report is at the sole risk of the recipient of this report, and any such data, information or opinion should be independently verified. agribazaar, its affiliates, their officers, directors, and employees shall not be responsible for any loss or damage that may arise to any person from any error in the data, information or opinion contained in this report.
"Agribazaar" 2022