Current Market Developments:
Wheat in domestic markets have been trading in a range bound manner as the government is making all efforts to maintain smooth supplies against steadily improving demand due to the upcoming festive season.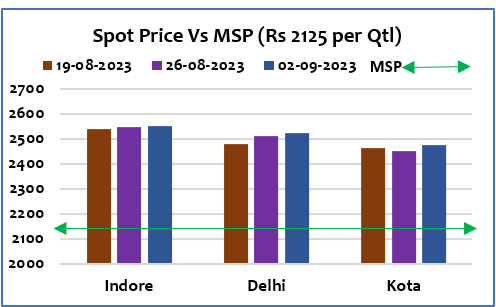 Overall, the prices have remained above the MSP levels. The market is expecting import duty cut on wheat or even removing it completely. Around 40 lakh tonnes of wheat shortages expected by the market sources and are likely to be filled by imports only. Argentina wheat is quoted $308-$315 per tonnes whereas US wheat is quoted around $305-$309 per tonnes in international markets.
In the coming days strong demand from flour mills and food processing industries is expected. Normally, good consumption demand for wheat & it's by products such as Aatta and Maida are seen during festive season which are likely to keep wheat prices strong.
This year as the production of wheat estimated higher at 1127.43 lakh tonnes, government wheat procurement also increased significantly by 39 percent at 262.02 lakh tonnes during the current marketing season 2023-24 as against 187.92 lakh tonnes procured in 2022-23 season.
The stock position of wheat in the Central Pool as of 1st August 2023 stood at 280.39 lakh tonnes against 266.45 lakh tonnes last year same period an increase of around 5 percent.
At the global front, CBOT wheat prices have remained weak in last couple of weeks due to higher production estimation from Russia and likely talk on black sea grain deal. Russia could export 49.5 million tonnes of wheat in the 2023-24 season, 2 million tonnes more than it previously forecast, based on a revised estimate for the country's wheat crop to 91.0 million tonnes from an earlier 89.5 million tonnes.
Wheat Price Trend Analysis (Spot vs Seasonality)

Wheat Procurement & Production Trend
Wheat procurement during the ongoing Rabi Marketing Season (RMS) 2023-24 has progressed smoothly. The progressive procurement of wheat till 31st July 2023 has increased by 39 percent to 262.02 lakh tonnes as compared to 187.92 lakh tonnes last year.
Major contributions in the procurement have come from three procuring states of Punjab, Madhya Pradesh, and Haryana with procurement of 121.17 lakh tonnes, 70.97 lakh tonnes and 63.17 lakh tonnes respectively.
This year the government efforts such as relaxation in quality specifications of wheat affected by the untimely rainfall, establishment of wheat procurement centers at village/panchayat levels, carrying out involving Co-operative societies, Gram Panchayats, FPO's etc. have resulted in higher procurement of Wheat.
Currently, the country is placed in a comfortable position to meet its requirements. The stock position of wheat in the Central Pool as of 1st August 2023 stood at 280.39 lakh tonnes against 266.45 lakh tonnes last year same period.
Wheat Sale under OMSS (Domestic)

Food Corporation of India, on the direction of Government of India, sells surplus stocks of wheat and rice under Open Market Sale Scheme (Domestic) at pre-determined prices through e-auction in the open market from time to time to enhance the supply of food grains specially wheat during the lean season and thereby moderate the open market prices specially in the deficit regions.
WHEAT DOMESTIC BALANCE SHEET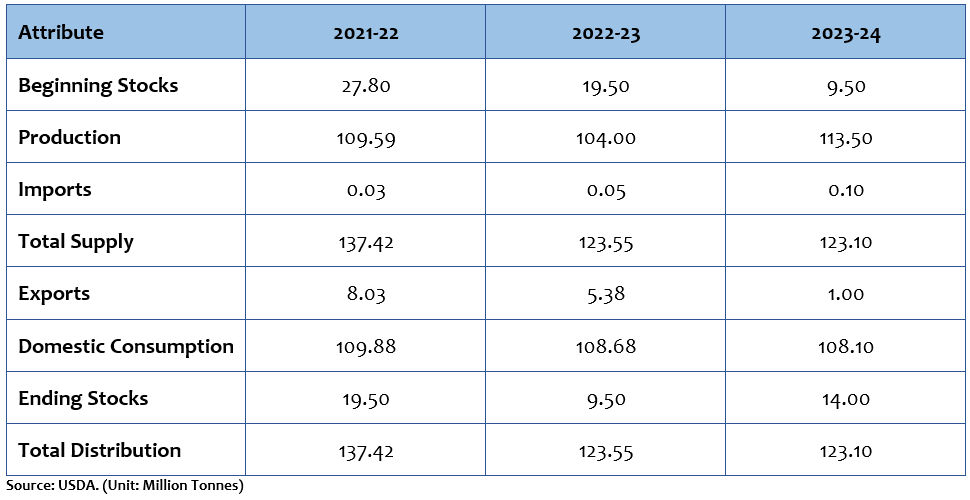 WHEAT GLOBAL BALANCE SHEET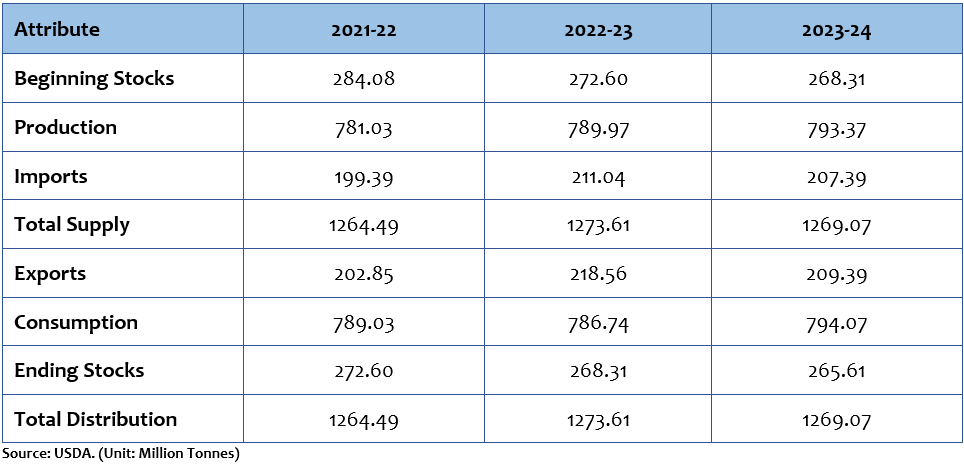 Disclaimer:
This report is prepared by "Agribazaar". Information and opinions in this report have been taken from publicly available data and from sources believed to be reliable. Neither the report nor any part of the report shall be replicated without the written consent. agribazaar does not make any representations or warranties in relation to the accuracy, completeness and correctness of data or information contained in this report. Use of the data, information or opinions contained in this report is at the sole risk of the recipient of this report, and any such data, information or opinion should be independently verified. agribazaar, its affiliates, their officers, directors, and employees shall not be responsible for any loss or damage that may arise to any person from any error in the data, information or opinion contained in this report.
"Agribazaar" 2023