Wheat is a very nutritional and extensively cultivated cereal grain. It is one of the world's most important crops as it's the second most-produced grain in the world after Maize (Corn) and most consumed after Rice. Wheat has an important dietary staple across many parts of the world because of its ability to be produced in many diverse types of soils and climates. It contains many vitamins and minerals which make it a staple food product and is an important source of carbohydrates. It is mostly used to make bread, biscuit, noodles, pasta, etc, and even used as animal feed.
In India, Wheat is cultivated during the Rabi season as it is planted during the month of October and is harvested during the months of April and May. The top wheat-producing states in India are Madhya Pradesh, Rajasthan, Uttar Pradesh, Maharashtra, and Gujarat. According to the Ministry of Agriculture, the sowing acreage of Wheat as of January 29, 2021, was 346.36 lakh hectares (LH) up by 2.95 per cent compared to 336.43 LH during the corresponding period. India exported 13.13 lakh metric tonnes (LMT) valued at Rs 2,512.77 crores in 2020-21 (April to January). The government has fixed the Wheat procurement target at 427.363 LMT for 2021-22 which is up by 9.60 per cent compared to 389.930 LMT in 2020-21.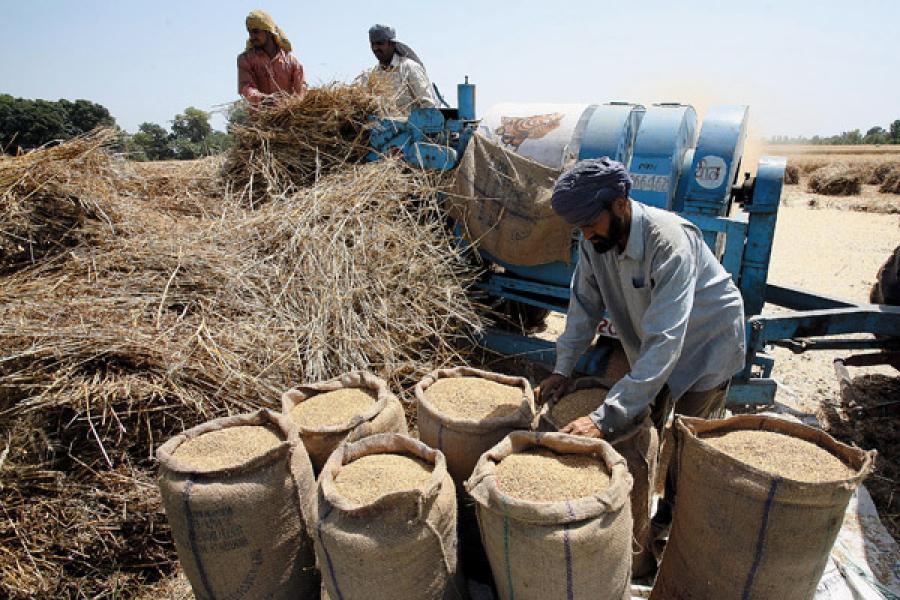 Most states in India have already started procurement during this Rabi harvesting season. Haryana government has started its procurement drive from April 1, 2021, Punjab has also started its procurement drive from April 10 till May 31, 2021, and Uttar Pradesh has started from April 1 to June 15, 2021. Arrivals have started to pick up in local mandis and for the month of March 2021 itself, there was 14.58 LMT of Wheat that arrived. The Government had increased the Minimum Support Price (MSP) of Wheat by 2.60 per cent to Rs. 1,975 per quintal for marketing season 2021-22 compared to Rs 1,925 in 2020-21.
This time various media reports have stated that rains and hailstorms in parts of wheat-growing regions of Haryana, Punjab, Madhya Pradesh and in some parts of Rajasthan could affect the quality of the standing crops that are ready to be harvested. Due to these rains, it can increase the moisture content of the crops and could lead to its rejection during the government's procurement drive at MSP. Currently, prices of Wheat all over India have been trading below MSP but there can be an upward movement in its prices going forward.