Sowing period: October to December
Harvesting period: March to May
Crop season: Rabi
Key growing regions:
Madhya Pradesh – Neemuch, Mandsaur, Guna, Rajgarh, Shajapur
Gujarat – Rajkot, Surendranagar, Gondal, Junagarh, Jamnagar
Maharashtra – Mumbai, Nanded, Bhandara
Rajasthan – Ramganj, Kota, Jhalawar, Baran, Bundi
Production trend and Stock position:
Stock positions of coriander seed were up by 16.52 percent held at National Commodity Clearing Limited (NCCL) approved warehouses at Gondal and Kota locations. The stocks held as on November 20, 2019 was 4,436 MT compared to 3,807 MT as on November 12, 2019.
According to Agriwatch websites final production estimate, Coriander seed production for 2019-20 is estimated at 2,68,957 MT down by 19.32 percent compared to previous year's 3,33,348 MT.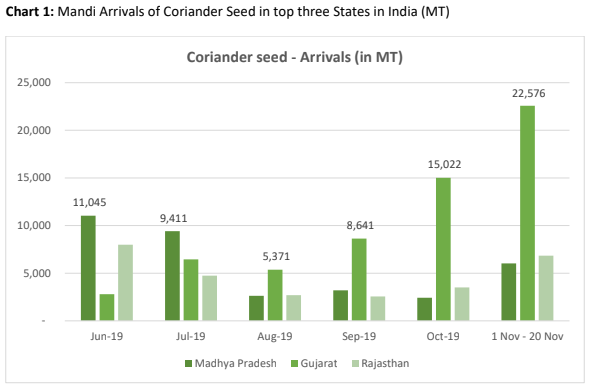 Source: Agmarknet
Note: November Mandi arrivals are for the period: 1 – 20 November, 2019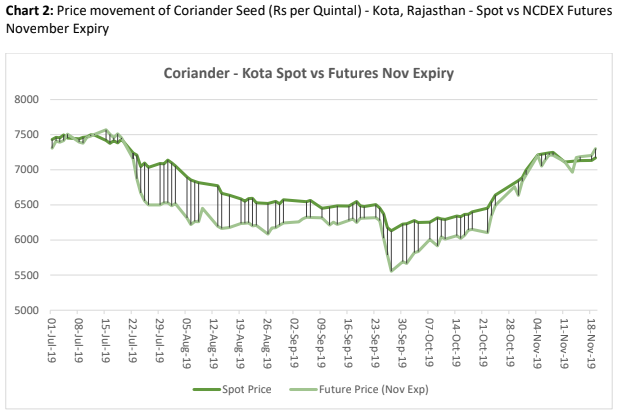 Source: NCDEX
Prices of Coriander seed are currently in a Contango where the Futures prices are higher than the expected physical market Spot prices.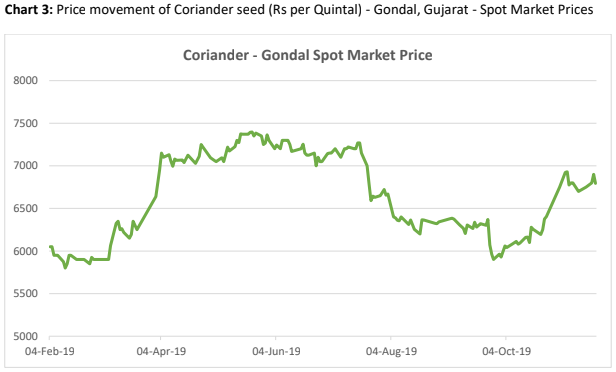 Source: NCDEX
Market commentary: Price outlook
Coriander Leaves Seed prices in physical markets are expected to be steady to weak in the immediate/short term.
Coriander Leaves Seed prices are expected to trade from current levels of Rs. 7,000-7,200 per quintal to range-bound levels due to an increase in arrivals in mandis.